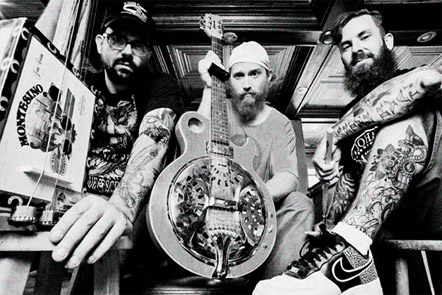 CLICK HERE TO LISTEN TO TH PREMIERE OF LEFT LANE CRUISER'S NEW TITLE TRACK "DIRTY SPLIFF BLUES" VIA CELEB STONER!
After nearly a decade of delivering their own high-octane, scuzzed-up take on North Mississippi rural blues as a duo, Left Lane Cruiser have recently expanded into a threesome for their latest studio album, Dirty Spliff Blues (their fifth for Alive Naturalsound Records).
Led by founding member Freddy J IV (aka Joe Evans) on vocals and slide guitar, and now joined by Joe Bent on bass and skateboard slide guitar (yes, he uses his skateboard as an instrument) and Pete Dio on drums & assorted other junk, this three-headed hydra, birthed in either Fort Wayne, IN or Hades depending on who you ask, still whips up the same frenzied mess of trashed-out punk/blues that LLC is known for. But on Dirty Spliff Blues there's a decidedly more rock 'n' roll approach to their mean-ass blues. Songs such as "Tangled Up In Bush" or " Skateboard Blues" still slink like snakes in the grass, but tracks such as the pile-driving opener "Tres Borrachos," "Cutting Trees," "She Don't Care" and "Dirty Spliff Blues" rock with a newfound intensity, and that's saying a lot for a band long known for both their intense, sweat-soaked live shows and in-the-red recordings. Of course, LLC's very backbone – the Blues – is also evident throughout, from the hip-shakin' groove of "Elephant Stomp" to, well, really just about every damn song on the record.
Any way you roll it – from the new cover art created by renowned artist William Stout to the THC-laced shit-kickers – Dirty Spliff Blues smokes like no other Left Lane Cruiser album before it.
Along with their music being featured in the hit television series Breaking Bad and receiving critical acclaim across the globe, Left Lane Cruiser have also toured relentlessly over the years, sharing the stage with artists such as Robert Belfour, T Model Ford, Lee Bains III & The Glory Fires, Bob Log III and many others, and are also regular performers at the Deep Blues Festival now held annually in the cradle of the blues, Clarksdale, MS.
Left Lane Cruiser's Dirty Spliff Blues will be released on limited vinyl, CD and digital formats on June 16th via Alive Naturalsound Records. Tour dates to be announced soon!
DIRTY SPLIFF BLUES TRACK LISTING:
01 Tres Borrachos
02 Elephant Stomp
03 Whitebread n' Beans
04 Tangled Up in Bush
05 Heavy Honey
06 Dirty Spliff Blues
07 Cutting Trees
08 All Damn Day
09 Skateboard Blues
10 She Don't Care
HERE'S WHAT PEOPLE HAVE BEEN SAYING ABOUT LEFT LANE CRUISER:
"An authentic and inspiring updating of the blues-rock idiom for the 21st century." – BLOGCRITICS
"A combination of reverence toward the progenitors of the blues and a spirit of pure enjoyment that is rare to find." – WYMA
"Blues as attitude more than ritual. Its subtleties are loud and lived-in as they exceed the speed limit on the expressway to your heart." – ROCK & RAP CONFIDENTIAL
"Finding Seasick Steve too suave and elegant these days? If so, Left Lane Cruiser might be more your rusty tin cup of moonshine." – THE BLUES MAGAZINE
"When reduced to its basic elements, the music is all rock'n'roll. And when played with such conviction as Left Lane Cruiser displays, it doesn't get much better." – EXCLAIM
"Left Lane Cruiser isn't a traditional country blues band. The Indiana duo might well have influences from the Mississippi area, but what they do with them is fresh and coruscating." – CLASSIC ROCK MAGAZINE
"Rock Them Back to Hell! consists of ten original songs of rousing sonic mastery. This is arguably their best album to date…. one of those rare albums that are outstanding from start to finish." – NO DEPRESSION
"Summoning the spirits of Charlie Patton, the dead members of Lynyrd Skynyrd and Fred 'Sonic' Smith, Left Lane Cruiser's latest runs the gamut between country-blues laments, hard rocking house party staples and psychedelic mind blowers." – NUVO WEEKLY
"The standard blues-punk cliché is to say that a singer sounds like he's been subsisting on nothing but Jim Beam and Marlboro Reds since the womb, but Left Lane Cruiser's Freddy J IV seems to have been chasing those Southern-fried standbys with shots of pure hydrochloric acid. LLC makes a noise as raucous and road-weary as a Mack truck." – A.V. CLUB
"Voodoo hillbilly punk-blues" is actually a pretty apt description of the combination of thrashy, scuzzed-out guitar and trashy, bashed-up rhythms on Left Lane Cruiser's latest outing, Rock Them Back to Hell! The new album is as resourceful as it is energetic, especially making an impression with found-sound percussion supplied by paint cans and trash cans. Wrap it all up in cover art by William Stout, known for his work for Return of the Living Dead and Pan's Labyrinth, and the over-the-top tone and feel of Rock Them Back to Hell! is more than complete. – POPMATTERS
"If you can remember how you felt while vibrating to the likes of R.L. Burnside, T-Model Ford, and Jon Spencer, you have a good read on Left Lane Cruiser." – DAGGERZINE
"Hold on for your life." – TWANG NATION
"This album has so many things to love: slide guitar, harmonica, primitive drums, growled vocals and a gritty blues that acts as a punch in the nose to all the pop rubbish that surrounds you every day. A strong contender for the list of my favorite albums of the year." – ORANGE COUNTY MUSIC EXAMINER
"If Robert Johnson took a midnight stroll to meet the devil at the crossroads and exchange his soul for the blues, Left Lane Cruiser sounds like they've got a direct line to the fiery pits of hell." – HAPPENING MAGAZINE
"Left Lane Cruiser may be from Fort Wayne, IN but they sound like a couple of unhinged punk hillbillies raised on the North Mississippi hill country blues of R.L. Burnside and Junior Kimbrough. They mine the same sort of modal blues territory but, with half-distorted vocals pushed through what sounds like a shorted-out karaoke mike, they also sound like a lo-fi swampy version of the Stooges, all full of rampaging impatience. This isn't a band much concerned with evolving its sound. That's a good thing, because they make a hell of a lot of noise and pretty much mow through every song with real rock fervor. Another fine outing from a refreshingly direct and uncomplicated band that rocks like a jackhammer." – ALL MUSIC
"…the most filthy, greaseball, gritty, blues rock I've come across since early Black Keys' stuff." – MUSIC SAVAGE
"… a filthy sounding slab of corn-punk blues, a rhythmic and greasy scrap heap of groove and buckshot barrel loaded raceway boogie. [But] what's most important, is that Left Lane Cruiser is a Soul band. As informed by Mississippi, they've got a little Memphis in 'em as well. And, of course, as befits the name, a thousand or more miles of gravel in the headlights and in the rearview mirror. We can't recommend 'em highly enough." – BIG ROCK CANDY MOUNTAIN
"Fort Wayne's fave greasy-fingered duo, Left Lane Cruiser, is back with their latest offering, Junkyard Speed Ball. Recorded in Detroit by the nearing-legendary Jim Diamond, the record's first single, Giving Tree, is bound to give some longtime fans agida. Seems the duo's manic turkey-on-meth-in-the-straw M.O. has been replaced in spots by down-low blues that can only be described as a tad more gutshot than their typical fare. Glad to report that this gamble pays off in spades, thanks at least in part to the personage and organ stroking skillz of Reverend James Leg of the Black Diamond Heavies." – MY OLD KENTUCKY BLOG
[5/5 stars] "Left Lane Cruiser's music, as expected, remains true to the formula that has worked so well for them since their inception in 2004 — a mighty signature sound of dirty, aggressive blues and foot-stompin' alt-country." – EXAMINER
"Lo-fi electric blues from front to back. Think Scott H Biram on steroids." – AMERICANA MUSIC SHOW
"Ferocious trash-blues stompers Left Lane Cruiser effortlessly mix southern-fried blues, garage and brutal punk riffs into one glorious whiskey and gasoline soaked whole. Great stuff." – THE MAD MACKEREL: UK
"One of my favorite garage punk blues bands" – LES ENFANTS TERRIBLES
"Left Lane Cruiser is a two-piece deep blues act blending high energy hark rock and punk with obvious North Mississippi hill country roots. Rather than stick to standard 12-bar blues conventions, Left Lane Cruiser's sound has obvious blues roots while taking a sledgehammer to standard 12-bar blues. LLC is loud, brash, trashy and entirely refreshing." – THE BOSTON BLUES SOCIETY
"File Left Lane Cruiser's new album Rock Them Back To Hell! under 'Not To Be Missed'." – RIPPLE MUSIC
"This is the sound of what Iggy and R.L. hath begot." – REAL DEEP BLUES
"Left Lane Cruiser's latest album Rock Them Back To Hell! delivers dangerous raucous rock with a mix of steel belt machinery and southern hard liquor. Very Highly Recommended." – RUST MAGAZINE
"Heavy southern blues sludge done just the way we like it – raw and kickin' hard." – BLUES MAGAZINE
"The face of the deep blues movement and the pride of Fort Wayne, Indiana returns with their fifth album and it's one mother of a beast. I almost feel when I put this slab on the turntable that I should be armed with, at the very least, a .44 magnum pistol just in case it crawls off the turntable to ransack my abode, looking for any Pabst or whiskey that it might find. I don't need a turntable cover but a steel cage. You have been warned; listen to this blues garage rock monster at your own risk!" – GREEN BAY SCENE
"Reminds me of live Cramps, RL Burnside, and even old Henry Rollins. If CBGBs was still open that would be the venue I could see Left Lane Cruiser playing" – BLOGCRITICS
"Junkyard Speed Ball is yet another Essential Listening album from Left Lane Cruiser and could, in the coming years, prove to be the turning point from obscure punk blues band to a driving force in the Deep Blues/Muddy Roots movement." – NINE BULLETS
FOR MORE INFO ON LEFT LANE CRUISER:
https://www.facebook.com/pages/Left-Lane-Cruiser/16313548150
http://www.alive-records.com/artist/left-lane-cruiser
FOR MORE INFO ON ALIVE NATURALSOUND RECORDS:
http://www.alive-records.com
FOR MEDIA REQUESTS:
Tony Bonyata
Pavement PR
e: tony@pavementpr.com
http://pavementpr.wpengine.com