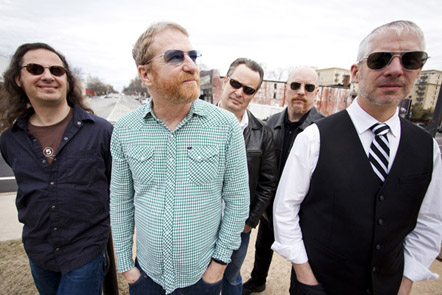 CAMPER VAN BEETHOVEN & CRACKER KICK-OFF ANNUAL WINTER TOUR DEC. 27TH IN SOLONA BEACH, CA!
Camper Van Beethoven – the beloved, genre-mashing musical unit and one of the bands that created the indie rock genre – has confirmed its first album in nine years with La Costa Perdida (January 22 / 429 Records). The release will mark CVB's first album recorded as a unit with the band cutting songs organically with all in attendance and produced entirely by the band's members. La Costa Perdida vividly depicts untamed characters and bizarre experiences on northern California's coastline, where the band began its musical adventures.
Camper Van Beethoven is: Victor Krummenacher (bass, baritone guitar), Greg Lisher (guitars), David Lowery (guitars and vocals), Chris Pedersen (drums), Jonathan Segel (violin, guitar, mandolin, organ, backing vocals) and new addition Michael Urbano (drums and percussion). [Joining the band for their winter tour dates is longtime CVB & Cracker drummer Frank Funaro.]
Camper Van Beethoven have long held a place as influential pioneers of indie rock. Pitchfork Media called them "great… assiduous creativity… inventive… delightful." SPIN has praised the band's "depth and worldly flavors," continuing, of its recent run in the 21st century, "The band still rocks with the vigor of any young sprite." Rolling Stone has raved about the band's "adventurous music," while NPR says, "Their cryptic wit and dense, layered music offered rewards in repeated listening… blending genres of world and rock, translating current events into a swirl of witty banter and interpretation."
On the making of La Costa Perdida, Victor Krummenacher says, "The coolest part was that everything flowed from the fact that these distinctive musicians and personalities sat in the living room. Four people are writing it. The songs have great energy, but we're more relaxed and stately and a lot more confident."
CAMPER VAN BEETHOVEN / CRACKER WINTER TOUR DATES:
Dec. 27 Belly Up Tavern – Solana Beach, CA
Dec. 28 The Independent – San Francisco, CA
Dec. 29 Mystic Theatre – Petaluma, CA
Dec. 31 The Soiled Dove – Denver, CO (Cracker only)
Jan. 18 World Cafe Live – Philadelphia, PA
Jan. 19 Stage 48 – New York, NY
Jan. 20 Middle East Downstairs – Cambridge, MA
Jan. 23 Sky City – Augusta, GA  (CVB only)
Jan. 24 40-Watt Club – Athens, GA (CVB only)
Jan. 25 The Grey Eagle – Asheville, NC (CVB only)
Jan. 26 The Earl – Atlanta, GA (CVB only)
[more dates to be announced]
La Costa Perdida Track List:
1. Come Down The Coast
2. Too High For The Love-in
3. You Got To Roll
4. Someday Our Love Will Sell Us Out
5. Peaches In The Summertime
6. Northern California Girls
7. Summer Days
8. La Costa Perdida
9. Aged In Wood
10. A Love For All Time
Also led by Camper Van Beethoven's frontman David Lowery, Cracker will be joining CVB's run of winter dates. Cracker has been described as a lot of things over the years: alt-rock, Americana, insurgent-country, and have even had the terms punk and classic-rock thrown at them. But more than anything Cracker are survivors. Cofounders Lowery and Johnny Hickman have been at it for 20 years now – amassing nine studio albums (their most recent, 2009's critically acclaimed Sunrise In The Land Of Milk And Honey), multiple gold records, thousands of live performances, hit songs ("Low," "Euro-Trash Girl" and "Get Off This" to name just a few) that are still in current radio rotation around the globe, and a worldwide fan base – that despite the major sea-changes within the music industry – continues to grow each year. Along with longtime drummer Frank Funaro (since 1998's Gentleman's Blues) and bassist Sal Maida (since 2006's Greenland), this uniquely American band has no intentions of slowing down.
CRACKER (left to right: Frank Funaro, Johnny Hickman, David Lowery, Sal Maida) photo credit: Jason Thrasher
FOR MORE INFO ON CAMPER VAN BEETHOVEN: