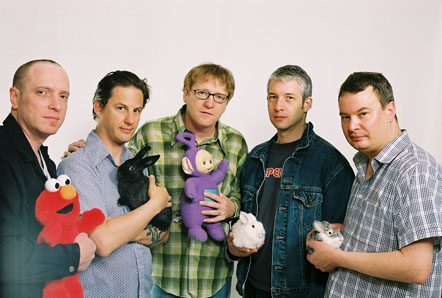 GOOD  TIMES (Santa Cruz weekly) – Feature with Greg Lisher interview and band photo.
Our Beloved Revolutionary Sweethearts
by J.D. Ramey
Camper Van Beethoven returns to Santa Cruz for two intimate Crepe Place shows
Long before the Simon Cowell era, the members of the alternative rock band Camper Van Beethoven were the Santa Cruz musicians who had "made it." Adorning their lively, all-over-the-map sound with an endearing sense of wit, they wooed the populace with a charmingly nonsensical ditty called "Take the Skinheads Bowling" (after all, isn't it the angriest people who need a little constructive fun?) and a cover of Status Quo's "Pictures of Matchstick Men," from their most commercially successful album, 1989's Key Lime Pie.
With CVB's 30th anniversary coming up next year, the band is playing a short run of smaller gigs—including two shows at The Crepe Place on Saturday, Feb. 11—to get warmed up for the release of its forthcoming record. The group recently began mixing down this as-yet-untitled album, the first we've heard from CVB since 2004's New Roman Times. According to guitarist Greg Lisher, the band tried out a new approach to writing this time: "Back in the day, [vocalist/guitarist] David [Lowery] would bring his songs to us at rehearsal, and we would write our respective parts. So it was always pretty democratic in that sense, but it was all based on what David was bringing to the table." For the new album, the band simply got together and came up with ideas on the fly: "Someone would throw something out, someone else would respond and someone else would play off of that."
Lisher notes, however, that the new material "really sounds like Camper Van Beethoven." As such, it's just as eclectic as ever: Among other styles, there's psychedelic music, prog-rock, surf and alt-country. "So, in a weird way, I know we're really being true to ourselves when our music sounds like that, because that's how we sound when we're all working properly. It's kind of a mess, but in a good way."
The band's Crepe Place appearances, which will also feature sets by the talented local indie-pop act Fainting Goats, are CVB's first Santa Cruz gigs in several years. The band's long absence can largely be chalked up to the various members' distance from one another: Bassist Victor Krummenacher does layout for Wired magazine in San Francisco, violinist Jonathan Segel works for Pandora in Oakland, and Lowery teaches a music business class at the University of Georgia. Lisher, who's preparing to release an instrumental solo, has lived in Santa Cruz since 1976.
Lisher's involvement with various bands frequently leads him far outside the Santa Cruz bubble, though. One memorable example is a journey he took to the Middle East in November 2009 as a sub for Johnny Hickman, guitarist for Lowery's alt-rock group, Cracker. "That was one of the weirdest, most incredible experiences I've had," Lisher offers. He explains that during a two-week USO tour of Kuwait and Iraq, the group traveled "straight through all the roads where all the IEDs and improv explosives are—where all the shit is. We were just right there." Lisher, who was and still is opposed to the war, says the experience was eye-opening. "It's such a different landscape over there," he offers. "I don't know that us going there and imposing democracy really works, you know what I mean?" The guitarist adds that he was surprised by the vast number of contractors he saw in the Middle East. "You just realize that these bases are like infrastructures—they're just like towns. And just like you would build a town here, to build a town there, you need all these people to do that."
And what of the warring among CVB's own ranks, which led the group to disband for the better part of the '90s? Lisher claims that all the members of the group seem to be getting along at the moment: "For now it works … and that's all you have really, is for now, you know what I mean?"
Camper Van Beethoven plays at 6 p.m. and 9 p.m. Saturday, Feb. 11 at The Crepe Place, 1134 Soquel Ave., Santa Cruz. Tickets for the first show are $20; the 9 p.m. show is sold out.  For more information, call 429-6994.
http://goodtimessantacruz.com/index.php/santa-cruz-area-music/music-features-reviews-interviews/3483-camper-van-beethoven-review.html
SAC MUSIC BLOG (Sacramento music blog) – Brief show preview with band photo and related links
Camper Van Beethoven Lands In Sacramento
Pioneering indie rock band Camper Van Beethoven will be at Harlow's on Fri. Feb. 10th. CVB will be unveiling brand new material from their forthcoming studio album – their first in eight years! (to be released this summer).
The details:
Fri. Feb 10 CAMPER VAN BEETHOVEN 10pm
Harlow's, 2708 J Street, Sacramento, CA
916-441-4693  – $20
In other related news, CVB's frontman David Lowery recently posted his own amusing take about online music theft on his 300 Songs music blog, entitled "No more bullsh*t. The top 10 lamest excuses for stealing artists music." You can read this enlightening post here.
 THE SACRAMENTO BEE (Sacramento daily) – Brief show preview
The Lineup
By Cathie Anderson
TONIGHT
California roots
Camper van Beethoven and Tempest
What: If you wanna play Harlow's tonight, you'd better bring some California cred. The club plays host to Celtic rockers Tempest, who have their roots in the Bay Area, and alt-rock band Camper Van Beethoven (Redlands-Santa Cruz) in separate shows on the same evening.
When: 7 p.m. Tempest, 10 p.m. CVB
Where: Harlow's, 2708 J St., Sacramento
Cost: $15 Tempest, $20 CVB
Contact: (877) 435-9849, http://harlows.com
http://www.fresnobee.com/2012/02/09/2716344/camper-van-beethoven-to-play-visalia.html
SACRAMENTO  365 (Sacramento A&E site) – Brief show preview with band photo
Camper Van Beethoven
Camper Van Beethoven is an alternative rock band that was founded in 1983 in Redlands, California, though the band soon moved to Santa Cruz, California. Camper Van Beethoven mixed elements of pop, ska, punk rock, folk, country, and acid rock into an eclectic, catchy and sometimes mysterious ensemble, years before the so-called alternative rock moniker came to mainstream attention.
February 10, 2012
Harlow's
2708 J Street
Sacramento, CA 95816
http://www.fresnobee.com/2012/02/09/2716344/camper-van-beethoven-to-play-visalia.html

SANTA CRUZ.COM & SAN JOSE.COM (online A&E sites) – Show preview with band photo
Camper Van Beethoven
Sat Feb 11
The Crepe Place
6pm; 9pm
$20
With their aggressive musical pluralism and do-it-yourself attitude, Camper Van Beethoven has left an indelible mark on the face of indie rock. The band recently celebrated its deep local roots with the release of a three-CD box set titled The Santa Cruz Years, which features material recorded while they were students at UCSC. The band recently announced plans to record a follow-up to 2004's New Roman Times. – Juan Guzman sanjose.com
http://www.santacruz.com/camper-van-beethoven-e1494881
SF GATE (San Francisco Chronicle's website) –  Show preview withband photo
http://events.sfgate.com/performers/show/10234-camper-van-beethoven
THE FRESNO BEE (Fresno, CA daily) – Visalia show preview with band photo.
Camper Van Beethoven to play Visalia Feb. 12
By Mike Osegueda – The Fresno Bee
9:30 p.m. Sunday, Feb. 12 / The Cellar Door, 101 W. Main St., Visalia / $10 / ticketweb.com, (559) 636-9463
Pioneering indie rock band Camper Van Beethoven is reunited, working on a new album and making a tour stop in Visalia on Sunday.
The band was popular in the indie rock and college rock ranks in the late '80s and early '90s. Songs such as "Take the Skinheads Bowling" and "All Her Favorite Fruits" are favorites. The music is a mixture of pop, ska, punk, folk and more.
Camper Van Beethoven singer David Lowery also started another alt-rock band: Cracker. Lowery is back with this installment of Camper Van Beethoven as the band prepares to release its first album in eight years.
Also on the bill is Modesto alt-country band Not an Airplane, whose new album, "It Could Just Be This Place" earned a glowing 4.5-star review from Rolling Stone magazine in January.
http://www.fresnobee.com/2012/02/09/2716344/camper-van-beethoven-to-play-visalia.html
VISALIA TIMES -DELTA (Visalia daily) – "Best Bets" Visalia show preview with band photo.
1980s redux
Here's a blast from the indie past. Camper Van Beethoven — the influential 1980s indie-rock band that played an eclectic mix of pop, ska, punk, rock and folk — will perform Sunday at The Cellar Door.
The band was inactive from 1990-1999, as frontman Dave Lowery hit the mainstream with his band Cracker. But soon, thanks to the Internet, his old Camper Van Beethoven songs were being covered by bands all over the world.
Luckily for their original fans and new fans alike, Lowery re-formed the band in late 1999. Though they are still performing songs from their legendary albums, such as "Key Lime Pie," they've since recorded new music. This performance will mix the old with the new.
Details: Camper van Beethoven and Not An Airplane will perform at 9:30 p.m. Sunday at The Cellar Door, 101 W. Main St., Visalia. Cover: $10, 21 and older. Tickets: Ticketweb.com.
http://www.visaliatimesdelta.com/article/20120211/LIFESTYLE/202110312