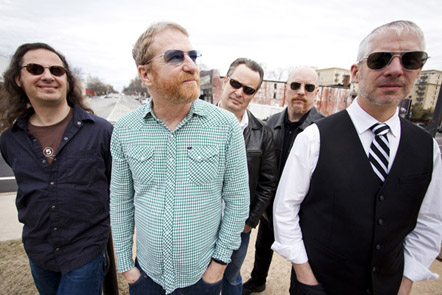 Alternative rock pioneers Camper Van Beethoven have returned with a new album, La Costa Perdida, their 429 Records debut. The lineup, featuring Victor Krummenacher (bass, baritone guitar), Greg Lisher (guitars), David Lowery (guitars and vocals), Chris Pedersen (drums), Jonathan Segel (violin , guitar , mandolin, organ , backing vocals) and Michael Urbano (drums and percussion), have reunited and created their most cohesive album yet. Produced by the band, this album, their eighth studio album and first since 2004, is steeped in their connection to Northern California, specifically the areas where the band members first nurtured their musical talents Redlands, Santa Cruz and San Francisco. With a geographical jumping off point, the band fills in the dramatic, joyous, interpersonal and psychological aspects of the locales as only CVB can. The ten tracks on La Costa Perdida were recorded in the Oakland home studio of Jonathan Segel.
Says Victor Krummenacher: The coolest part was that everything flowed from the fact that these distinctive musicians and personalities sat in the living room. Our music now sounds like four people are writing it. The songs have great energy, but we re more relaxed and stately and a lot more confident. The songwriting here has elements of vintage Camper along with grown-up Camper.
CAMPER VAN BEETHOVEN / CRACKER 2013 TOUR DATES:
May 04 Beale Street Music Festival, Memphis TN (Cracker only)
May 9 The Firebird, St. Louis MO (Camper Van Beethoven  only)
May 10 The Cubby Bear, Chicago IL
May 11 Majestic Theatre, Madison WI
May 12 The Intersection, Grand Rapids MI
May 16 State Theatre, Falls Church VA
May 26  Mishawaka Amphitheatre, Bellvue CO (Cracker only w/ Roger Clyne & Peacemakers and The Hickman Dalton Gang)
May 24 Barkley Ballroom, Frisco CO  (Cracker only)
Jun 14 The Bluebird Theatre, Denver CO
Jun 15 Whittle The Woods, Craig CO (Cracker only)
Jun 21 The Windjammer, Isle Of Palms SC  (Cracker only)
Jun 22 Athfest, Athens GA  (Cracker only)
Jul 19 Santa Cruz Beach Boardwalk, Santa Cruz CA
Sep 12 Campout 9 at Pappy & Harriet's – Pioneertown CA
CAMPER VAN BEETHOVEN 2013 EUROPEAN TOUR DATES:
May 29 Dingwalls – London England
May 30 The Haunt – Brighton England
May 31 Deaf Institute – Manchester England
Jun 01King Tut's Wah Wah Hut – Glasgow, Scotland
Jun 02 Musikbunker- Aachen Germany
Jun 03 Brotfabrik – Frankfurt Germany
Jun 05 Chelsea – Vienna Austria
Jun 06 Feierwerk – Munich Germany
Jun 07 The Palace – St Gallen Switzerland
Jun 08 Museumskeller – Erfurt Germany
Jun 09 Privatclub – Berlin Germany
Jun 10 Nachtasyl – Hamburg Germany
"Delightful… It does illustrate how unique this band still is, 30 years after it formed. And it truly is a kick to hear CVB ply its craft with road-tested assurance and subtly virtuosic musicianship." – PITCHFORK
I'm so happy the band is back." – USA TODAY
"The new album's lead single, 'Someday Our Love Will Sell Us Out' [is] a swirling, Eastern-flavored psychedelic jam." – STEREOGUM
"I like what I hear here." – ROLLING STONE
Also led by Camper Van Beethoven's frontman David Lowery, Cracker will be joining most of CVB's run of spring & summer U.S dates. Cracker has been described as a lot of things over the years: alt-rock, Americana, insurgent-country, and have even had the terms punk and classic-rock thrown at them. But more than anything Cracker are survivors. Cofounders Lowery and Johnny Hickman have been at it for over 20 years now – amassing nine studio albums (their most recent, 2009's critically acclaimed Sunrise In The Land Of Milk And Honey), multiple gold records, thousands of live performances, hit songs ("Low," "Euro-Trash Girl" and "Get Off This" to name just a few) that are still in current radio rotation around the globe, and a worldwide fan base – that despite the major sea-changes within the music industry – continues to grow each year. Along with longtime drummer Frank Funaro (since 1998's Gentleman's Blues) and bassist Sal Maida (since 2006's Greenland), this uniquely American band has no intentions of slowing down.
FOR MORE INFO ON CAMPER VAN BEETHOVEN:
http://campervanbeethoven.com
FOR MORE INFO ON CRACKER:
http://crackersoul.com
FOR MEDIA AND INTERVIEW REQUESTS:
Tony Bonyata
Pavement PR
p: 262.903.7775
e: bonyata@wi.rr.com
http://pavementpr.wpengine.com