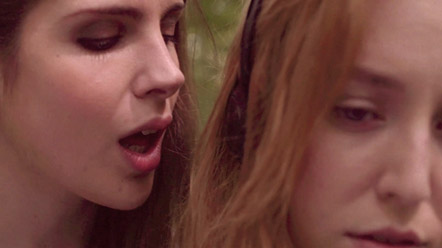 CLICK HERE TO WATCH HOOTS & HELLMOUTH'S NEW "DICTION" VIDEO VA BULLETT MEDIA!
Love Is Lost Apparition In Hoots and Hellmouth's Beautiful 'Diction' Video
By Luke O Neil
There can be a sense of the paranormal to love. Things happen, or appear to you, where you aren't sure if you actually experienced them as you felt, or if they were ever even there in the first place? And the tools we have to figure that our are inadequate to the task. The video for "Diction" from Philadelphia's Hoots and Hellmouth turns out that premise, as a woman wanders the forest, looking for data on an apparition from her past.
"'Diction' is an old friend that's been with me for many years at this point," the band's Sean Hoots explains. "Its iterations have continued to inspire while the underlying essence remains unchanged: a longing for the loss of something you very well may never have possessed."
"The video is a masterful rendering of this sentiment by our friend and filmmaker Stavros Stavropoulos," he goes on. "The cast, which to me includes not only the principal human actors, but the forest setting as well, orbits, collides, and spins out and away from one another. Fittingly, the song ends abruptly, unfinished, leaving us desiring a sense of completion that never comes."
Hoots and Hellmouth's In The Trees is out October 28th.
http://bullettmedia.com/article/love-lost-apparition-hoots-hellmouths-beautiful-diction-video/