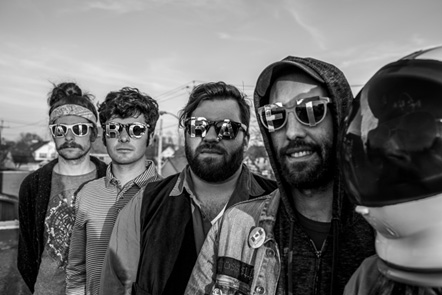 CLICK HERE TO LISTEN TO THE PREMIERE OF AIRCRAFT'S NEW TRACK "STICK" FROM THEIR NEW EP "7 GEMS FROM THE SPARKLING VOID" VIA BULLETT MEDIA!
BULLETT MEDIA: Aircraft gets mystical on new psych-garage track "Stick"
By Luke O Neil
"'Stick' states that with every action there is an equal and opposite reaction," Justin John Smith of Aircraft explains of his band's new song. "It's a Universal Law, but also true for one's self development. When one end of the stick moves this way, the other end moves that way. Everything has a price."
There's certainly a lot to think about there, but you might just as well get lost in the Buffalo-based band's psych-garage energy, a sound that has found the band performing with the likes of Thee Oh Sees and Ty Segall.
http://bullettmedia.com/article/aircraft-get-mystical-on-psych-garage-track-stick/