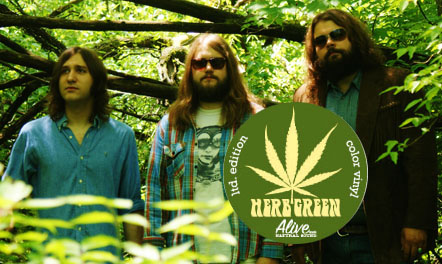 Following the release of their critically-acclaimed fourth studio album Dig. Sow. Love. Grow., along with their recent Dan Auerbach-produced 7″ vinyl single Dangerous Highway: A Tribute To The Songs of Eddie Hinton, Buffalo Killers are about to drop a brand new joint on us. Aptly titled Ohio Grass, the Cincy-based trio deliver six smokin' new tracks all rolled up into one heady package. Pressed on "Herb Green" vinyl this limited edition 12″ EP will be available April 20th as a Record Store Day Exclusive through Alive Naturalsound Records.
OHIO GRASS TRACK LISTING:
Side A:
Baptized
Nothing Can Bring Me Down
Grow Your Own
Side B:
Golden Eagle
Hold You Me
Some Other Kind
BUFFALO KILLERS' 2013 TOUR DATES
April 6 Radio Radio, Indianapolis, IN (w/ Hero Jr. & The Delta Routine)
April 11 Mickey Finns Pub, Toledo, OH
April 12  Grog Shop, Cleveland, OH (w/ The Giving Tree Band & Exploding Lies!)
April 19 Motr Pub, Cincinnati, OH ("Ohio Grass" Release Show!)
April 20 Omega Records In-Store Performance, Dayton, OH (Record Store Day " Ohio Grass" Release)
May 18 Summit City Lounge, Whitesburg, KY
May 31 Wakarusa Music & Camping Festival, Mulberry Mountain, Ozark, AR
July 12 Bunbury Festival, Cincinnati, OH
July 16 Eagleview Summer Concerts on the Square, Exton, PA
(more dates to be announced soon)
HERE'S WHAT PEOPLE HAVE BEEN SAYING ABOUT BUFFALO KILLERS' MOST RECENT ALBUM DIG. SOW. LOVE. GROW.
Buffalo Killers have long hair, beards and a wonderful new tune "Hey Girl" that harkens back to '60s psychedelia, CSNY hooks and lava-lamp love. Even though the song possesses a delightfully flowery vibe, "Hey Girl" packs a delicious punch that's filled with more than your average acid tablets. The Cincinnati band's new single has a hell of a lot of heart. –  SPINNER
Buffalo Killers sound just as American as their name. Brothers Zachary and Andrew Gabbard, plus Joseph Sebaali, bring the full-force blues rock. "Get It," off Dig. Sow. Love. Grow., is gritty, loud and will no doubt beg the comparison to a handful of contemporary blues-rock bands like former tourmates the Black Keys and the North Mississippi Allstars. – MAGNET
The album features the band's raucous blues-rock sound, which harkens back to the classic rock era. "Get It," a rollicking number complete with twangy electric guitar solos, is loud and wild and will likely make you crave a beer. Preferably from a dive bar in the South. – RCRD LBL
Once again the trio draws on a blend of Americana, garage rock, folk and psychedelia for this recording. – RELIX
The band hits noticeably harder this time out, and these ten songs sound less like the work of a bunch of Laurel Canyon refugees and more like the proud Midwesterners they really are. [Their last album] 3 sounded as if the Buffalo Killers were reaching for something bigger and grander than they'd attempted on their first two albums; Dig. Sow. Love. Grow., on the other hand, is a simpler and more organic effort that suggests these guys just want to rock, but it succeeds well enough to be as satisfying as its predecessor. – ALL MUSIC
The boys rediscovered the volume knobs on their equipment when recording Dig. Sow. Love. Grow. Yup, this James Gangsian number was intended to be played only one way, and that's loud. – MY OLD KENTUCKY BLOG
"Steeped in '70s classic rock, Buffalo Killers' terrific new album Dig. Sow. Love. Grow. features harmonies clearly culled from their past. You can trace the Neil Young influence on their albums going all the way back to their debut. But that influence is even more prominent on Dig. Sow. Love. Grow, which sounds like the classic rowdy albums Young recorded with Crazy Horse in the '70s" – CLEVELAND SCENE
"Ohio band waves their freak-flag high while keeping things concise. Despite writing heavy riffs that can turn mountains into volcanoes, they don't pummel you the way most power trios tend to (we're looking at you Mountain, Blue Cheer, Gov't Mule). Songs like "Blood on Your Hands" and "I Am Always Here" show a gift for creating memorable, hooky songs that recall the best of Steven Stills, only louder." –  PERFORMER MAGAZINE
"Buffalo Killers are simply one of the best bands to come out of Cincinnati ever." – ULTRA SESSIONS
With their latest album, Dig. Sow. Love. Grow., brothers Andy and Zachary Gabbard and Joseph Sebaali return with a no-frills production that sounds instantly familiar and is infused with a depth and honesty conspicuously absent on many modern releases.  –  DAYTON CITY PAPER
[5 OUT OF 5 STARS] Dig. Sow. Love. Grow. sees the band absolutely stampeding back to their raucous rock sound, but it also goes the extra step by showcasing both the majestic side of the Buffalo Killers, while managing to convey the overwhelming and unbridled power of the group. The band, which features brothers Zachary (bass and vocals) and Andrew (guitar and vocals) Gabbard, as well as drumming monster Joseph Sebaali, most certainly draws influence from a wide catalog of rock and roll's elite. But Dig. Sow. Love. Grow. isn't just another retro-sounding album that mimics bands of yesteryear. It's a raw, real and commanding sound forged from grit that is as wide and expansive as the western plains, and is as mighty as it's namesake. Simply put, it's f**king awesome. –  MARQUEE MAGAZINE
Whether it's chemically, electrically or organically produced — or induced for that matter — the heavy rock of Buffalo Killers' Dig. Sow. Love. Grow. packs a wallop. – KDHX RADIO
"For my money, the best rock band to emerge in the 21st century thus far." – THE RECORD CHANGER
FOR MORE INFO ON BUFFALO KILLERS:
http://www.buffalokillers.com
http://www.facebook.com/buffalokillers
FOR MORE INFO ON ALIVE RECORDS:
http://www.alive-totalenergy.com