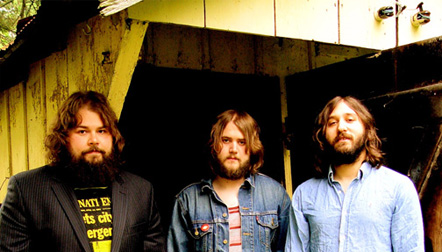 METROMIX (National A&E online site) – Interview with Zach as part of their Favorite US venues feature.
Best live music venues: artists' top picks
The Comet/Southgate House/MOTR Pub (BUFFALO KILLERS)
Credit: David Sorcher, Special for Metromix
"The great thing about Cincinnati is every venue is unique and has a vibe all its own. We love playing all the venues here, but a few stick out. The Comet is a great up-in-your-face sweaty good time. The crowd is basically on the 'stage' with you and the energy is fantastic. We really got our start here and to boot, their jerked-tofu quesadillas are out of this world.
"The Southgate House is not only an amazing historic location; it is also the place where we've been able to play and hang out with our heroes.  We were lucky enough to share the stage with Levon Helm and Blue Cheer, among others, and then hang with them in the green room. Those are nights that will not be soon forgotten.
"Another great venue is MOTR Pub in OTR [Over-the-Rhine]. It is one of those places that is breathing life back into downtown—it is much needed and appreciated." – Zach Gabbard, Buffalo Killers (Cincinnati)
http://cincinnati.metromix.com/music/standard_photo_gallery/best-live-music-venues/2821401/photo/2821434
ACCOMPANYING METROMIX "MEET THE ARTISTS" FEATURE WITH BAND PHOTO
Best live music venues: meet the artists
Buffalo Killers
Credit: Erin Volk
Cincinnati's Buffalo Killers count the Black Keys' Dan Auerbach and the Black Crowes' Chris Robinson among the many fans of their classic take on swampy, psychedelic garage rock. Their third album, appropriately titled "3," is out now on Alive Records. They also recently collaborated with Kelley Deal of the Breeders on a track for "Sing for Your Meat: A Tribute to Guided by Voices." More info and tour dates available at www.buffalokillers.com.
Buffalo Killers' picks (as chosen by bassist/vocalist Zachary Gabbard):
* The Comet (Cincinnati, Ohio)
* Southgate House (Newport, Ky.)
* MOTR Pub (Cincinnati, Ohio)
* The Jambalaya (Arcata, Calif.)
* Sunset Tavern (Seattle, Wash.)
* Pappy and Harriets (Pioneertown, Calif.) ("The most unique venue set in an old west town right outside of Joshua Tree.")
* Canal Street Tavern (Dayton, Ohio)
* Ryman Auditorium (Nashville, Tenn.)
* Whisky A Go Go (Los Angeles, Calif.)
* Hemlock Tavern (San Francisco, Calif.)
* Blueberry Hill (Duck Room) (St. Louis, Mo.)
* Carabar (Columbus, Ohio)
•    Bayport BBQ (Minneapolis, Minn.)
http://cincinnati.metromix.com/music/standard_photo_gallery/best-live-music-venues/2821417/content