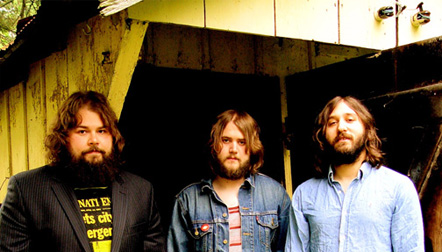 Buffalo Killers Gear Up for Fall Tour
By Mike Breen
Local Psych Pop/Rock trio Buffalo Killers are set to hit the road this fall for a tour with another crtitically-beloved trio — bluesy rockers North Mississippi Allstars. The BKs will be traveling from Colorado to Minneapolis (plus several dates in between) before returning to Cincinnati on Nov. 19 for a free show at MOTR Pub with Seattle's Jesse Sykes and the Sweet Hereafter, Psych faves who've worked with two acts that show the extremes of modern psychedelia — Black Mountain and Earth — and feature guitarist Phil Wandscher, the co-founder of Whiskeytown with Ryan Adams. The Buffalo Killers' 3 has received some wildly impressive press so far, with stamps of approval from outlets like Uncut and The Seattle Times. Check out a sampling of the group's recent press praise below, as well as the video for the title track off the group's last album, Let It Ride. Click here to listen to the great 3 track, "Love Is Gold," which sounds like a lost Big Star/Neil Young collaboration. Read (and hear) more from the BKs here.
Press for Buffalo Killers' 3 (courtesy Alive Records):
"A seductive listen and a real contender for album of the year." – Alan Brown / SHINDIG!
"Buffalo Killers take aim at garage, swamp blues, '60s psych, Canyon harmonies and Southern roots and land their prey every time. 3 is the third – and best – album from this beardy Cincinnati trio." – Nigel Williamson   / UNCUT
"Golden nostalgic bliss…Cincinnati's incredible Buffalo Killers will show you exactly where Kings of Leon went wrong." – Chris Deville / THE COLUMBUS DISPATCH
"Buffalo Killers' 3 suggests a meeting of the minds between Crazy Horse and the James Gang during a few mellow days in Laurel Canyon. Joining the Killers on their journey through the past are Kelley Deal, Brian Olive and James Leg, but even if this is a very Ohio-centric cast of characters, this music has a rich West Coast feel, and in this case, that's a good thing. Buffalo Killers' 3 finds this band easing into an comfortable but deep groove, and not many bands have mined a late hippie-era approach with more satisfying results." – Mark Deming / ALL MUSIC
"Twelve tracks of melancholic psych rock with twists of folk, 3 is perfect summer music." – VIVE LE ROCK
"On the trio's third album, 3, Buffalo Killers pick up on the swampy pop promise of their eponymous 2006 debut and take it to the next level. Influences are still all over 3, but a confident, engaged pop sensibility is fully in charge. Abundant with short gems, 3 unabashedly embraces added colors of steel guitar, banjo, saxophone, trippy keyboards and Kelley Deal's voice (on the plaintive track "Could Never Be," which sounds like an outtake from Neil Young's After the Gold Rush)." – Tom Keogh / SEATTLE TIMES
Cincinnati's Buffalo Killers evoke the blurry Polaroid sounds of those years, grooving like Foghat one minute, recalling the melodic gold of Badfinger another, and utterly, unironically rocking like ZZ Top. There's nothing quite as simple and effective as a "'power trio.' The three were members of the dearly departed garage rock outfit Thee Shams, but Buffalo Killers isn't three chord frat rock at all. The songs are thick and greasy, and listening to the trio live, you can see why they've made fans of The Black Keys and The Black Crows." – Jason Woodbury / PHOENIX NEW TIMES
"Buffalo Killers successfully bridge the rock eras here with 3 and place a modern indie spin on a style of music that has been with us for a very long time."  – Christopher Anthony / THE FIRE NOTE
"3 is at times graceful and serene, beautiful and calm, but the obvious power behind this beast is never for a moment forgotten. Truly some of the Buffalo Killers finest work." – Brian F. Johnson / MARQUEE MAGAZINE
"Buffalo Killers definitely have a cool Joe Walsh/James Gang influence in their sound. I dig 'em." – Alice Cooper  / NIGHTS WITH ALICE COOPER
"For those expecting another disc's worth of psychedelic smoke and thunder from the Killers, 3 offers more than a few surprises (including cameo appearances by Brian Olive and the Breeders' Kelley Deal). This time out, the trio exudes a sweeter Pop vibe, as though they're channeling their inner Joe Walsh. A world-class album that exudes summer warmth and a sunshine bright charm, while still maintaining the band's signature sonic presence if at a slightly less dense level. 3 could easily push Buffalo Killers to the next tier of Rock stardom." – Brian Baker / CINCINNATI CITY BEAT
"…steeped in swampy psychedelic blues-rock." – Dave Gil de Rubio / EAST BAY EXPRESS
"If you're looking for a new outlet to connect with your inner hippie, then you have to check out Cincinnati's Buffalo Killers. And when we say hippie, we're not talking about the current trustafarian, patchouli stank, jam-band variety. These guys are the real thing, steeped in '60s garage rock psychedelia and swampy southern rock; authentic enough for The Black Crowes to drag them out on tour in 2007 and Dan Auerbach to not only produce the Buffalo Killers' 2008 CD, Let It Ride, but also drag the band back out on the road opening for Black Keys." – TULSA MUSIC NEWS
"Buffalo Killers have created a distinctive brand of guitar-based rock that harkens back to the late 1960s and early '70s. With their new full-length, 3, out Aug. 2 on Alive Records, Zach Gabbard (vocals, bass), brother Andy (vocals, guitar) and Joey Sebaali (drums) have crafted a batch of retro tunes that are more expansive and detailed than their first two albums." – Don Thrasher / DAYTON DAILY NEWS
"I feel duty-bound to throw something new at you because it needs sayin', it's these bearded, denim-clad souls that call themselves the Buffalo Killers. They kill all right. They're a rock trio from Cincinnati, Ohio but they lay down some hazy, fuzzed out bits of psychedelic sunshine that spill straight from the hills of Southern California circa 1972. I just slapped their third long player, a purple polyvinyl disc aptly titled 3, onto my turntable and it instantly takes me for a ride – a ride with Crazy Horse and The James Gang, Buffalo Springfield and Canned Heat – back to a time when I lay perched on my elbows on the living room floor of my childhood home, LP collection scattered about the room and dreaming, devouring every word, every note. This album takes you back to that place (if you're old enough to have experienced your teenage years during vinyl's heyday). There are no riffs to speak of here just catchy hooks and sublime melodies. These hairy retro-rockers cling to their denim roots like they depend on it. That's a good thing. And as much as I use comparisons to bands like Big Star, James Gang, Buffalo Springfield, and others, they have their own distinctive sound that imparts fresh interpretations of some time-honored styles." – Jim Nieves / VINYL HOUNDS
"Dan Auerbach loves it. Chris Robinson loves it. Daniele Cusentino loves it. I can't believe I just had the audacity to put my opinion on par with those dudes, but so be it. Their new track 'Circle Day' rules, as does the new album" – Daniele Cusentino / CINCINNATI METROMIX
"Forget a throwback sound, these guys rock a grow-back sound. This trio out of Ohio isn't bringing back an old genre, they're embellishing a genre that should have never been left behind. Mixing together brotherly vocal harmonies, psychedelic guitar riffs, jam-band drums and Zeppelin-esque bass lines. In addition to the more clear and crisp production on 3, Buffalo Killers have also clearly moved from stoner-rock toward a more laid-back psych-rock sound, even utilizing a tiny bit of steel guitar, saxophone and quite a lot more acoustic vibes. While the riff-centric aspect of the band has slightly faded, the band has developed more of a chord-progression approach on this record. Vocally, the harmonies of Zachary and Andrew Gabbard resonate well over their instruments bringing to mind the singing talents of both Neil Young and Layne Stanley." – Myles Cochrane / TRI-CITY WEEKLY
"Cincinnati trio Buffalo Killers find that drawing from '60s and '70s rock icons continues to provide fresh ideas filled with a tunefulness and musical vocabulary that is indebted to rock's golden era with a refreshing vibrancy." – Kyle Melton / DAYTON CITY PAPER
"Cincy rawk behemoths and long-time MOKB faves Buffalo Killers will be back in the bins on August 2nd with their new self-produced full-length, 3. Always good to hear new material from these cats, and lead single 'Circle Day' is no exception. A Creamy, heady brew, it's just the thing for a sweltering Midwestern afternoon." –  Richard 'Luftmensch' Morgan / MY OLD KENTUCKY BLOG
"Circle Day is an excellent taste of the straight ahead, no nonsense, classic rock 'n' roll these heavily bearded boys deliver, a propulsive rhythm, proper guitars and a killer riff soaked in a tight-fitting seventies sheen…" – MAD MACKEREL UK
"I read somewhere that Buffalo Killers sound as if they fell asleep 35 years ago, woke up, and missed all the changes in the musical landscape that happened while they slumbered. That's a pretty good description. I love this band." – Ben Opipari / WRITERS ON PROCESS
"I have been into those guys for a long time. Back when they were in Thee Shams I brought them on the road with The Black Keys. I didn't hear anything from them for a while after Thee Shams disbanded until the next thing I know the Buffalo Killers first record is coming out. I bought a copy of it and was stunned, like 'Holy shit.' They transformed from a good garage rock band to light years ahead of what they were doing in terms of songwriting, arrangement and harmonies." – DAN AUERBACH IN JAMBASE
"There's another band like that I really love, from Cincinnati, the Buffalo Killers. They're a three-piece Midwestern rock'n'roll band – really f**king good songs." – CHRIS ROBINSON IN MOJO
http://www.citybeat.com/cincinnati/blog-2510-buffalo_killers_gear_up_for_fall_tour.html