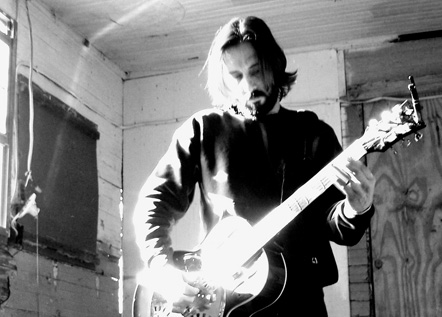 If Robert Johnson were alive…he'd be stealing licks from this cat.
Feeling the bite of 21st century ennui? Hell with it. Strap in, turn on and tune down with some dark-as-a-black hole Delta blues. With 2012 here, the Mayan calendar coming to a close and Planet X swinging over the horizon, you may as well ride it out with some swamp infested, pass-the-Prozac slide-Dobro guitar.
And there's no better way to ride out the end times than jamming some Brother Dege tunes – the Deep South's best kept secret since the Georgia Guidestones. Brother Dege (aka Dege Legg – Louisiana born, swampland mad genius, and also frontman for the Lafayette, LA-based rock band Santeria) is on a strange roll: working in a homeless shelter (file under: "Gnarly Career Moves"), recording the follow up to Folk Songs of the American Longhair in a empty warehouse, and disappearing for days in the backwoods of his native Louisiana.
Brother Dege recently teamed up with Louisiana filmmaker Brian C. Miller Richard for a beautifully pro-shot, mini-epic video for his song "Black is the Night." Shot at various locations, the video – like some haunted nocturne – is a dark meditation on the spooky breed of loneliness, solitude and isolation that characterizes Louisiana.
CLICK HERE TO VIEW & POST BROTHER DEGE'S NEW "BLACK IS THE NIGHT" VIDEO
It's a big departure from the cult favorite, grainy, zero-budget videos that populate Brother Dege's YouTube channel.
In other news, Brother Dege will once again be pulled from his reclusive environs to perform at the 2012 New Orleans Jazz & Heritage Festival on May 6th along with other acts that day such as Foo Fighters, Bonnie Raitt, Sharon Jones & The Dap-Kings, as well as fellow Louisiana legends like The Preservation Hall Jazz Band, The Wild Magnolias, Rebirth Brass Band, Kermit Ruffins and many others.
HERE'S WHAT PEOPLE HAVE BEEN SAYING ABOUT BROTHER DEGE:
"[Four Stars] In lesser hands all this might easily sound contrived, but instead it's genuinely powerful and compelling stuff. 'The Girl Who Wept Stones' and 'Dead & Gone' might have been ripped from the Son House songbook, though the seven-minute epic 'House of the Dying Sun' is the real keeper." – UNCUT
"Dege Legg is the Robert Johnson of the 21st century." –  ROOTSVILLE
"Both ancient and modern, like an indie rock cover of something Lomax may have recorded a hundred years ago." – BLOGCRITICS
"Fans of slide guitar, Southern gothic, or plain old rock & roll attitude need to run, not walk, and check out Brother Dege ASAP. Brother Dege is a case study in how one guy with a steel guitar and minimal accompaniment can out-rock a roomful of electric bombast, given the right songs, the right skills, and the right voice. Brother Dege has'em all." – POPMATTERS
"Brother Dege brings the ghosts of kudzu-covered swamp rats to life in your speakers.  Find the darkest spot in your backyard, light some candles and turn it up." – THE BIG TAKEOVER
"Those willing to step into the Brother Dege abyss will likely reap its rewards." – OFFBEAT MAGAZINE

BROTHER DEGE – BORN ON THE BIO
Louisiana born and raised Brother Dege is one of the best kept secrets in the Deep South – a writer, musician, artist, and a one-man band, pushing the resonator and slide guitar into the 21st century like some mad lovechild of Robert Johnson and Lou Reed. Mixing the traditional slide playing of the Mississippi Delta Blues masters (Son House, Blind Willie Johnson, Bukka White) with the post-modern expressionism of Sonic Youth, along with some world-class songwriting, Brother Dege's critically acclaimed songs veer from haunted slide-guitar scapes to raw, Delta blues barn burners that take the listener on a trip into the south's swampy rural past and the great unknown of the future. His most recent full-length album Folk Songs of the American Longhair was voted one of the top blues and roots albums of 2010 in Europe and the U.S., and his song "Hard Row To Hoe" from this album was also used as the opening theme song for Discovery Channel's popular show After The Catch last year (click here to view).
RELATED LINKS:
Brother Dege http://degeleggnews.blogspot.com
Director: Brian C. Miller Richard http://www.briancmillerrichard.com
Cinematographer: Natalie Kingston: http://vimeo.com/nataliekingston
Brother Dege YouTube Channel: http://www.youtube.com/user/santeriaband?feature=mhee
Santeria: http://officialsanteria.com
FOR MEDIA AND INTERVIEW REQUESTS
Tony Bonyata
Pavement PR
p: 262.903.7775
e: bonyata@wi.rr.com
https://pavementpr.com