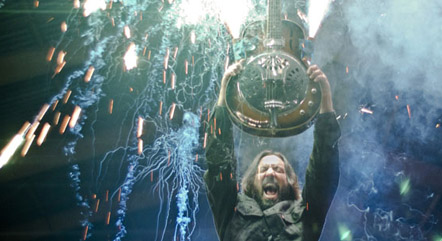 Brother Dege ("deej") (aka Dege Legg) is a musician, writer, Southern enigma and the haunted face of 21st century Delta blues. Like the possessed offspring of Faulkner and Son House, he plays slide guitar in the age-old tradition of the blues greats, yet manages to breathe new life into this revered Delta idiom.
The reclusive Louisiana Cajun will be hitting the road with his new backing band, The Brethren (featuring drummer Steven Gardner & bassist Chris DeShazzo of Frigg a-Go-Go), in May before going solo in June on a tour with the Portland, OR-based band Truckstop Darlin'.
Brother Dege has also recently finished his second album How to Kill a Horse, which promises to push the slide-guitar and the traditions of the Delta blues far into the darkness of the millennium. He'll be road-testing these new tracks this spring/summer prior to the album's release later this summer/early fall.
To tide fans over until then, Dege is offering a free download of a studio version he recently recorded of Black Sabbath's "Supernaut." In his own unique way, he's managed to shapeshift this heavy rock number into a bone-chilling slice of modern Delta blues. Click here to download and share Brother Dege's " Supernaut."
In addition, Dege's song "Too Old To Die Young," from his critically-acclaimed debut album Folk Songs of the American Longhair, was handpicked by Quentin Tarantino for inclusion in the soundtrack of his recent Academy Award winning film Django Unchained, which was just released on DVD & Blu-ray this week.
BROTHER DEGE & THE BRETHREN MAY 2013 TOUR DATES
5.16 – Mud & Water, Baton Rouge, LA
5.17 – The Nick, Birmingham, AL
5.18 –  Alabama Music Box, Mobile, AL
5.22 – Ashley Street Station, Valdosta, GA
5.24 – Southern Culture, Greenville, SC
5.25 – Kings Barcade, Raleigh, NC
5.31 – Yesterday's, Jacksonville, FL
BROTHER DEGE (SOLO) JUNE 2013 TOUR DATES W/ TRUCKSTOP DARLIN'
6/5 – Sam Bonds Garage, Eugene, OR
6/6 – TBA, Sacramento, CA
6/7 – TBA, Oakland, CA
6/8 – Tupelo,  San Francisco
6/9 – TBA, Los Angeles area or San Diego
6/11 – Yucca Taproom, Phoeniz, AZ
6/12 – TBA, Tucson, AZ
6/13 – TBA, Albuquerque, NM
6/14 – TBA, Oklahoma City, OK
6/15 – TBA, Tulsa, OK
6/16 – TBA, Little Rock, AK
6/18 – The Nick, Birmingham, AL
6/19 – TBA, Atlanta, GA
6/20 – TBA, Gainesville, FL
6/21 – The Garage, Winston-Salem, NC
6/22 – Five Points Pub, Columbia, SC
6/24 – TBA, Charleston, SC
(more dates to announced soon)
 
HERE'S WHAT PEOPLE HAVE BEEN SAYING ABOUT BROTHER DEGE:
"Frankly, every track on the Brother Dege CD could have been in the movie [Django Unchained]. It works and has a badass score sound to it. Almost every song could be a theme song. It's like a greatest hits album. But this song 'Too Old to Die Young'… it's pretty damn badass. And it's used in the movie in a pretty damn badass way, I've got to say." – QUENTIN TARANTINO
"Fans of slide guitar, Southern gothic, or plain old rock & roll attitude need to run, not walk, and check out Brother Dege ASAP. Brother Dege is a case study in how one guy with a steel guitar and minimal accompaniment can out-rock a roomful of electric bombast, given the right songs, the right skills, and the right voice. Brother Dege has'em all." – POPMATTERS
"[Four Stars] In lesser hands all this might easily sound contrived, but instead it's genuinely powerful and compelling stuff. 'The Girl Who Wept Stones' and 'Dead & Gone' might have been ripped from the Son House songbook, though the seven-minute epic 'House of the Dying Sun' is the real keeper." – UNCUT
"Both ancient and modern, like an indie rock cover of something Lomax may have recorded a hundred years ago." – BLOGCRITICS
"Brother Dege brings the ghosts of kudzu-covered swamp rats to life in your speakers.  Find the darkest spot in your backyard, light some candles and turn it up." – THE BIG TAKEOVER
"Those willing to step into the Brother Dege abyss will likely reap its rewards." – OFFBEAT MAGAZINE
Click here to listen to the audio interview of Tarantino discussing Brother Dege and his music.
FOR MORE INFO ON BROTHER DEGE:
http://degelegg.com
http://degeleggnews.blogspot.com
FOR MEDIA AND INTERVIEW REQUESTS:
Tony Bonyata
Pavement PR
p: 262.903.7775
e: bonyata@wi.rr.com
https://pavementpr.com
Twitter: https://twitter.com/PavementPR
Facebook: https://www.facebook.com/PavementPublicRelations