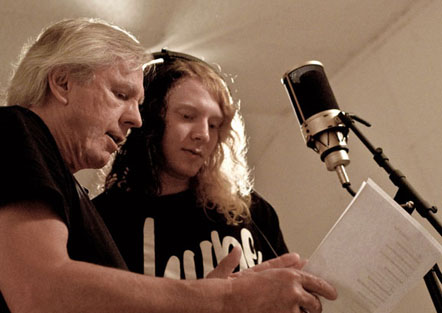 CLICK HERE TO STREAM THE STOOGES' JAMES WILLIAMSON'S "I'M SICK OF YOU" W/ THE ORWELLS' MARIO CUOMO ON VOCALS.
The Stooges guitarist James Williamson is releasing a solo album, Re-Licked, which features "lesser-known Stooges tracks properly recorded and mixed for the first time" with an impressive list of guest lead singers, including Jello Biafra (Dead Kennedys), Mark Lanegan (Screaming Trees), Alison Mosshart (The Kills), Mario Cuomo (The Orwells), Bobby Gillespie (Primal Scream), Ariel Pink and others. James is backed by live Stooges members Steve Mackay, Toby Dammit, and Mike Watt (also of The Minutemen, fIREHOSE, etc) and that dog.'s Petra Haden provides backup vocals. The album's due out on October 29 via Leopard Lady Records.
"I'm Sick of You," which has The Orwells' Mario Cuomo on guest vocals, makes its premiere in this post. James says it "was one of the very earliest songs [he] wrote with Iggy back in around late 1970," and that they "played it live at the King's Cross Cinema Show while [they] were in London just before [they] recorded Raw Power." Mario's a good choice, considering Iggy seems like a big influence on him, and he gets his Danzig or his Jim Morrison on a bit for this one too. Check it out below. The Orwells also have a previously discussed fall tour which hits NYC on October 15 at Irving Plaza. Tickets for that show are still available.
Tracklist:
01. Head On The Curve (w/ Jello Biafra)
02. Open Up And Bleed (w/ Carolyn Wonderland)
03. Scene Of The Crime (w/ Bobby Gillespie from Primal Scream)
04. She Creatures Of The Hollywood Hills (w/ Ariel Pink)
05. Til The End Of The Night (w/ Alison Mosshart from The Kills, Dead Weather)
06. I Gotta Right (w/ Lisa Kekaula from The BellRays)
07. Pinpoint Eyes (w/ Joe Cardamone from The Icarus Line)
08. Wild Love (w/ Mark Lanegan & Alison Mosshart)
09. Rubber Leg (w/ Ron Young from Little Caesar)
10. I'm Sick Of You (w/ Mario Cuomo from The Orwells)
Bonus Tracks:
11. Gimme Some Skin (w/ Caroline Wonderland)
12. C*ck In My Pocket (w/ Nicke Andersson from The Hellacopters)
13. Heavy Liquid (w/ Lisa Kekaula) 14. Wet My Bed (w/ The Richmond Sluts)
15. C*ck In My Pocket (w/ Gary Floyd from The Dicks)
16. Rubber Leg (w/ J.G. Thirlwell aka Clint Ruin, Foetus)
http://www.brooklynvegan.com/archives/2014/09/james_williamso.html