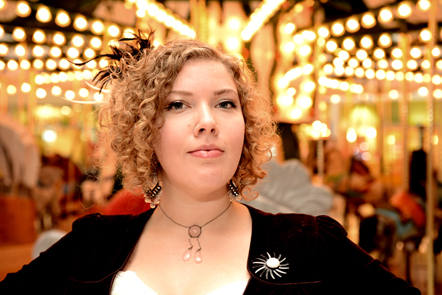 Bonnie Whitmore's last album had a body count and a title, Embers to Ashes, that implied a fiery finality. There are broken bones and hard lessons learned on Whitmore's new album, but its title – There I Go Again – suggests less ominous themes.
"I feel like I've grown up a lot," she says. "I just turned 30 this year, and I've been in the business 15 of those years. There's been this humbling aspect to my writing, this attempt to make the songs in a way that's singable and relatable. It's not as selfish as Embers, which was a record I needed to do to get through that period of my life. This one's more a celebration of some successes but also learning from failures. Plus, nobody wants to hear two breakup albums in a row."
Fittingly, the music also reflects a radiant change of direction. The rootsiness of Embers isn't absent, but the songs on There I Go Again are decidedly less country sounding. Keyboards are played up in places a steel guitar might have inhabited, the drums are more prominent, and Whitmore lets her big voice run through some big, inviting choruses.
"We knew when we had these songs that we were making a pop record," says Whitmore. "It's not the same Americana sound that we had with Embers. This one is a lot more put together. I think it comes across as more polished. It's definitely a pop record, and I love pop records."
She cites Tom Petty's ability to balance the earthiness of roots music with hooky pop parts as the model she aspired to on the album. "He made these amazingly awesome pop songs, but he was able to keep them within the lines, so you could hear just how beautiful these melodies were," she says. "I hate the phrase – 'who inspired you?' – but his music has had a great influence on me throughout my life."
Whitmore also credits her parents, both the music they chose to play at home in Denton and on the radio, and also her father's band, which featured Whitmore starting at age 8, as well as her sister Eleanor.
By 15, Whitmore was playing professional gigs outside the family. She sang in Hayes Carll's band for a while, and recently she spent quite a bit of time touring and recording with the Mastersons, the husband/wife band featuring sister Eleanor and Houston native and guitarist Chris Masterson.
They're good family to have: Both of them play on Whitmore's albums, which Masterson produced.
There have been tough gigs for Whitmore along the way. She went to Kickstarter to finance the new record. There she included a video with some footage from a particularly undesirable gig performing in a sports bar beneath the glow of a giant flat-screen TV.
"Those can be hard ones to play," she says. "Three hour gigs, and it's disheartening to play when nobody cares. It can be a humbling experience."
But her album title speaks to a commitment to her music. "It seemed like a pretty good title for a second album," she says. "But it has that sense of what you're doing when you're putting out music: Diving back into the deep end and seeing how well it floats. Nobody is really doing this for the money. Doing this because you love it is the only reason to do it at all. There's nothing else I'd rather do. Once you've grown up and realized that's your place and it's what you're meant to do, it doesn't seem so bad. Then it doesn't seem like you're giving up anything. Sometimes you have three people come out, sometimes 30 or 50 will come to the show. But they do it because the love it and care about it and spend their time doing it. It goes back to Woody Guthrie playing union halls. It's romantic in a way to know that this life is one you've chosen. And that it's worth it in the end." – andrew dansby
Bonnie Whitmore's There I Go Again will be released on CD and digital formats on June 11th through This Is American Music.
CLICK HERE TO DOWNLOAD & SHARE BONNIE WHITMORE'S NEW SINGLE
"TOO MUCH TOO SOON"
BONNIE WHITMORE 2013 NORTH AMERICAN TOUR
June 5 Birmingham, AL @ Moonlight On The Mountain
June 6 Tuscaloosa, AL @ Egan's
June 8 Athens, GA @ The Green Room
June 10 Knoxville, TN @ WDVX TN Shine
June 11 Nashville, TN @ High Watt (opening for Lee Dewyze. Bonnie Whitmore solo)
June 13 Hot Springs, AR @ Maxine's
June 27  Denton, TX @ Dan's Silverleaf
June 28 Oklahoma City, OK @ The Blue Door
July 2 Minneapolis, MN @ Lee's Liquor Lounge
July 3 Winnipeg, MB @ TBA
July 4 Saskatoon, SK @ Rock Bottom (The Fez)
July 5 Edmonton, AB @ Avenue Theatre
July 6 Bonnyville, AB @ Bonnyville House Concert
July 7 Calgary, AB @ The Ironwood
July 8 Lethbridge, AB @ The Slice
July 9 Waterton, AB @ Waterton Park
July 10 Winlaw, BC @ Cedar Creek
July 11 Penticton, BC @ Voodoo's
July 12 Vancouver, BC @ Kozmik Zoo
July 17 Los Angeles, CA @ Hotel Cafe
(more dates to be announced soon)
There I Go Again Tracklisting:
1. There I Go Again
2. Heartbreaker
3. Reckless and Young
4. Colored Kisses
5.Too Much Too Soon
6.Cryin' Out For Me
7. You're Going To Love Me
8. The Gavel
9. Borderline
10. Be The Death Of Me
"With a voice that goes from whispering softness to full throttle and alto to soaring soprano, and songs that plumb relationships with lyrics referencing Lewis Carroll, Hunter  S. Thompson and Radiohead, Bonnie Whitmore's got Americana fans clamoring to hear her new work." – AUSTIN MONTHLY
"Although her sultry Southern voice and country sound pay rightful homage to her roots, Whitmore's music reflects an angst all her own." – FLAGPOLE MAGAZINE
FOR MORE INFO ON BONNIE WHITMORE:
http://www.bonniewhitmore.com
FOR MORE INFO ON THIS IS AMERICAN MUSIC:
http://thisisamericanmusic.com
FOR MEDIA AND INTERVIEW REQUESTS:
Tony Bonyata
Pavement PR
p: 262.903.7775
e: tony@pavementpr.com
https://pavementpr.com