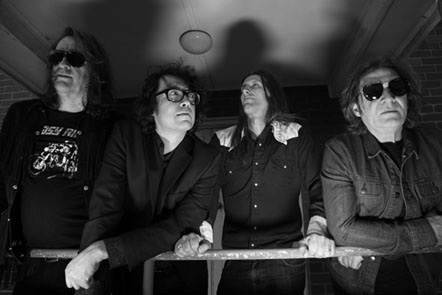 CLICK HERE THE WATCH THE PREMIERE OF DATURA4'S "OUT WITH THE TIDE" VIA BLURT MAGAZINE!
It's the brainchild of Dom Mariani (frontman of Australian garage rockers The Stems and Power Popsters DM3) and Greg Hitchcock (former You Am I and one-time New Christs' guitarist), and they're new "full-tilt boogie, psych and prog combo calling it Datura4. The result is Demon Blues which drops this week via Alive Naturalsound, and as we at BLURT are huge fans of Mariani and Hitchcock, being able to premiere the album is a no-brainer.
Mariani comments: "Greg and I grew up in the same neighbourhood (just outside of Fremantle), we dug the same records and played together in a few local bands. After a few years where we followed different musical paths, Datura4 came together over a few fun, loose jams with no expectations other than to do a few shows playing the music we love.
"The songs started to come and now we have Demon Blues. It's another side of what people who've followed Greg and I would normally associate us with.  It captures the freewheeling nature of the band."
Mariani and Hitchcock, along with drummer Warren Hall (who previously played with The Drones) and bass player Stu Loasby, they have been steadily building a reputation in their hometown of Fremantle, Western Australia, with their live performances. The band specifically note that they are influenced by early '70s Australian such as Buffalo, Coloured Balls, The Aztecs and latter era Masters Apprentices. BLURT reviewer Michael Toland enthuses over their "heavy blues-inflected psych rock… the band's debut wallows in guitars the way a lobbyist rolls in money."
Incidentally, the psychedelic cover art is by Joshua Marc Levy/Asheville Art Family.
Tracklisting:
Out With The Tide
You Ain't No Friend Of Mine
Another Planet
Journey Home
Hoonsville
Demon Blues
Pissin' Up The Wall
Killjoy
Gravedigger Man
Love To Burn
http://blurtonline.com/news/premiere-new-datura4-aussie-supergroup-features-stemsdm3you-am-i-members/