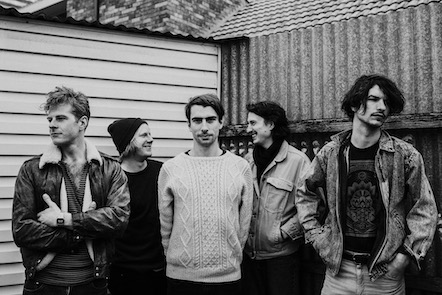 Click here to check out Money For Rope's new track "Picture Us"via Blurt.
And click here to listen to the full album stream of Money For Rope's new LP "Picture Us" via Spotify
BLURT Song Premiere: Money For Rope "Picture Us"
Aussie rockers' new album drops this week.
BY JOHN B. MOORE
For their third effort, Picture Us, the Melbourne-based five piece Money For Rope opted to produce, mix and master the entire record on their own. And it's hard to argue with the results: a record brimming with energetic garage and surf rock, punctuated with strong moments of soul and psych.
You can hear for yourself with the Blurt premiere of the trippy title track.
"When I was young and left home alone along with my brother, I was surprised by my parents, who had returned home from holidays early; possibly as an act of deserving untrustworthiness," said singer/songwriter/guitarist Jules McKenzie, describing the song. "I was rapidly cleaning up from a party, and wearing what was, unaware to me, dad's best suit.
"It seems that when you are young you long to be older, and I wonder if when I am older, I will long to be young again. I wonder if there is a point in the middle where it crosses, and how I will feel about love. We recorded this through walkie-talkies we had as kids, where there was a ledger above a large orange button that gave the alphabet in morse code."
The album, set for release next week, on Friday, March 8 ,on Cheersquad Records & Tapes, was recorded over the course of one long hot Australian summer.
More details and tour dates: http://www.moneyforrope.com.au
Follow 'em on Facebook: https://www.facebook.com/moneyforrope/
https://blurtonline.com/news/song-premiere-money-for-rope-picture-us/