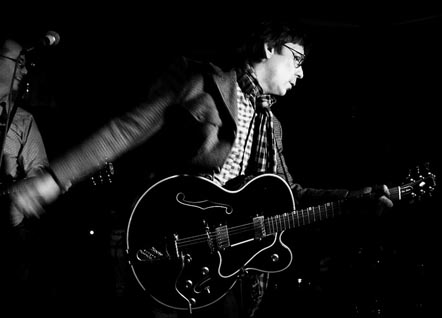 FLAMIN' GROOVIES' FRONTMAN CHRIS WILSON TO RELEASE NEW SOLO ALBUM "IT'S FLAMIN' GROOVY!" IN THE U.S. JANUARY 14TH!
 
CLICK HERE TO LISTEN TO THE PREMIERE CHRIS WILSON'S NEW SONG "ALL THE ACTION" VIA BLURT
2013 has proved to be a whirlwind year for the legendary rock band The Flamin' Groovies. After successful tours of Japan, Australia, the UK and the US, they've been in the studio laying down tracks for their next release due in 2014, one of which songs, "The End of the World," Rolling Stone recently premiered, claiming that "like their best tracks, this music is timeless."
What people probably don't know is that this reunion was initially triggered by Groovies' frontman and guitarist Chris Wilson inviting his former bandmates, Cyril Jordan and George Alexander, to help record his latest full-length studio album, It's Flamin' Groovy! Like the Groovies' most beloved material, these 12 tracks of archetypal rock 'n' roll dig deep into the band's own influences, while still retaining that "timeless" element, and is proof that these guys haven't lost any of their edge.
Chris is also joined on this effort by ex-Groovies Roy Loney, Mike Wilhelm and James Ferrell, along with Procol Harum's Hammond legend Matthew Fisher, who played live with the Groovies during their UK dates earlier this year.
The album contains plenty of the harmonies and jangle from the band's classic Shake Some Action era; in fact opening track "All the Action" is a world-weary riposte to its forebear. "She Satisfies" and "Heart in Her Hand" are both Cyril Jordan originals that have their roots back in the '80s as lost Groovies classics. Elsewhere the album ventures into Rolling Stones Exile on Main Street territory, while Roy Loney chips in on the high energy rock'n'roll of "Gamblin' Man." There are also nods in the direction of The Beatles' Revolver and touches of psychedelia in the track "Bad Dreams."
This album is – at least for now – the nearest thing you'll get to a full-blown Flamin' Groovies album. It embraces all the influences that have been with the band since the days of Teenage Head and serves as an ideal companion to the band as they return to live action.
Following its UK release in September, It's Flamin' Groovy! will see its official U.S. release on CD & digital formats January 14th.
IT'S FLAMIN' GROOVY!  TRACK LISTING:
1. All The Action
2. She Satisfies
3. Last Roll of the Dice
4. Heart in Her Hand
5. Shake That Feeling
6. Bad Dreams
7. Semaphore Signals
8. Down to the Wire
9. Sweet Anne
10. Feel Your Love
11. Can't Let Go
12. Gamblin' Man
HERE'S WHAT PEOPLE ARE ALREADY SAYING ABOUT CHRIS WILSON'S IT'S FLAMIN' GROOVY!
The whole album is coated in that timeless luminescence which underpinned this most special of bands [The Flamin' Groovies], and is a Grooviemaniac's delight, stuffed with vibrant songs and those untouchable guitars, ranging from scathing rockers to lustrous Stonesy ballads. Wish I could go on; just get it. –  SHINDIG!
A riveting return to form. – CLASSIC ROCK
It's little surprise that these recordings led to a fully-fledged Groovies reunion; all concerned seem resolutely match-fit, and Wilson's voice has lost none of its ruffian attitude. – RECORD COLLECTOR
Tilts in the direction of classic mid-period Stones and psych-era Beatles, which won't come as a surprise to longtime Groovies watchers. – BLURT

CHRIS WILSON (photo credit: Anne Streng)
FOR MORE INFO ON CHRIS WILSON:
http://www.flamin-groovy.com
FOR MORE INFO ON THE FLAMIN' GROOVIES:
https://www.facebook.com/TheFlaminGroovies
FOR MEDIA AND INTERVIEW REQUESTS:
Tony Bonyata
Pavement PR
p: 262.903.7775
e: bonyata@wi.rr.com
https://pavementpr.com