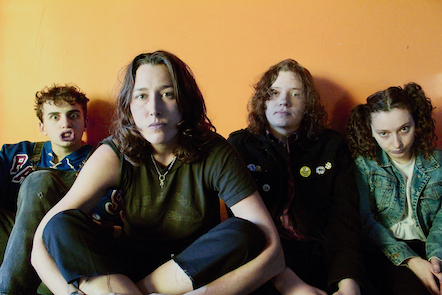 Click here to listen to NY punkers The Bobby Lees' cover of Bo Diddley's "I'm A Man" via Blurt Magazine.
Track Premiere: The Bobby Lees "I'm A Man"
BY JOHN B. MOORE
It takes a lot of balls to try and pull off a Bo Diddley cover. So it seems pretty apt that the female-fronted garage punk band The Bobby Lees not only attempt it, but do so with amazing results.
The Woodstock, NY, based foursome cover "I'm A Man," on their new LP, Skin Suit, out May 8th via Alive Naturalsound Records. Blurt is stoked to be able to offer you the song premiere. Check it out:
"I've heard people say 'you can't cover Bo Diddley, you just can't' so I thought fuck it, let's try," said frontwoman Sam Quartin. "We had a lot of fun recording 'I'm a Man.' As far as the gender thing, when doing PR for this record, I've been asked what I want to be called.
"When I look at anyone else or myself, all I see is energy trapped inside a bag of flesh, so you can call me whatever you'd like! And sorry Bo Diddley, we failed but we love you."
Skin Suit was produced by punk great Jon Spencer, of the Blues Explosion, Boss Hog and Pussy Galore. The Bobby Lees will take the album out on the road starting in mid-March.