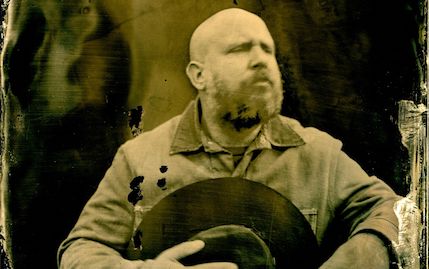 CLICK HERE TO LISTEN TO JEREMY PINNELL'S NEW SINGLE "I DON'T BELIEVE" VIA BLURT MAGAZINE!
Track Premiere: Jeremy Pinnell "I Don't Believe"
Ace tune culled from new album due out next week.
By Blurt Staff
Kentucky singer-songwriter and country-star-in-the-making Jeremy Pinnell is set to drop his new album Ties of Blood and Affection on August 11 via SofaBurn Records—it's the followup to 2014's OH/KY, which arrived seemingly from out of the blue and went on to knock the ball out of the park in the eyes of critics and the public alike. (Among the kudos: "mind-blowingly good," courtesy Greg Vandy, KEXP; "tutorial on classic country music," via Popmatters.) So we're pleased and honored to be able to unveil a tune from the new disc. Check out "I Don't Believe"
As Pinnell put it, "I wrote this out of gratitude and finding peace without religion." Indeed, his sophomore effort finds Pinnell exploring different themes and adopting new points of view compared to the relative starkness of his debut. The music, too, builds upon the foundation laid down previously with plenty of twang 'n' strum, classic country stylings that at least one observer has likened to "if Waylon Jennings had cut a record with Alex Chilton" (Portland Tribune)."
Well, all right then! Pinnell will be touring his proverbial ass off for the rest of the year—check dates, below. You can grab the new album at the SofaBurn website, and get more info on Pinnell at his official website or Facebook page.
Photo credit: Michael Wilson
http://blurtonline.com/news/track-premiere-jeremy-pinnell-dont-believe/