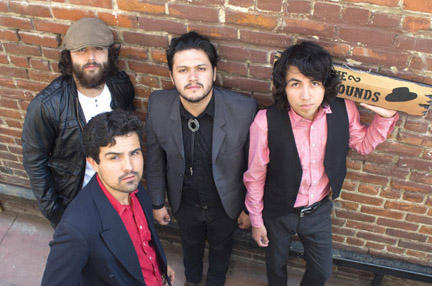 CLICK HERE TO LISTEN TO THE FULL ALBUM STREAM OF THE BLOODHOUNDS' NEW LP "LET LOOSE!" VIA BLURT MAGAZINE!
Just a little band from East L.A….. album drops Nov. 4 on CD and colored wax.
By Blurt Staff
East L.A. combo the Bloodhounds— Aaron "Little Rock" Piedraita on rhythm guitar, Johnny Santana on bass, Branden Santos on lead guitar and Mark Schafler on drums and percussion—will drop their debut album Let Loose next week on Alive Naturalsound, and it's a heady brew indeed. R&B/punk/Latin rock never sounded sweeter, and because it's so sweet we are gonna gift you, the erudite Blurt readership, with an advance stream of the record. Check it out:
Though founded on electric sound they also dig the old jug band style of playing. Picking up cheap acoustic guitars, turning ordinary household items into instruments and constructing a traditional washtub-broomstick bass, they often busk in the streets of downtown Los Angeles to the delight of large crowds. The band was discovered by Arthur Alexander (The Poppees, Sorrows) who wound up producing the album.
Frontman Piedraita enthusiastically describes Let Loose as "a mixup of our influences, styles and personalities. Recorded and produced by Arthur Alexander and released on Alive Records and we couldn't have asked for it any other way. Now watch out now cus' it ain't our last!"
Tour Dates:
October 25 @ Redwood Bar — Los Angeles, CA
October 30 @ The Lexington — Los Angeles, CA
November 6 @ KKUP Radio — Santa Clara, CA
November 7 @ The Brainwash Cafe — San Francisco, CA
November 20 RECORD RELEASE SHOW @ Harvard & Stone — Los Angeles, CA
November 21 @ Linneas — San Luis Obispo, CA
November 23 @ Hully Gully — Downey, CA
http://blurtonline.com/news/album-premiere-bloodhounds-debut-lp-let-loose/