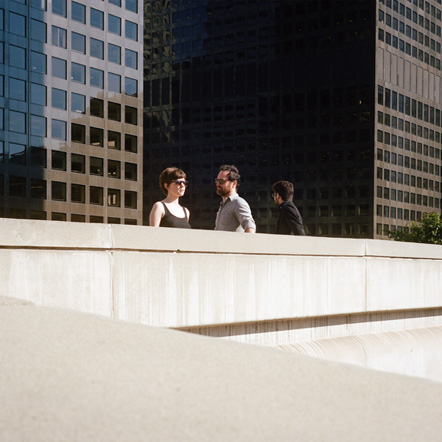 CLICK HERE TO LISTEN TO DYAN'S  NEW LP "LOOKING FOR KNIVES" VIA BILLBOARD
Film Composers-Turned-Buzz Band DYAN Talk Debut Album & Give Billboard First Spin: Exclusive Premiere
by Nick Williams
Meet DYAN. The buzzy new synth pop act, comprised of film composer duo Alexis & Sam (a.k.a Alexis Marsh and Samuel Jones) and Dan Dorff Jr., has been steadily on the rise since their singles "Days Upon Days" and "Looking for Knives" first lit up the hype machine in recent months.
The duo have worked on the project since 2012, with Marsh writing all of the songs and co-producing alongside Jones. They teamed up with Dorff, who was part of Jim James' solo band and also appeared on Ray Lamontagne's Ouroboros, in the final stages of recording at La La Land Studio in Louisville, KY.
The group's debut album — also titled Looking for Knives — arrives July 29, but today they give Billboard the exclusive first listen, streaming one week early.
We asked frontwoman Marsh a few questions via email about the band's quick rise, the transition from film scoring and her inspiration for the LP.
How did DYAN first take shape?
The first song was "Chances (Gone Too Soon)," which was written and produced for Jocelyn Towne's (incredible) first feature film, I Am I. Sam & I were writing the film's score and wanted a chance to include a song of ours for the main title sequence. It's on the album as a kind of bonus track because we had produced it long before we realized we wanted to make an album of songs, and also because the tone of the song is so different from the rest of the tracks — so many layers of instruments and parts — I felt like we overcompensated on that first one. Just threw everything we could at it — flute lines, weird synth parts, changing guitar parts every verse — because we didn't know what we were doing.
And how has the project evolved since its inception?
I kept writing songs for projects as the opportunities came up. Once we had a handful, we tried to find time to produce the album between our film work. I was getting anxious about having this open-ended project so I took some time out from scoring to live in Cincinnati, finish the songs and work with Dan Dorff, whose playing I had admired since we went to school together at the University of Louisville. We mixed the album at Kevin Ratterman's studio in Louisville, Kentucky, and that was the first time the three of us, Dan, Sam, & I worked together. CLICK HERE TO READ THE REST OF THE INTERVIEW