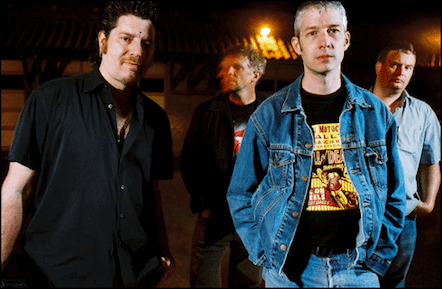 Beware: The Monks Of Doom Are In Your Head
By James Campion
New Album and Live Shows from the Sound of "21st Century Dystopian Dread"
It is worth noting that sitting in the middle of the living room floor of the East Village apartment of multi-instrumentalist and serial tourer, David Immerglück is a half-opened and very much tightly packed suitcase. Perpetually on the move, both psychically and musically, the man most famously aligned with such bands as Counting Crows and Camper Van Beethoven is whisking through town in the guise of a traveling troubadour, one of dozens of his acoustic or electric guitars at the ready, or maybe a few of his vintage early-20th century mandolins or a lap-steel guitar for good measure. Today, however, on this wind-swept, chilly New York City winter afternoon, he is waxing poetic about what he calls his current musical raison d'être, his not-so-secret passion; a four-piece, intensely quizzical aural assault on all-things rock called Monks of Doom.
More specifically, it is the subject of The Brontë Pin that has brought me here. The Monks new album has haunted me since I first heard its opening notes five months ago. And I knew the man affectionately known as "Immy" was the man who could shed some light on it.
"Oh, I get it," Immy said when I told him about my sudden obsession with The Brontë Pin. "In the early '90s when we were touring with this band called King Missile (best known for its quirky 1992 hit, "Detachable Penis") their sound guy complained over and over for weeks that he could not understand our music, how it gave him a headache. Then one day he comes up to me and whispers, 'It's weird, but Monks of Doom is the only music I want to hear now. Everything else sounds fucked.'"
In 1986, a curious collection of part-time escapees from the aforementioned Camper Van Beethoven, guitarists Greg Lisher and Chris Molla, bassist Victor Krummenacher and drummer Chris Pedersen, (joined three years later by part-time Camper, Immerglück) formed The Monks with a gnawing need to fit the sounds in their head into a construct best suited for them, or as Monks co-vocalist, Krummenacher put it; "a chance to go wherever our imagination took us." Over the past 30 years these sounds have made their way onto six albums. The Monks newest effort is a searing compendium of imaginative musical musings that balance precariously between distilled prog rock and a pastiche of queer originality.
Thing is after a half-dozen listens to The Brontë Pin, I cannot go more than a day or so without hearing it. There is an addictively calming sense of uneasiness that is both inspiring and scary in each song. They get up inside you like some kind of inner-ear reverberating parasite where everything indeed "sounds fucked."
An eerily seductive mind-tone, what Immy frames quite un-ironically as "21st century dystopian dread" — starkly penetrating guitars, a rumbling, tumbling, concussively distorted bass and a cracking snare so near and dear to the hearts of those who need to be reminded with every beat that the instrument has the broadest of shoulders — fills the songs of The Brontë Pin, adorned with provocative melodies and barely legible lyrics of god knows what. It opens with a sinuously recognizable "devil's triad" before picking up the pace into a mélange of riff-laden, kick-ass dual-guitar rock reminiscent of 1970s Black Sabbath with a tinge of ethereal Velvet Underground. Trust me, this stuff is not for the weak-hearted. The Brontë Pin is where the barren desert gives way to an ebony forest with all the lions and tigers and bears. Yeah, "Oh, my."
To that end, Immy smiles when he tells me; "We're not afraid to use the more unusual-sounding chord sequences."
As all-things Monks of Doom, The Brontë Pin has more than an air of mystery. Firstly, its title is a direct reference to Charlotte Brontë, the eldest of the famed 19th century authors, whose Jane Eyre cracked the lid on the private consciousness of her own unique voice and that of her gothic generation. "My mother is a cousin twice-removed from Charlotte," Immy explains. "The pin on the cover is a family heirloom that my mom and my late grandmother called the Brontë pin, this kind of supernatural connection to people from the past that you carry with you, which is perfect for the Monks. We are obsessed with the supernatural and it comes across in these songs, specifically the instrumental that I ended up naming after this pin."
The real mystery of The Brontë Pin begins, as all mysteries begin, at its ancient origins, which for the Monks of Doom was 2010, when they entered the legendary Fantasy Records Studios in Berkley, Calif.; a place spiritually disturbed by what Immy describes with some drama as a "bad-mojo cloud over the place". Built on the lucratively hit-laden, 1960s icon Creedance Clearwater Revival money infamously accrued in that legendarily villainous music-mogul way by Saul Zantz and the ensuing litany of lawsuits between Creedance main songwriter and front-man, John Fogarty and Zantz in the years following the band's contentious demise. "Growing up in and around San Francisco, it was the Bay area place for recording and also film sound-editing — Coppola worked on all his early films there — but it just had this terrible, dark vibe once you walked in. But once Zantz sold it, there was this feeling that, 'Hey, we can record here without our record being cursed!'"
For two days, the Monks helped lift the curse by improvising on disparate licks and sort-of choruses and "check-this-out…" bridges, laying down long-form meanderings through basic structures in some wonderfully bastardized concoction of jazz meets grunge meets the sharper end of a battle axe swiftly hacking pieces from Neil Young's Crazy Horse. "For instance, Victor brought in 'Up from the Cain' as nothing but a drums and bass thing and we started messing with it from there," remembers Immy of the long hours of experimentation that would form this pseudo-punk piece of mischief, complete with dissonant piano descants that dance wildly over a raucous head-bang mantra. The title track began as a one-take 30-minute opus that producer Bruce Kaphan, who Immy calls a "genius Brian Eno on pedal-steel" chopped up into a neat piece of atmosphere in "The Brontë Pin Part One", the rest ending up later on the record as "Part Two".
"I didn't even realize two songs came from the same jam until I heard the full session recording," says Immy excitedly. "I was immediately reminded of what the original Fleetwood Mac, the one with Peter Green, did with three songs cut from a long jam that make up their record, Then Play On."
Of course, Immerglück would be reminded of a mostly forgotten 1969 recording by a blues band that is known to the wider public for its 1970s smash hits with a completely different line-up. The 56-year-old's compulsive knowledge of any kind of music from the 20th century and beyond is frankly disturbing. While on tour with Counting Crows this past summer not a two-minute conversation, or a four-hour bus-ride symposium, would pass without the two of us diving into the deep end of some musical minutia. [CLICK HERE TO READ MORE]
http://www.theaquarian.com/2018/03/28/beware-the-monks-of-doom-are-in-your-head/