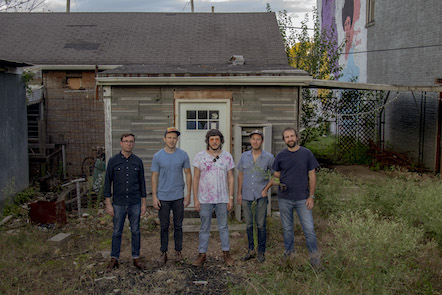 ALABAMA ROCKERS COME TOGETHER FOR SELF-TITLED DEBUT AS THE BLIPS (ALBUM REVIEW)
April 9, 2021 by Gary Schwind
The Blips is a band from Birmingham, Alabama, that comprises five frontmen. The band came together when Will Stewart of Timber asked some friends to collaborate on writing some songs. He was Joined by Taylor Hollingsworth, Wes McDonald, Eric Wallace, and Chris McCauley. The band formed in late 2019. By the time of the COVID shutdown, they had recorded six of the 10 songs on their debut self-titled album.
You'd never guess that this particular group of musicians has never performed together. The band is tight even despite the disruption of COVID-19. This group managed to create a group of songs that is catchy, loud, and easy to sing.
There is a definite nod to the past in these songs. Some of the melodies seem inspired by The Replacements while others have a distinct 60s-garage feel. Another nod to the past can be found in the backing vocals of songs like "Throw Me Around". Like Ramones, the backing vocals in this song seem as inspired by doo-wop as punk rock.
"Wild Thing II" is another example of how this band is modern with one foot firmly planted in the past. It's not a cover of the song by The Troggs although it does include the familiar guitar riff and some of the lyrics of the original. This song has a slower tempo and a wonderfully fuzzy tone that kind of brings The Melvins to mind.
If anyone tries to argue with you that rock is dead, this album is all you will need to prove that person wrong. This is energetic rock that you can blast from your car stereo. It's also perfect for those days when you want to embrace your inner teenager and just rock out in a ripped t-shirt like you used to before you had a regular job.
Photo credit: Dustin Timbrook
https://glidemagazine.com/255666/alabama-rockers-come-together-for-self-titled-debut-as-the-blips-album-review/