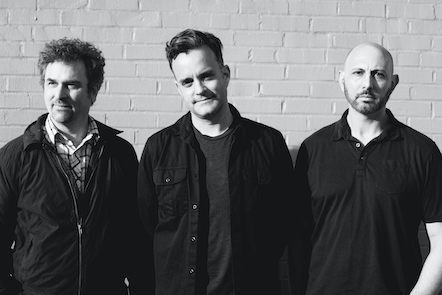 Click here to check out Cave States' new music video "The End is Around The Corner" via Americana UK.
Video Premiere: Cave States "The End is Around the Corner"
We're pleased to premiere this gently driving new single from Cave States. It's the title track from their new EP, due to drop on 24th July. The video was filmed before the quarantine by St Louis videographer and musician, Sean Garcia. It follows a group of old friends coming together on a night out in St. Louis. Members of the band are joined by Steven Fitzpatrick Smith (pub owner and boxing event planner) and Eric Woods (owner of Firecracker Press) drinking, laughing, sharing stories and attending a Golden Gloves boxing tournament together.
Band members Chris Grabau and Danny Kathriner have reflected on the song-writing process. Grabau says: "Danny and I will sometimes write prompts on pieces of scrap paper and put them into a cup. He drew the phrase and it resonated with us immediately. We talked about how the absurd concept of 'the end times' had an influence on our upbringing and the people around us. We both grew up in semi-rural communities informed by the Book of Revelations. The 'end of days' were always just around the corner."