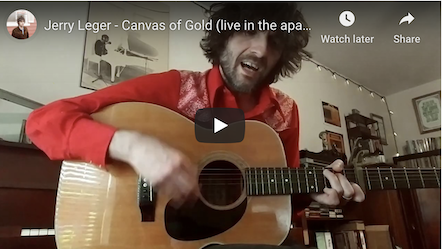 Click here to check out Toronto-based singer-songwriter Jerry Leger performing an exclusive two-song mini-gig for Americana UK.
Exclusive AUK Mini-Gig: Jerry Leger
By Andrew Frolish
What a fantastic way to close out a week of exclusive AUK mini-gigs! Every day this week, we have brought you a different artist, showcasing their talent and performing just for you. It's a small gesture to make up for all those cancelled gigs and it's a little light in the darkness. Today, that shining light is Jerry Leger.
One of 2019's stand-out albums was 'Time Out For Tomorrow' by the great Canadian singer-songwriter. Here at AUK, we said the album was, "A masterful example of Americana songcraft and accomplished musical performance." Over the last fifteen years, Leger's output has been remarkably consistent. The prolific singer's recent albums have been produced by Michael Timmins of the Cowboy Junkies, who has helped refine Leger's authentic Americana sound. We're delighted to share two songs recorded by Leger at home, 'Canvas of Gold' and 'Ticket Bought'. Enjoy and stay safe!