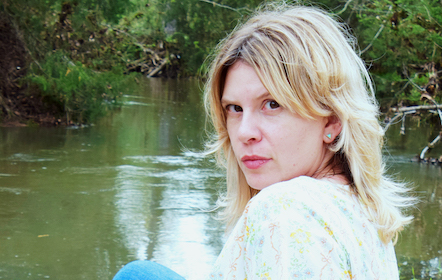 Video Premiere: Janet Simpson "Slip"
Listen & Watch
April 14, 2021Melissa Clarke
Americana Highways is hosting this video premiere of Janet Simpson's song "Slip" from her new album Safe Distance. The album was recorded at Communicating Vessels; engineered and mixed by Brad Timko; with vnyl mastering by Jeff Powell, digital mastering by Jason Hamric, and album design and photo by Swing From The Rafters.
"Slip" is Janet Simpson on vocals and guitar; Will Stewart on guitar and vocals; Robert Wason on bass; and Tyler McGuire on drums. Janet Simpson reels you in with a slow boil, here, with electric instruments that open with an inviting acoustic-like style. Give it a try.
"Slip" is one of those songs that came to me pretty quickly. The first time I remember playing it live, I think the band was on tour with Will Stewart. Will has always been really gracious about including a couple of my songs in our sets on tour. This night, we were in New Orleans in a bar that felt so lonely and so isolating that the bar now feels like part of the song."
"I turned to Daniel Isaiah Hargett (Welcome To Monotonia) who is a Birmingham musician and a very talented videographer to make the video. Daniel is all vibe, and I knew he could do something cool with the song, visually. He shot the whole video in his home. It was such a fun night of filming. I really love how he captured the darkness of the song through his use of lighting, texture, color and effects. — Janet Simpson
Janet Simpson's Safe Distance is out now on vinyl, CD and digital/streaming platforms via Cornelius Chapel Records. Order here: https://sym.ffm.to/safedistance
https://americanahighways.org/2021/04/14/video-premiere-janet-simpson-slip/