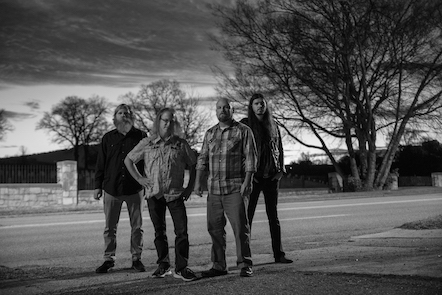 Click here to check out Bohannons' new "Hungover Hills" music video
Video Premiere: Bohannons' "Hungover Hills" From "Bloodroot" Album
By Melissa Clarke
Americana Highways is pleased to present this video premiere of the Chattanooga band, the Bohannons,' "Hungover Hills." The song is from their studio album, Bloodroot, recently available via Cornelius Chapel Records. The album was recorded at Dial Back Sound studio, produced and mixed by Matt Patton and Bronson Tew.
"Hungover Hills" is Matt Bohannon on lead guitar and vocals, Marty Bohannon on guitar and vocals, Billy C. Robinson on bass and vocals, Mike Gault on drums and percussion, with Jimbo Mathus on piano.
The video was directed by Marty Bohannon and Mike Gault, and edited by Mike Gault. The cinematography for this is excellent, with scene after scene of visual metaphors– e.g when the protagonist's bedhead resembles the feathered artwork he is vaguely contemplating — and discordant scenes that emulate the dull ache of a hangover. As for the song, it's not often that a song so clearly mimics its subject matter, but the Bohannons have pulled it off and made it seem completely effortless. From the vague distant-sounding whistling, to the slightly dissonant minor key, watching this will remind you of your most recent hangover. Bohannons deliver a unique twist of musical innovation this spring.
Inspired after listening to a lot of early Pink Floyd. The soundtrack to the movie More comes to mind. Finished after living alone in my 20s and feeling nostalgic about home. The instrumentation really came together quick in the studio exceeding my expectations after some tips from Matt Patton producer on the vocal harmony and of course Jimbo Mathus added the piano parts which I could not live without. — Matt Bohannon
Order here: Click here to order while you are watching right here:
https://americanahighways.org/2019/05/13/video-premiere-bohannons-hungover-hills-from-bloodroot-album/