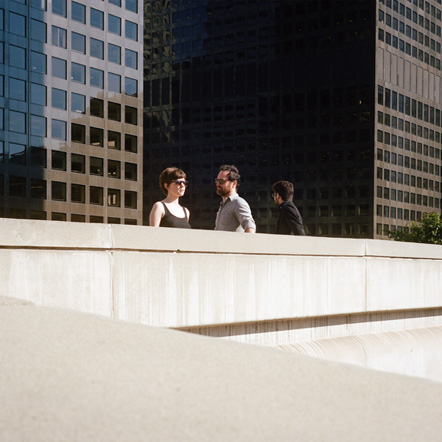 CLICK HERE TO LISTEN TO DYAN'S NEW SINGLE "DAYS UPON DAYS" VIA AMERICAN SONGWRITER!
American Songwriter Song Premiere: DYAN, "Days Upon Days"
Written By Annie Adams
Check out indie trio DYAN's new single, "Days Upon Days," from their forthcoming debut album Looking For Knives. DYAN consists of Alexis Marsh and Samuel Jones, who make up film scoring duo Alexis & Sam, as well as Daniel Dorff Jr., who has toured in Jim James' solo band, on the drums and piano.
Looking For Knives, slated for a July 29 release, was written by Marsh, who says it is "about giving up on a relationship, recovering, but ultimately, not being able to find a sense of resolution."
"Days Upon Days" is directed toward the person from whom I wanted to move on," says Marsh. "There's such vulnerability in still feeling," said the singer. "I couldn't change; I could only distract myself. Turning the lyrics into an anthem came easily, and then to dance.
"We played around with different ideas but ultimately settled on a minimalistic arrangement to reflect the directness of the lyrics," said Marsh of the track's production. "The mix of acoustic and electronic – programmed and organic – is something that appealed to us throughout making this album, and is highlighted in "Days Upon Days" through doubling up a drum machine beat with Dan's acoustic drums, the bright synth chords with guitar."
http://americansongwriter.com/2016/06/song-premiere-dyan-days-upon-days/