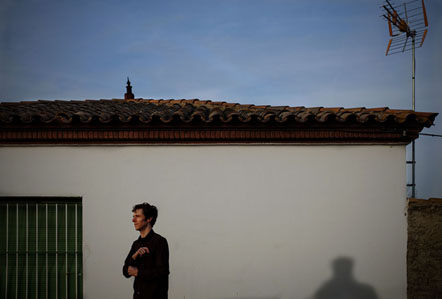 CLICK HERE TO LISTEN TO DANIEL MARTIN MOORE'S NEW SINGLE "ON OUR WAY HOME" FROM HIS FORTHCOMING ALBUM "GOLDEN AGE" VIA AMERICAN SONGWRITER!
Song Premiere: Daniel Martin Moore, "On Our Way Home"
Written by John Connor Coulston
Daniel Martin Moore's new album is change of pace for the Kentucky singer-songwriter.
Golden Age, which is set to be released on Oct. 9, pairs Moore with co-producer and My Morning Jacket frontman Jim James for a fuller, instrumentally rich project. James pushed Moore to abandon his usual stripped-down approach that was evident on 2011's In the Cool of Day and the 2012 Joan Shelly collaboration Farthest Field and use acoustic guitar as little as possible.
"It was Jim's suggestion that we start each song from the perspective of the drums & bass, finding the right foundation, and then seeing how the rest of the instrumentation would fit into that," Moore said in release. "In the past, it had very much been the other way around—everything was based around what my guitar was up to. We turned that on its head for this record."
However, one track on the album that does features acoustic guitar is "On Our Way Home." The track's upbeat instrumentation is driven by an acoustic riff over steady drums and piano.
"We broke our self-imposed acoustic guitar ban for this song, but it was worth it," he said. "I can't imagine it any other way."
http://www.americansongwriter.com/2015/09/song-premiere-daniel-martin-moore-on-our-way-home/