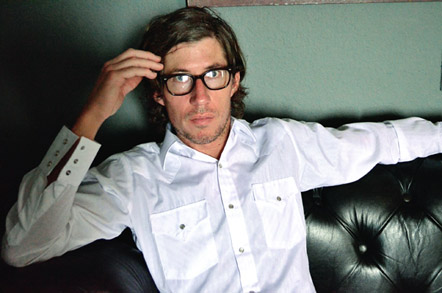 TEXAS SINGER-SONGWRITER TO RELEASE HIS FIFTH ALBUM SOME KNIVES ON MAY 13TH!
CLICK HERE TO LISTEN TO THE PREMIERE OF COLLIN HERRING'S NEW TRACK "PSYCHOPATHS" VIA AMERICAN SONGWRITER!
Some Knives is Collin Herring's fifth studio effort, yet it's his first in nearly five years. "This album has been done for a lot longer than it seems," the Texas singer-songwriter admits. "Most of the process was coordinating dates and small sessions here and there. Producer and drummer Matt Pence (Centro-matic) was able to hear the demos and the rest was just making it happen. We liked working with Matt and after some discussion about the initial recordings, it was a no brainer that he was going to mix this record as well. We didn't want anything lost in translation on this project."
Herring & Pence were joined in the studio with Jeremy Hull on bass and the singer-songwriter's father, Ben Roi Herring, on keyboards, pedal steel and backing vocals. "I like that the credits on this album are short. I like small groups," Herring states. "There was no 'that sounded good' and then re-recording it at a later date. We all just played our parts."
One of the underlying influences of the album occurred unintentionally during the sessions. As Herring explains, "During the recording process my Dad got cancer and beat it (Remission). Good surgeon and good cannabis oil. There was a point when Dad was laying down the pedal steel on one of the songs that I had to go outside and take a walk. It was emotional. While he was recording he looked up at me with this look on his face that told me his entire story. A look that said this is for you. This note. All these notes. All these bends. Everything that's weaving around. This is life and it's not over yet."
"We kept the health stuff to ourselves but I'd be lying if I didn't say it had some impact. Most of the recording was done when we found out but I still feel like, every now and then, that some of the emotional shadows crept onto the recordings."
Some Knives is, in fact, an emotional ride, yet it's a beautiful trip not only shrouded with dark corners, doubt and fear, but also dappled with light and a shimmering sense of hope throughout. These 11 moving tracks, that stylistically traverse through rock, alt.country and even touches of psychedelia, should prove what regional Texas press has already been hailing as both "the torchbearer for alt.country" and "the next big thing."
Collin Herring's Some Knives will be available on CD & digital formats on May 13th. Spring/summer U.S tour dates to be announced soon.
HERE'S WHAT PEOPLE HAVE BEEN SAYING ABOUT COLLIN HERRING:
[Song Premiere: Collin Herring's "Some Knives"] "The Texas-based singer-songwriter crafts intimate, country-tinged tunes that remind me of some of my favorite bands, like Son Volt and Whiskeytown. Close your eyes and open your ears to this track, and may you be temporarily transported … (And seriously, how great is this song? I've heard it about a dozen times already and that's still not enough!)" – USA TODAY
"… a phenomenal album that melds the alt-country and power pop genres with captivating ease. Herring's songs can be utterly heartbreaking and poetic even when he's banging the hell out of his guitar." – DALLAS OBSERVER
"… electric-honed alt.country in the vein of Son Volt." – THE AUSTIN CHRONICLE
"If you are a fan of Matthew Ryan, then adding Herring's work to your collection is a must. His poetry, robed in rock with a slight spark of twang continues to be an impressive combination." – TWANGVILLE
"On Herring's fourth album, Ocho, the Austin singer/songwriter assembles an eight-song set that often bristles with the Roots/Rock Americana of his first three discs while incorporating more of the kind of atmospheric texturalism found in the wheelhouse of Tom Waits and Chuck Prophet. Herring's plaintive and tremulous vocal style and disquieting lyrical honesty puts him in proximity to Ryan Adams, Freedy Johnston and Chris Whitley, especially when he goes full bore electric. But when he applies those same gifts in an acoustic Folk direction, there's a haunted, ethereal quality to the songs reminiscent of Elvis Costello's collaborations with T-Bone Burnett. And in a lot of cases, the cumulative results are Herring's distinctive sonic fingerprint, giving the clear impression that he's well on his way to establishing the kind of broad, expansive and unique range that Neil Young has successfully cultivated for the past four decades." – CINCINNATI CITY BEAT
FOR MORE INFO ON COLLIN HERRING:
http://www.collinherring.com
https://www.facebook.com/collinherringmusic
FOR MEDIA AND INTERVIEW REQUESTS:
Tony Bonyata
Pavement PR
p: 262.903.7775
e: tony@pavementpr.com
https://pavementpr.com