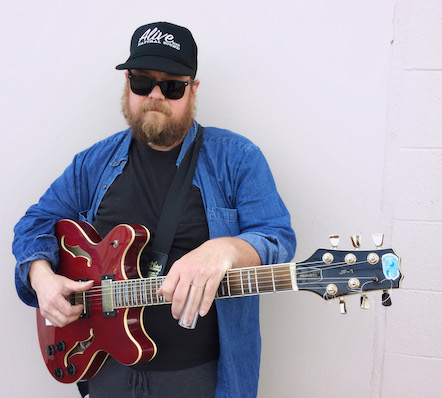 Click here to check out Mark "Porkchop" Holder's new "Big Boat" single via American Blues Scene
EXCLUSIVE World Premiere Mark "Porkchop" Holder's "Big Boat"
"Big Boat" is the first released single from the upcoming album, 'Death and the Blues.'
By JD Nash
It's been more than a decade since Mark "Porkchop" Holder starting tearing up juke joints, and dive bars as founder of the punk/blues band, Black Diamond Heavies. Now he leads a dangerous power trio, MPH, who are about to drop their sophomore album, Death and the Blues.
"Blues is the music of poor people, and poor people live closer to death than other people do," Holder admits. "The message of the title track is simple: death and the blues are real. I have a personal connection with the symbols of death; they remind me not to waste my time. Life is short."
Their music is not for the faint of heart. It's raw, gritty, and passionate. Holder's group is heavy (no pun intended), with snarling guitar that sounds to us like the product of Tinsley Ellis and Leslie West meeting in a dark alley. The rhythm section, made up of Travis Kilgore (bass), and Doug Bales (drums) will rattle the fillings right out of your mouth.
While Death and the Blues contains three cover songs, the lion's share of tracks are made up of fresh-penned originals. One of those is the first single to be released, "Big Boat."
"'Big Boat' was inspired by an Alan Lomax recording of a levee camp song sang by a worker named Joe Savage," Holder told us. "I got the image of a man who had to spend his life working on a paddle wheeler in the river to make a living, instead of being at home with his family. I grew up with people who had to make that kind of compromise. The song wrote itself in about 10 minutes."
Death and the Blues is scheduled for release on November 3rd, via Alive Naturalsound Records . MPH is performing in Clarksdale, Mississippi over the next three days as part of the Deep Blues Festival. Today, they'll deliver the goods at the Shack Up Inn, and will be staying in and around Clarksdale for five additional performances at Delta Blues Alley Cafe, Cat Head Delta Blues & Folk Art, Levon's, and Hey Joe's. Check their website for more upcoming tour stops.
EXCLUSIVE World Premiere Mark "Porkchop" Holder's "Big Boat"