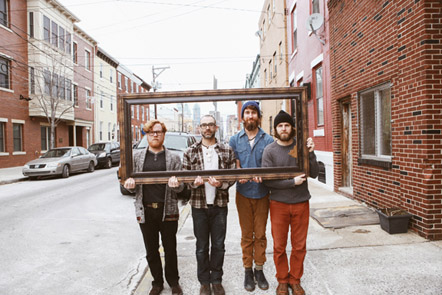 CLICK HERE TO LISTEN TO HOOTS AND HELLMOUTH'S NEW ALBUM "IN THE TREES" IN ITS ENTIRETY VIA ALLMUSIC!
Album Premiere: Hoots and Hellmouth, 'In the Trees'
By Chris Steffen
Philadelphia's Hoots and Hellmouth get serious about melodies and creating atmospheres on the band's new album, In the Trees. The band teamed up with engineer Nathan Sabatino, who has worked with fellow Philadelphians Dr. Dog, for an album that touches on folk, country rock, and maybe even a dash of twisted gospel. In his AllMusic review, editor Richie Unterberger made their 2009 album, The Holy Open Secret, an album pick, hailing the record's diversity and hard to pin down nature, noting "they're more interesting the eccentric they are." That variety continues on In the Trees, due out on October 28.
"Our new album began to take shape over two years ago in a transformed silversmith mill in the little Philadelphia suburb of Clifton Heights," frontman Sean Hoots wrote. "Our more acoustic sound is certainly present, but as with each record, In The Trees has pushed us beyond the borders of what came before. While not written around a premeditated theme, each star in this album's constellation seems to gather about the axis of the sacred and profane; an omnipresent sensitivity to spirit gives way on more than one occasion to full-blown physical freak-out. For every blissfully still moment of somber reflection there exists an equal and opposite reaction of explosive self-indulgence. This record represents feast and famine."
In the Trees can be ordered here.
http://www.allmusic.com/blog/post/album-premiere-hoots-and-hellmouth-in-the-trees