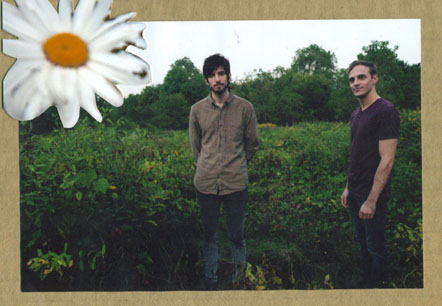 CLICK HERE TO LISTEN TO "RUNNIN' ME DOWN" VIA ALARM!
 
SILENT LIONS' SOPHOMORE EP THE COMPARTMENTS OUT NOW!
Conceived in Toledo, OH with a home base in sister city Detroit, Silent Lions are the sinister twosome of heavy-soul. Dean Tartaglia simultaneously plays effected octave bass, sampled synths, and manipulated atmospheric vocals, all while drummer Matt Klein grooves and thrashes beside him, often providing soulful singalong melodies and harmonies. The duo's live shows sound as thick and creamy as they do on record. Their music has been tagged as "spooky soul," "chill punk" and "Hall and Oates stoner rock."
Silent Lions' upcoming sophomore six-song EP, The Compartments, is a deeper exploration into genre manipulation. From hip-hop to stoner rock, Silent Lions create moments of lo-fi chaos out of hi-fi clarity. With their unofficial third member Zach Shipps (Electric Six) producing, The Compartments takes enough risks to turn your head, but never strays from SiLi's visceral, trademark, super sub bass and drum sound.
Dean started making his mark nationally with Detroit local legends The Sights, touring the U.S. and Europe supporting Tenacious D. Silent Lions are proud to continuously share bills with some of the best new artists in the scene (Mr. Gnome, Jamaican Queens, Bad Veins).
Silent Lions' The Compartments EP will be available January 14, 2014 on vinyl, digital & CD formats through the band's own label, Nah Collective.
HERE'S WHAT PEOPLE HAVE BEEN SAYING ABOUT SILENT LIONS:
Channels Prince, Janis Joplin and Suicide's Alan Vega (to name just a few) while drawing fresh connections between new wave, lo-fi indie rock, dance music, Detroit glam punk, and G funk. Singer/bassist/sampler Dean Tartaglia and drummer Matt Klein approach genre-bending with an almost demented sense of freedom that gives their music an art-damaged edge while sparking it with an air of celebration. None of the style manipulations ever sound contrived, and familiar ingredients fall together in audacious but unobtrusive ways. – ALARM
Captivating. – POPMATTERS
An urgent explosion of psych-drenched garage rock — 100% emotion, 100% libido —  you couldn't call it anything other than "f**king rock and roll." – INDIE SHUFFLE
Fronted by drums and bass, with a barrage of pedals and effects, Silent Lions are a refreshing new group for the local scene, one that shows signs of genre-pushing experimentation, original instrumentation & songwriting, and rightful confidence in the idea that Toledoans will embrace not just what's good, not just what's weird, and not always what's new – but always what's hard working and different.  – TOLEDO.COM
Sludge-funk trouncing murk-pop. – METRO TIME DETROIT
Silent Lions are re-setting the mold for what an "indie band" can do. – TOLEDO CITY PAPER
These guys really have a sound all their own. Everyone should be listening to this band. – HIP IN DETROIT
Silent Lions create a solid, heavy and distinct sound, one that's fully rounded in all the right places. The band uses a variety of different effects, pedals and echoes to achieve this sound, and the result is a sonic assault on the senses. – DAYTON CITY PAPER
FOR MORE INFO ON SILENT LIONS:
http://silentlions.bandcamp.com
https://www.facebook.com/SilentLions
FOR MEDIA AND INTERVIEW REQUESTS:
Tony Bonyata
Pavement PR
p: 262.903.7775
e: bonyata@wi.rr.com
https://pavementpr.com