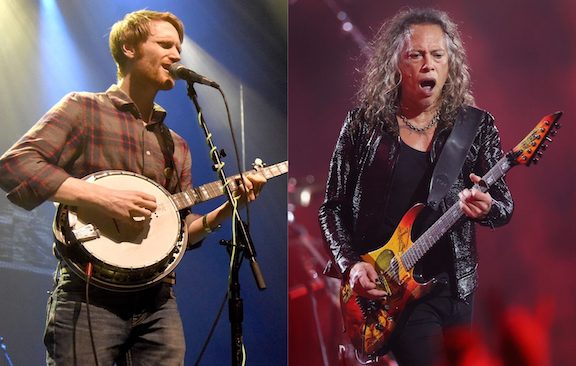 Kirk Hammett rarely plays guest solos, but he teamed up with folk-rockers Goodnight, Texas to deliver "an absolute vintage wah solo" on Greeny – hear it now
By Matt Owen
Hear how the Metallica maestro helped the band usher in a heavy new sonic direction with the help of one of music's most famed Les Pauls in this Guitar World exclusive premiere
Kirk Hammett's year so far has been defined by his activities with both Metallica and Gibson, but the electric guitar titan recently took time away from his formal commitments to record a guest solo on a new single from Goodnight, Texas.
While Runaways is notable for the fact it marks a significant sonic shift for the folk rock outfit – who decided to craft "a beast of a hard rock song" this time out – it's perhaps the presence of Hammett himself (and of one of rock's most iconic Les Pauls) that makes the track especially noteworthy for guitar fans.
Indeed, Runaways doesn't just feature the Metallica maestro performing a guitar solo – it features him performing a solo on the fretboard of his legendary Greeny Les Paul.
Boasting a main riff that singer-songwriter Patrick Dyer Wolf says has been "lurking in my drafts like a caged animal", Runaways sees the band resign their usual ensemble of banjos and mandolins to a minor role, instead opting for a dual guitar attack that reaches its peak when Hammett arrives on the scene.
With a cranked wah pedal – probably the same one he revealed to be his favorite not too long ago – the Gibson and ESP signature artist brings his A-game to the track, wielding Greeny (which recently added another ailment to its long list of injuries) for some scorching pentatonic runs and fiery bends.
Understandably, Goodnight, Texas, are elated with the final product: "This is the hardest we've ever rocked on a recording," Wolf reflects. "That's thanks in no small part to an actual and absolute vintage Kirk Hammett wah solo on his legendary Greeny guitar, about which I am self-pinching daily.
"The main riff of the song had been lurking in my drafts like a caged animal since our last album," he continues, "and at some point in the past year we decided it was time to set it free."
[Click here to read the full article]