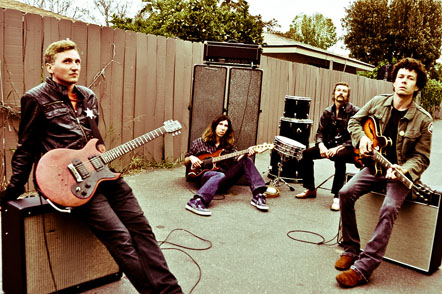 THE BLOODY HOLLIES – 'YOURS UNTIL THE BITTER END'
-Label: 'ALIVE NATURALSOUND'
Our rating: 9 stars (out of 10)
They'd never previously darkened my radar, but a quick bout of research proves THE BLOODY HOLLIES have quite a respected history behind them.
Founded in Buffalo, NY around the turn of Y2K, they've actually been honing their ferocious garage-rock assault over four albums, including one (2003's sophomore effort 'Fire at Will') for the highly-regarded Sympathy for the Record Industry label. They re-located to California (San Diego) sometime along the way and have clearly found themselves another suitable home with the ever-vigilant Alive Naturalsound.
The ominously-titled 'Yours until the Bitter End' is their fifth LP and it finds them rocketing out of the traps sounding fully-formed and utterly fantastic. Initial salvoes 'So Grey, So Green' and 'Dead Letter' give you a good idea of the kind of high-octane thrills being meted out, with the former cutting a dramatic swathe and the latter coming on like an unholy alliance between The New Christs and The Dickies. However, while these tracks show how hard The Bloody Hollies rock, some unlikely textures – the whirring, sci-fi organs, the mellow reprise after 'Dead Letter' recalling Love's '7 and 7 is' – demonstrate that there's a lot more invention and eccentricity going down here than yer average garage rock contenders would condone.
This feeling is borne out by the rest of the album as a whole. In the same way The Damned tempered their punky aggression with Prog and Goth elements, these guys also strive to fearlessly push their hard-hitting rifferama into fresh and exciting new areas. The lustful 'Dirty Sex', for example, swaggers along on a whiskey-soaked Southern groove and finds fork-tongued slide guitars coiled and waiting to strike in the shallows. The Freddy Kruger-strength nightmare scenario 'Good Night, Sleep Tight' ("Daddy, I was dreaming about a creature I'm certain came from Hell!") makes room for a wonderfully-hot blooded gypsy violin solo, while the epic 'Dress to Kill' displays a breathtaking grasp of dynamics.
Thrillingly, The Bloody Hollies versatility never obscures their ability to rock like bastards either. Driven along by Matt Bennett's animalistic drum clatter and Wesley Doyle's Jeffrey Lee Pierce-esque howl, tracks like 'Sticks & Stones', 'I Dream of Bees' and 'You're So Cold' are all brilliantly-executed, full-pelt anthems blending New Wave, '60s garage punk and grunge to something very close to perfection.
They've another surprise in reserve for the finale and 'John Wayne Brown': an Appalachian-style folk-blues lament concerning the death of a snake-handling preacher who was bitten to death by one of his own rattlesnakes during a sermon in Alabama.   The song's acoustic approach (slide guitar, mandolin and lazy harmonica) is the album's biggest departure and the congregational, sing-song vibe perfectly captures the bizarre subject matter.
'Yours Until the Bitter End' is a superb garage-rock album with twists, turns and a winning eccentricity that's all too rare in Rock'n'Roll these days. I may have been shamefully ignorant of The Bloody Hollies for the past decade, but their darkly sarcastic name isn't one I'll forget in a hurry now. More please and make it quick.
http://www.whisperinandhollerin.com/reviews/review.asp?id=8559