[Photo: Dan Massie]
Canyons are places of mystery and beauty. The interesting thing is, while they are one of the great wonders in the history of planet earth and attract scientists of all kinds of disciplines, they have also been a popular retreat for artists and musicians. You will have heard of Topanga Canyon, Rickie Lee Jones and Chicago recorded here. Laurel Canyon is even more well known, a mythical place where Crosby, Stills & Nash developed their unique vocal sound while hanging around Mama Cass' place. Or was it in Joni Mitchell's house on Lookout Mountain? Ok, you get the picture. There is something unexplainable, almost magical going on in canyons.
Maybe that's why Andy Platts and Shawn Lee were thinking of "Canyons" when they wrote and recorded their third album as Young Gun Silver Fox. With their previous two releases, West End Coast and AM Waves, these two very talented musicians, singers, songwriters, arrangers and producers already explored all things West Coast, AOR, Soft Rock and Boogie. But – especially if you are into the golden age of this sound running from circa 1976 to 1984 – you will be aware that there is no return once you started digging these unconditional musical delights with their timeless compositions, untouchable musicianship and refined arrangements. The great albums from that era appeared when punk broke and the musical establishment was shaken to the ground. Today they sound more up to date than ever. Who would have thought back then?
On Canyons Young Gun Silver Fox turned it up to eleven. They are nothing but "Kids" cruising in the fast lane, totally over the top searching for the "Dream Woman," touching down in Tokyo caught in a "Long Distance Love Affair," imagining the theme for a lost '70s TV series starring "Danny Jamaica," being on the winning side in a "Private Paradise," getting deep and soulful in "Things We Left Unsaid" and wondering how to spread "All This Love," Their bass lines, sound layers, brass arrangements and harmony vocals are immaculate. Everything fits perfectly. Just like this. "Who Needs Words" when everything is crystal clear? Exactly!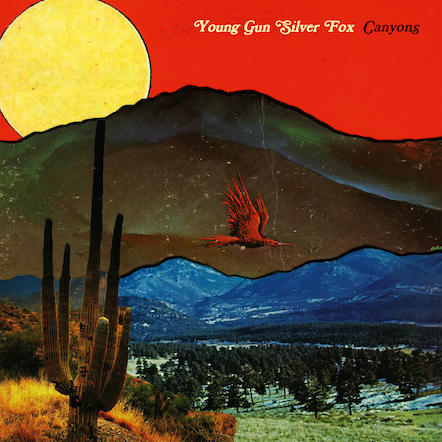 Young Gun Silver Fox's new album Canyons is out now on digital and streaming platforms via Colemine Records' sister imprint Karma Chief Records. Click here to stream and purchase.
MORE INFO ON YOUNG GUN SILVER FOX:
facebook.com/younggunsilverfox
instagram.com/younggunsilverfox
twitter.com/WestEndCoast
MORE INFO ON COLEMINE RECORDS:
coleminerecords.com
MEDIA AND INTERVIEW REQUESTS:
Tony Bonyata
Pavement PR
p: 262.903.7775
e: tony@pavementpr.com
pavementpr.com