Click here to download a new band photo of The Prefab Messiahs (credit: Plastic Mynd) and "Psychsploitation Today" cover art
Timing is everything, they say. Of course, when you're too far ahead of the curve musically-speaking, timing can also be a bitch. Give enough passage, however, and others eventually catch-up, understand… even emulate.
Such is the case for self-proclaimed micro-legendary weirdoz The Prefab Messiahs. Originally together from 1981-1983, they played basement and club shows fairly often. Armed with borrowed guitars, puny amps and a mission to confound the status quo, the Clark U. undergrads began a unique post-punk musical trajectory through the burgeoning-yet-insular Wormtown (Worcester, MA) underground. Aside from the 1983 cassette Flex Your Mind, though, no recorded material was available from them until 1998's Devolver CD-R – an anthology of their recordings from the early '80s. Several songs on the album were produced by their friend and outsider psychedelic singer-songwriter Bobb Trimble.
Fast-forward three decades later with the official remastered release of Devolver via Burger Records, followed by a well-received eight-song maxi-EP of new material entitled Keep Your Stupid Dreams Alive (2015), and it seems the stars have finally aligned for this art-damaged psych-pop collective. These two releases witnessed not only a new appreciation from a younger fanbase (not much older than the original one the band first started out with over 35 years ago), but also rave reviews from media, who traced the lineage from the Prefab Messiahs to many of today's garage-psych scuzz-pups, such as Oh Sees, King Tuff, White Fence, Ty Segall, et al.
Now The Prefab Messiahs are set to release their latest full-length platter of new material, Psychsploitation Today. On it, the fuzzed-out foursome of Xerox Feinberg, Trip Thompson, Doc Michaud and Mattyboy Horn have cooked-up, arguably, their most far-out and fantastical effort to date. The new record continues the path of melding timely social commentary with equal measures of jangle, left-field garage-pop and hooks aplenty.
Prefabs' front dude Xerox Feinberg, a self-described "Lost Generation Wanna-be Spokesperson," describes the the band's approach on Psychsploitation Today thusly, "The new album is really a mental and sonic continuation of the things we were obsessed about from the beginning — mashing up the sounds and attitudes of '60s garage-psychedelia with post-punk '80s stuff and dragging all that into whatever 'today' is — while generally trying to poke people in the ribs and skewer some of the Big Shams behind all the Shiny Facades. We still don't do songs about girls' names or feeling good. We're still trying to toss everything into the mix including the kitchen sink. We're still bemused and shocked and disgusted with The State of Things — and also in love with the noises in our heads and guitars. We like to think that The Prefab Messiahs' work is never done."
The Prefab Messiahs' Psychsploitation Today will be available on cassette, CD, digital and streaming formats January 26, 2018 via Lolipop/Burger Records.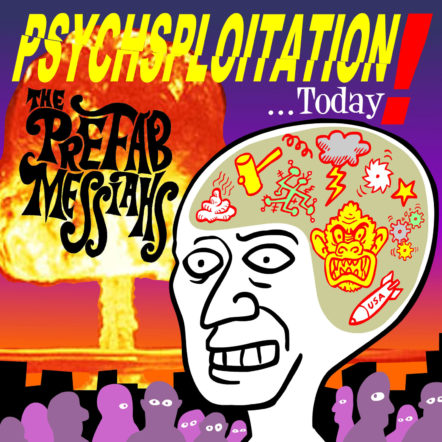 PSYCHSPLOITATION TODAY TRACK LISTING:
1. PSYCHSPLOITATION
2. THE MAN WHO KILLED REALITY
3. SOMETIMES SUNNYDAZE
4. EVERYTHING U NO
5. GELLOW MOLD
6. HAVING A RAVE UP
7. OUTTAYERHANDS
8. MONSTER RIFF
9. WARMSINKINGFEELING
10. LAST DAY ON EARTH
~~~~~~~~~~~~~~~~~~~~~~~~~~~~~~~~~~~~~~~~~~~~~~~
THE PREFAB MESSIAHS' "PSYCHSPLOITATION TODAY: THE VIDEO ALBUM" FEATURING ALL 10 MUSIC VIDEOS FROM THE ALBUM (FEEL FREE TO POST & SHARE)
~~~~~~~~~~~~~~~~~~~~~~~~~~~~~~~~~~~~~~~~~~~~~~~
FOR MORE INFO ON THE PREFAB MESSIAHS:
https://theprefabmessiahs.bandcamp.com
FOR MORE INFO ON LOLIPOP RECORDS:
https://www.lolipoprecords.com
FOR MORE INFO ON BURGER RECORDS:
http://burgerrecords.com
FOR MEDIA AND INTERVIEW REQUESTS:
Tony Bonyata
Pavement PR
p: 262.903.7775
e: tony[AT]pavementpr.com
https://pavementpr.com