Click here to download a new hi-res band photo of The Freedom Affair (credit: Erica Joi Photography) and Freedom Is Love cover art.
~~~~~~~~~~~~~~~~~~~~~~~~~~~~~~~~~
THE FREEDOM AFFAIR TO RELEASE THEIR NEW DEBUT ALBUM "FREEDOM IS LOVE" SEPTEMBER 25, 2020 VIA SUNFLOWER SOUL RECORDS
THE KANSAS CITY-BASED SOUL-ENSEMBLE ARE SHARING THEIR NEW SINGLE "GIVE A LITTLE LOVE" | CLICK HERE TO CHECK OUT THIS UPLIFTING, SOUL GEM (FEEL FREE TO POST & SHARE)
Freedom Is Love is the debut album from Kansas City's newest soul juggernaut, The Freedom Affair. The album explores themes of love, heartache, empowerment, and togetherness through a varying landscape of hard-hitting funk, luscious soul, and everything in between. The Freedom Affair is a unique collective featuring 3 powerhouse female vocalists in front of a dynamic 6-piece band. On Freedom Is Love, each of the ladies get their time to shine individually, but the magic is on full display when all 3 come together in unison and harmony, symbolically embodying the messages that they sing about. The album was recorded and produced by Chris Hazelton, utilizing the best of vintage and new recording technologies to create an authentic experience, befitting of a soul record that would have been relevant 50 years ago as much as it will be 50 years from now.
The Freedom Affair's new album Freedom Is Love will be available on digital/streaming formats September 25th via Sunflower Soul Records (and distributed via Colemine Records). Click here to pre-order.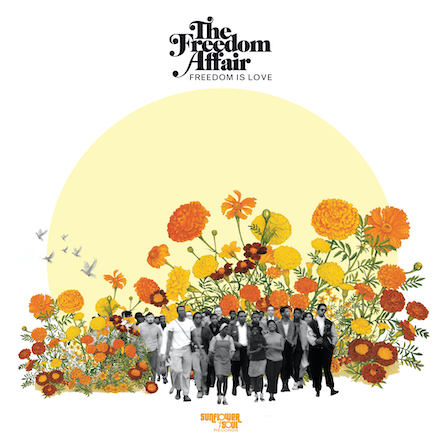 ~~~~~~~~~~~~~~~~~~~~~~~~~~~~~~~~~
Freedom Is Love tracklisting:
01 Heartaches Don't Come Easy
02 Make Me Surrender
03 Outta My Mind
04 I Know Better
05 Move On
06 Rise Up
07 Don't Shoot
08 Give A Little Love
09 One Nation
10 Love Liberates (Featuring Dr. Maya Angelou)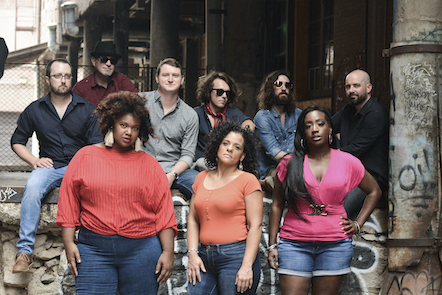 The Freedom Affair (credit: Erica Joi Photography)
~~~~~~~~~~~~~~~~~~~~~~~~~~~~~~~~~
The Freedom Affair is:
Misha Roberts – Vocals
Paula Saunders – Vocals
Seyko Groves – Vocals
Cole Bales – Guitar, Sitar
Branden Moser – Guitar
Chris Hazelton – Bass Guitar, Organ, Tambourine, Glockenspiel & Chimes
Dave Brick – Drums
Pete Carroll – Trumpet
Brett Jackson – Tenor Sax, Baritone Sax & Tambourine
~~~~~~~~~~~~~~~~~~~~~~~~~~~~~~~~~
Additional Musicians:
Pat Conway – Congas
Alyssa Bell – Viola
Elizabeth Codd – Violin
Matt Bennett – Violin
John Wickersham – Timpani
Pamela Baskin-Watson – Piano
Nick Howell – Tambourine
The Freedom Family Choir – Misha Roberts, Erica Hazelton, Seyko Groves, Paula Saunders, Jordyn Saunders, Cole Bales, Chris Hazelton
~~~~~~~~~~~~~~~~~~~~~~~~~~~~~~~~~
FOR MORE INFO ON THE FREEDOM AFFAIR:
FOR MORE INFO ON SUNFLOWER SOUL RECORDS:
https://sunflowersoulrecords.com
FOR MEDIA AND INTERVIEW REQUESTS:
Tony Bonyata | Pavement PR
p: 262.903.7775
e: tony[AT]pavementpr.com