CLICK HERE TO DOWNLOAD A RECENT HI-RES FLAMIN GROOVIES PHOTO [CREDIT: ANNE LAURENT] AND GROOVIES' ILLUSTRATION
What started as a reunion in 2013 with tours of Japan, Australia and the UK, has continued and evolved into a full blown return in full force of the FLAMIN GROOVIES. In the past three years the band has toured the USA extensively with repeated visits to New York, L.A. and their hometown of San Francisco, as well as returning from hugely successful tours of Spain, France and Italy. In anticipation of their 50th Anniversary this year, they'll be performing a special hometown San Fran show at The Chapel on April 7th, 2016, followed by another tour of Europe in April/May.
In addition, they're also planning on releasing a new studio album, a documentary film, and are about to drop a new single from their forthcoming LP via Burger Records on Record Store Day (April 16, 2016). This new single features two Cyril Jordan/Chris Wilson penned tracks – the recently written "Crazy Macy" and the first track ever written by Jordan & Wilson, "Let Me Rock" recorded here for the first time! To pre-order both the 7″ vinyl and cassette singles of "Crazy Macy"/"Let Me Rock" click HERE.
In further Groovies Record Store Day news, Rhino Records will be releasing a limited Warren Zevon / Flamin Groovies "Werewolves of London" 7″ picture disc on RSD as part of their now-famous SIDE BY SIDE Series, that pairs two artists with one classic song.
The Cyril Jordan, Chris Wilson, George Alexander line-up featured on the three albums released by Sire Records, that rocked the UK, Europe and the US from 1971 – 1980 are BACK IN ACTION. With the addition of Victor Penalosa on drums, they continue to present their own unique and infectious style of rock n roll with such cult classics as "Shake Some Action," "Slow Death" and "Teenage Head." In addition, co-founding member Roy Loney will also be joining the Groovies for a few shows both here and abroad, where he'll be performing a number of the Flamin Groovies' early favorites with the band.
The Flamin Groovies story goes all the way back to 1965 when the band began as the Chosen Few in their hometown of San Francisco, California. After a name change and a ground-breaking self-released 10-inch EP called Sneakers, the band caught the attention of Columbia Records, who signed them and sent them into the studio with a big budget to record their first full-length album, Supersnazz, for the Epic label. Their next two albums were on Kama Sutra (home of their heroes, The Lovin' Spoonful): Flamingo, and the now revered classic, Teenage Head.
Lead singer Roy Loney left the band at that point, and bandleader Cyril Jordan moved the group to England with Chris Wilson (formerly of Loose
Gravel) taking over as front man. They continued their style of straight-ahead guitar-driven rock 'n' roll, but this time with a more 60's rather than 50's influence. A few singles on United Artists, recorded at the legendary Rockfield Studios in Wales with Dave Edmunds producing, followed in the early 70's. In '76 they signed to Sire Records, who released three true gems of power pop: Shake Some Action, Flamin' Groovies Now, and Jumpin' In The Night.
Another lineup change ensued in the next decade with Wilson moving to England and joining the Barracudas. The Groovies continued on through the 80's and into the early 90's touring Australia and Europe, putting out a fine but overlooked album called Rock Juice and then finally calling it quits. Jordan formed a new band called Magic Christian while Wilson released solo albums in Europe.
Then, in 2013, Jordan, Wilson and original founding member and bass player George Alexander reunited for the first time in over thirty years. With new drummer Victor Penalosa, the foursome has not only recorded fresh new material but has also completed earlier material that has never before been captured on tape. They toured Japan and Australia, returning home to San Francisco to record and play the first of many Bay Area shows. Fans have been delighted with what is being called "a dream set list," including original songs the band has never performed before onstage. Newcomers are asking, "Why haven't I ever heard of this group?"
In the past couple years the band has toured the US and Europe extensively, including multiple visits to New York, LA, Cleveland, Chicago, Detroit, and Toronto. Their performance at the Rock And Roll Hall of Fame Tribute to the Rolling Stones, and co-bill with the Sonics in Brooklyn were major highlights.
It's hard to say just why the group hasn't gotten the attention they deserve (at least in the USA), but they're back to give everyone another chance at hearing and seeing just why those in the know consider them one of the greatest rock n' roll bands of all time.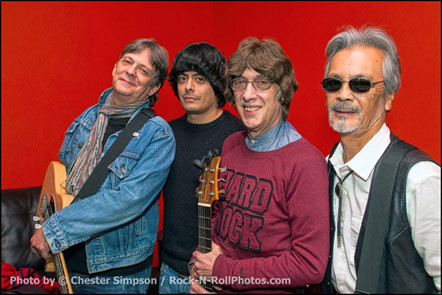 FOR MORE INFO ON THE FLAMIN' GROOVIES:
https://www.facebook.com/TheFlaminGroovies
Twitter: @FlaminGroovies
FOR MEDIA AND INTERVIEW REQUESTS:
Tony Bonyata
Pavement PR
p: 262.903.7775
e: bonyata@wi.rr.com
https://pavementpr.com