Click here to download a new hi-res photo of Bohannons (photo credit: William Joseph Johnson) and Bloodroot album art
Click here to download track-by-track quotes on the songs from Bloodroot from Marty and Matt Bohannon
BOHANNONS TO RELEASE THEIR LATEST STUDIO ALBUM 'BLOODROOT' ON APRIL 5TH, 2019 VIA CORNELIUS CHAPEL RECORDS
From the wilds of Chattanooga spring Bohannons, one of that town's finest rock bands of the past 20 years, a crackling, snarling beast of an outfit that lands somewhere between Ronnie Wood, Neil Young and a homemade flamethrower. Marty Bohannon's piercing vocals ride on waves of brother Matt Bohannon's ringing and whining guitars, driven by the whirling rush of drummer Mike Gaut and bassist Billy C. Robinson's rhythms. – Stephen Trageser, Nashville Scene
In 2006 the Bohannons would set out on their first American tour retracing their steps year after year and setting off in new directions all the while. What would start as archaic recording processes would eventually bring them to some of the most well-known studios in the country, from Electrical Audio in Chicago to Chase Park Transduction in Athens, GA and on to Dialback Sound in Water Valley, Ms.
Every album from 2010's Days of Echo to 2015's Luminary Angels is an invitation to listen and look into both the blessings and burdens of the working class south. The framework of the titles dare to encompass the best of rock, blues, country, power pop, punk and metal.
We are excited to share with you Bloodroot our latest LP. It's inspired by our home, family, friends, and this indelible planet. The songs are vignettes of this wild journey we are on which is never short of high nor low, and never lacking in love and spirit. – Marty Bohannon
Bohannons' Bloodroot will be available on vinyl, CD, digital and streaming formats on April 5th via Cornelius Chapel Records. Click here to pre-order.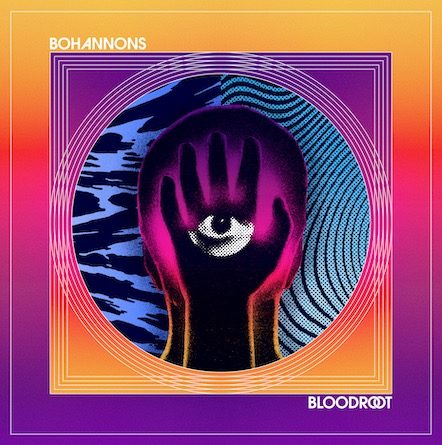 BLOODROOT TRACK LISTING
01 Sleep Rock
02 Girl In Chicago
03 Hungover Hills
04 Refills
05 My Dark Roots
06 Howler
07 Twister Sister
08 Cold Case
09 Nice and Slow
~~~~~~~~~~~~~~~~~~~~~~~~~~~~~~~~~~~~
Bohannons (credit: William Joseph Johnson)
FOR MORE INFO ON BOHANNONS:
http://www.thebohannons.net
https://www.facebook.com/Bohannons
FOR MORE INFO ON CORNELIUS CHAPEL RECORDS:
http://www.corneliuschapelrecords.com
FOR MEDIA & INTERVIEW REQUESTS:
Tony Bonyata
Pavement PR
e: tony[AT]pavementpr.com
https://pavementpr.com
~~~~~~~~~~~~~~~~~~~~~~~~~~~~~~~~~~~~
~~~~~~~~~~~~~~~~~~~~~~~~~~~~~~~~~~~~
Press release for Bohannons' 2012 album Unaka Rising….
~~~~~~~~~~~~~~~~~~~~~~~~~~~~~~~~~~~~
The Bohannons inhabit a musical universe that, while certainly drawing influence from all over, is firmly rooted in their Tennessee home. With their full-length debut album Unaka Rising, they are clearly taking their homegrown, handcrafted rock to a new level, and we think they've set the bar pretty damn high with this one. The album's title references the Unaka province of East Tennessee and western North Carolina— "One of the finest areas in all the world," according to singer/guitarist Marty Bohannon. The region has certainly fueled the Bohannons' fire, providing endless stories and situations from which these songs draw. With a quiver of new material ready to follow up 2011's stellar EP, Days of Echo, the Bohannons spent the better part of the last year tearing up the road between Chattanooga and Athens, GA where they recorded Unaka Rising at Chase Park Transduction, first with David Barbe and later Drew Vandenberg.
The Bohannons' Unaka Rising is out now (released July 10, 2012 through This Is American Music) in CD and Digital formats.

THE BOHANNONS (left to right: Nick Sterchi, Marty Bohannon, Matt Bohannon, Josh Beaver) Photo credit: Jason Dunn
"The Bohannons new album, Unaka Rising is a real scorcher. It's an odd thing to say about a band, but their approach to music makes so much sense that it's difficult to understand why their particular cocktail of heavy Southern rock jangle hasn't already been done to death by someone else. A little Two Gallants, a little Black Sabbath, they're as heavy as they are twangy. They manage their heaviness without venturing into melodrama, which is difficult for many artists that venture into darker territory. Their music begs to serve as a soundtrack to a genre of film that doesn't currently exist—some kind of violent, stylized-but-gritty (a la Tarantino) Southern road movie patterned after the classic Western model." – OXFORD AMERICAN
"Are they Country? Are They Blues? Are they '70s glam metal? Yes." – Bryan Childs / NINE BULLETS
FOR MORE INFO ON THE BOHANNONS:
http://thebohannons.org
https://www.facebook.com/Bohannons
FOR MORE INFO ON THIS IS AMERICAN MUSIC:
http://www.thisisamericanmusic.com/