Download four new hi-res band photos of Results of Adults (credit: Tym Cornell) and "Interstellar Peach Delight" cover art
Throughout the history of collective human culture, we have continually searched for a connective meaning between the instinctual collision of sound and color. For some, this connection is purely metaphorical, and for others, it is an unavoidable and innate sensory experience. For Tym Cornell, the predominant songwriter and founding member of Results of Adults, it is unmistakably both. Growing up immersed in the lush, overgrown landscapes of rural Alabama, from the moment he remembers opening his eyes, Cornell's life has been guided by an uncannily synesthetic path.

Upon this compulsive journey to find visual discovery through music, Tym Cornell has created a luminous universe where there are no black keys on the keyboard (literally all the black keys on his piano have been meticulously painted in a kaleidoscopic array of colors), and Results of Adults has always authentically celebrated this elemental alliance between sight and sound, which is profoundly evident on their new full length album, Interstellar Peach Delight.
Results of Adults are based in Birmingham, Alabama, and consist of Tym Cornell on vocals, guitar, piano, and an endless assemblage of noise-making devices; his creative partner and wife, Merry Bee Cornell, on bass; and Mark Beasley on drums and percussion. Formed in 2006, they have spent the last decade and a half concocting their own alternative history of psychedelic pop where altered states of consciousness, a Southern outsider folk art tradition, and well-crafted, irresistible songwriting lay happily side by side.

Following their first two official releases, The Dreamer and Nudis Manibus, they now arrive at their exemplary new piece of Southern-tinged underground psychedelia. Recorded between 2018 and 2020, Interstellar Peach Delight is a more focused and mature work, and the band's sound feels more cohesive. Shining brighter and bolder than before, it is perhaps a newly found sense of refined direction that provides sonic actualization for all their polychromatic ideas. As is apparent on album stand-out tracks like "Kittens Touch the Sky," the record's hallucinogenic infectiousness connects musical building blocks that effortlessly pass through music genres, as well as space and time.

From the tribal percussive opening of "Gas Station" to the album's soaring, string-filled closing number, "Magic," Interstellar Peach Delight has the delicate odd charm of a flowery '60s-era band like The West Coast Pop Art Experimental Band, along with the 1980s paisley pranking of The Dukes of Stratosphear, and the lo-fi energetic zeal of early '90s Flaming Lips — that is, if everyone in those bands came together for an all-star concert set in the 23rd century. Additionally, there is a rare otherworldliness found inside the grooves on the record that is closely linked both to the cosmic, communal iterations of Sun Ra's Arkestra, as well as the spiritual strangeness of the Southern folk art tradition. In a way, far beyond simply being a three-piece band, they have created their own down-home psychedelic microcosmos.

While listening to the album, you can almost breathe in the relaxed, concordant atmosphere of their basement studio. Music being played, friends unexpectedly dropping in and making noise, static-y AM radios inadvertently hissing, objects falling off shelves, and Tym and Mary's children audibly running wild in the background are all translated into a prismatic world of ambience that enters through a window no one even noticed was left open. Interstellar Peach Delight conveys a real sense of being free of affectation and a spontaneous ease with the universe that in many ways recalls the carefree yearnings of the Summer of Love. Of course, Results of Adults alternate reality version of 1967 has monstrous green forms of kudzu clinging to the street signs and telephone poles running along Haight-Ashbury.

Tym Cornell perceives songwriting as a fundamental element of his life in which the creative process itself is as satisfying a component as the final result. Upon hearing the new LP, it becomes quite clear that Results of Adults is a band who are genuinely grateful to devote time to their music and express their appreciation and wonder for all the strange blipping, beeping and buzzing satellites revolving around their universe. Without being presumptuous or ironic, the band centers their existence around the refreshingly humanistic conception that there are still amazing sounds yet to be heard and incredible images yet to be seen.

As E.O. Wilson, the world-renowned biologist (and fellow Alabama native) once said, "I feel music has a very important role in ritual activity, and that being able to join in musical activity could have been necessary at a very early stage of human culture." With their music, creative vision, and even their way of living, Results of Adults make a powerful claim that they – and indeed all of us – are part of that human lineage, the cosmic continuity where everything began and where everything will eventually meet.

Results of Adults' new album Interstellar Peach Delight is out today on CD and digitally/streaming formats via Cornelius Chapel Records.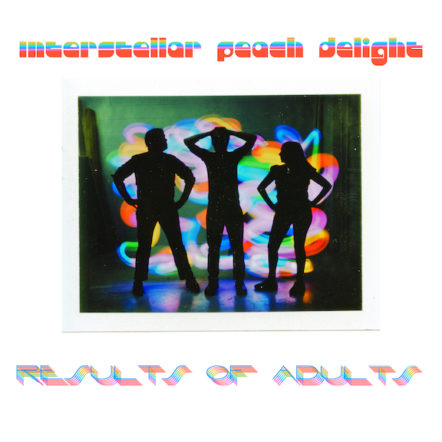 FOR MORE INFO ON RESULTS OF ADULTS:
https://www.facebook.com/Resultsofadults

FOR MORE INFO ON CORNELIUS CHAPEL RECORDS:
http://www.corneliuschapelrecords.com

FOR MEDIA & INTERVIEW REQUESTS:
Tony Bonyata
Pavement PR
e: tony@pavementpr.com
https://pavementpr.com