CLICK HERE TO DOWNLOAD HI-RES RADIO MOSCOW BAND PHOTO (CREDIT: LOVE STREET) AND "LIVE! IN CALIFORNIA" COVER ART
RADIO MOSCOW TO RELEASE THEIR NEW DOUBLE LP "LIVE! IN CALIFORNIA" JULY 8, 2016 THROUGH ALIVE NATURALSOUND RECORDS!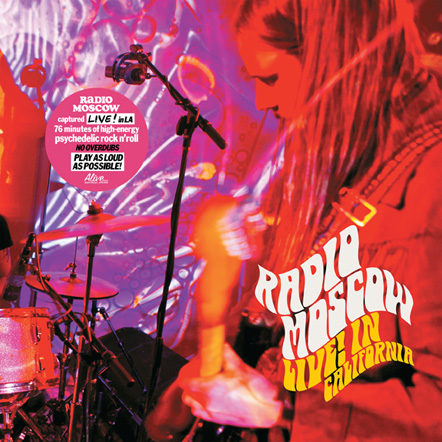 Radio Moscow's new double LP Live! In California was recorded absolutely live (no overdubs) over two nights at The Satellite club in Los Angeles in December 2015. The album features 76 minutes of the trio's unique brand of high-energy psychedelic rock'n'roll. The material is pulled from all their studio albums and the songs feature new arrangements.
Live! In California also includes the previously unreleased song "Chance Of Fate," a cover of the '70s band Sainte Anthony's Fyre.
Radio Moscow is Parker Griggs on guitar and vocals, Anthony Meier on bass and Paul Marrone on drums. Now based in San Diego, CA, the band has five albums out, all on Alive Records, including their self-titled debut produced by Dan Auerbach (2007); Brain Cycles (2009); The Great Escape of Leslie Magnafuzz (2011); 3&3 Quarters – early demos (2012) and Magical Dirt (2014). The trio have toured the U.S. and Europe with acts like Graveyard, Witchcraft, Joe Bonamassa, Pentagram, Sheepdogs and Nebula, and have shared the main stage at the Psycho California festival with Kylesa and Earth, along with performing in Europe, South America and Australia. Following their upcoming U.S. tour dates (which includes a headlining slot at Denver's Electric Funeral Fest in June, and playing at the Ride Festival with Pearl Jam in July), they'll also be touring extensively in Europe this summer.
Radio Moscow's Live! In California will be available July 8, 2016 on limited edition colored vinyl, CD and digital formats via Alive Naturalsound Records.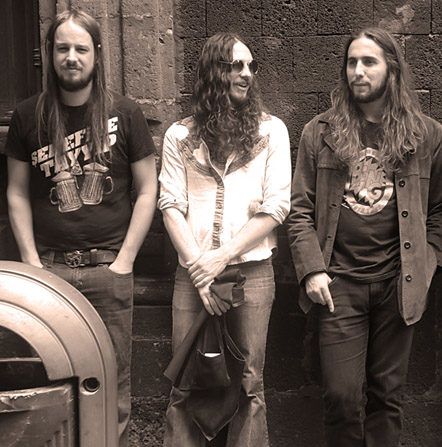 RADIO MOSCOW LIVE! IN CALIFORNIA TRACKLISTING:
01 I Just Don't Know
02 Death Of A Queen
03 Broke Down
04 I Don't Need Anybody
05 250 Miles/Brain Cycles
06 Before It Burns
07 The Escape
08 City Lights
09 Chance Of Fate
10 Deep Blue Sea
11 These Days
12 Rancho Tahoma Airport
13 No Good Woman
14 So Alone
FOR MORE INFO ON RADIO MOSCOW:
http://radiomoscow.net
FOR MORE INFO ON ALIVE RECORDS:
http://www.alive-records.com
FOR MEDIA AND INTERVIEW REQUESTS:
Tony Bonyata
Pavement PR
p: 262.903.7775
e: tony@pavementpr.com
https://pavementpr.com
~~~~~~~~~~~~~~~~~~~~~~~~~~~~~~~~~~~~~~~~~~~~~~~~~~~~~~~~~~~
PRESS RELEASE FOR RADIO MOSCOW'S 2014 ALBUM "MAGICAL DIRT"
RADIO MOSCOW ANNOUNCES THE RELEASE OF THEIR FOURTH STUDIO ALBUM "MAGICAL DIRT" JUNE 17TH THROUGH ALIVE NATURALSOUND RECORDS!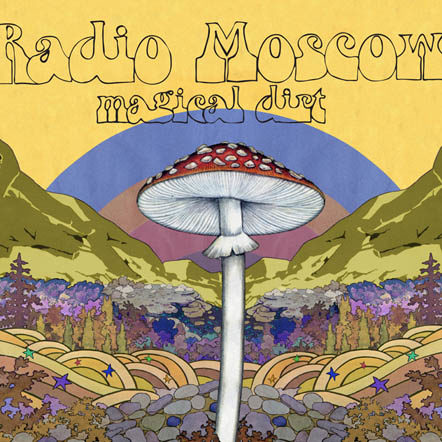 On June 17th Radio Moscow will release their fourth studio album, aptly entitled Magical Dirt. The band's fountainhead Parker Griggs, along with partners-in-crime Anthony Meier (bass) and Paul Marrone (drums), have cultivated yet another blues-rock masterpiece that crossbreeds late '60s psych-rock and face-melting guitar histrionics with the foundation-crumbling rhythms from early '70s hard-rock, and even includes a couple of harrowing tracks built from the bedrock of rural Delta blues. But more than merely digging up fossils from rock's revered past, Griggs & Co. manage to translate the myths of rock-n-roll's golden age into modern day truths for a new, younger generation.
Radio Moscow's Magical Dirt will be available June 17 on CD, mp3 and limited edition hand-mixed starburst vinyl via Alive Naturalsound Records.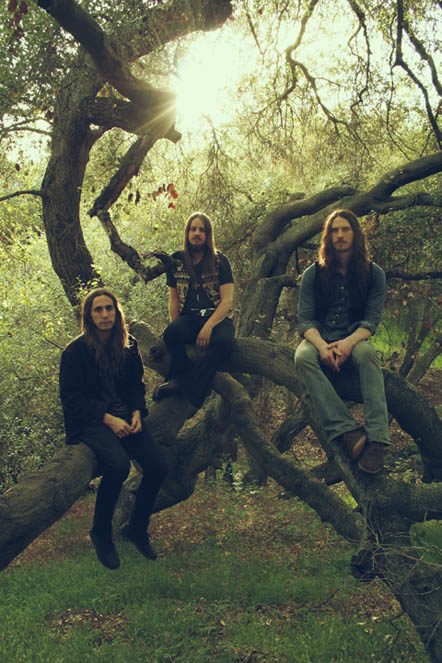 FOR MORE INFO ON RADIO MOSCOW:
http://radiomoscow.net
FOR MORE INFO ON ALIVE RECORDS:
http://www.alive-records.com
FOR MEDIA AND INTERVIEW REQUESTS:
Tony Bonyata
Pavement PR
p: 262.903.7775
e: tony@pavementpr.com
https://pavementpr.com
~~~~~~~~~~~~~~~~~~~~~~~~~~~~~~~~~~~~~~~~~~~~~~~~~~~
PRESS RELEASE FOR RADIO MOSCOW'S 2011 ALBUM "THE GREAT ESCAPE OF LESLIE MAGNAFUZZ"
RADIO MOSCOW TO RELEASE THEIR THIRD LP "THE GREAT ESCAPE OF LESLIE MAGNAFUZZ" OCT. 11, 2011 VIA ALIVE NATURALSOUND RECORDS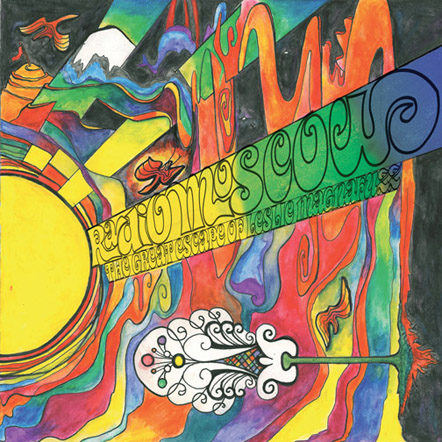 Indeed. If the less than loud, keep it steady ethos of today is getting a bit boring and polite, think again. The essence… heck, the very drugged-out, red-eyed heart and soul… of the dirty, loud, heavy power-trio is not dead. In fact, in the case of Radio Moscow it is literally brimming with rude health.
THE GREAT ESCAPE OF LESLIE MAGNAFUZZ is the Californian-based band's third album for the highly regarded Alive Naturalsound Records. It's also a genuinely thrilling follow up to their previous releases, brimming with toe curling Hendrixified guitar soloing and the marijuana and acid laced caterwauling of Blue Cheer, not to mention some seriously impressive blues guitar work ('Deep Down Below') that would make Seasick Stevie green with envy!
Yes, they have long hair. Yes they may be stoned. Yes this is the kinda music that caused a stir 40 years ago. And so what? It's the music of the gods. They know it, we know it and Dan Auberbach (he of The Black Keys, who not only discovered the trio as pot-infused miscreant teens, but also produced their debut) is fully aware of this too.
Today's "new is old philosophy" works well for Radio Moscow. In an era when The White Stripes and The Black Keys have become unlikely stars, Amy Winehouse (RIP) proved that real soul was where it's at and youngsters are at last generally open to everything, here we have a band who are ploughing their very own corner of the field in time honoured fashion, unafraid of retrogressive accusations.
The wild card and golden boy of the group Parker Griggs grew up in Story City, Iowa. As a young basement-dwelling cave teen obsessed with mid-60s garage-punk he home recorded a slew of songs in that vein which saw fruition as Radio Moscow (the moniker having been lifted from Nikiita The "K"'s 'Go Go Radio Moscow' from the garage comp Ya Gotta Have Moxie Vol. 2). However, although never tiring of garage-punk, Parker Grigg's was excelling at the guitar (and drums – which he plays on all of the albums), progressing musically towards the proto-metal blues of Cream, Hendrix, Sabbath and Blue Cheer. This was apparent on the debut on which Parker played everything bar bass. A demo handed to Dan Auberbach after a Black Keys gig impressed the musician so much he landed Radio Moscow a deal with Alive and produced their startling power-trio infused debut. A further album followed the 2007 debut in 2009. Brain Cycles adhered to the old adage of "if it ain't broke don't mend it" and saw the teenage guitar assassins smelt gold from their vintage heavy, psychedelic blues licks. After numerous gigs and fun 2010 saw the band leave Iowa for the liberally minded California after Parker was busted for hash and imprisoned (yep, that happens in the good ole US of A!!!)
Being lucky enough to have one of their songs used in a Radio Shack/Lance Armstrong commercial gave the group enough money to rent a ranch in Northern California. Here was a place that they could rehearse without fearing the neighbours wrath and conceive their third release THE GREAT ESCAPE OF LESLIE MAGNAFUZZ. Zach Anderson plays bass, Cory Berry handles the drums on stage, and Parker plays drums on the album. The wah-and-phased-delirium of an opener 'Little Eyes' (which could have so easily graced Blue Cheer's triumvirate third album Outsideinside) to the funky Grand Funk Railroad vibe of 'Speedfreak', the heavy UK blues-rock vibe of 'Creepin'' (a tune as good as Free at their best) and the amazing guitar driven rattlesnake raga that echoes Peter Green's finest moments with Fleetwood Mac, all add up to a wildly pulsating affair, full of energy, passion and psychedelic electricity!
The album art is a throwback to the psychedelic covers of the late sixties/early seventies, and instead of being minimalist, as is the norm these days, the album is a super-sized, gatefold edition that's a trip in itself. The first pressing is on Blue Vinyl, ltd. to 500 copies (exclusive to Bomp! mailorder, not sold in stores) and is also be available in CD and Digital formats today through Alive Naturalsound.
HERE'S WHAT PEOPLE HAVE BEEN SAYING ABOUT RADIO MOSCOW'S ALBUM "THE GREAT ESCAPE OF LESLIE MAGNAFUZZ":
"Californian based band lovingly concoct a Cream/Hendrix inspired album of cosmic blues. Mainman Parker Griggs is a great guitarist and he's clearly having a ball…. exhilarating stuff." – THE DAILY TELEGRAPH – UK
"Psychedelic, acid-laced guitar-based rock that will shake you to your soul." – MUSIC SAVAGE
"A bona fide blues-meets-psych-rock staple."- SALT LAKE CITY WEEKLY
"Radio Moscow is as close as you can get to the dirty, growling and honest heart of power trio rock without a DeLorean. The Great Escape of Leslie Magnafuzz is a victory for Radio Moscow in general and Parker Griggs in particular. The Story City, IA front man is possibly the most singularly gifted guitarist working today. This is your father's rock, in all the best ways." –  CITYVIEW
"Radio Moscow has released three albums blending blues and hard stoner rock on Alive Natural Sound Records, but in contrast with label-mates The Black Keys and Left Lane Cruiser, they add a potent psychedelic sound to the mix, bringing to mind late '60s/early '70s bands such as Blue Cheer, Hawkwind, Flower Travellin' Band and Cream." – SSG MUSIC
"The Great Escape of Leslie Magnafuzz is a piping hot batch of overdriven, wah-wah and THC-soaked jams and is Paker Grigg's homage to the heavier sounds of the Age of Aquarius. Radio Moscow's music is a bottom-heavy blues-bomb, with grooves that recall MC 5 and the contemporary Black Mountain, and shredding like a more structurally minded Jack White, with each note bleeding into the next under a sea of overdrive." – GOOD TIMES WEEKLY
"Parker Griggs and his band take it to the next level of power-trio psychedelic blues-rock with their third album, The Great Escape of Leslie Magnafuzz. The album opens in full hypersonic stride, with the bass and drums threatening to run away from the ear-clearing wails of Parker's fuzzed guitar, and the bombast doesn't let up until disc's end. There are a few production touches – stereo pans, phase effects and feedback – but the bulk of the album is straightforward, take-no-prisoners hard rock." – HYPERBOLIUM
"A solid collection of blues-metal-psych-boogie for your buck. Not much for pondering their navels or gazing at their shoelaces, Parker Griggs and company pound out rock and roll with chops, foot firmly on the fuzz/wah pedal and stop-on-a-dime dynamics… the results are gratifying." – LOS GRILLOS
"Radio Moscow bleeds Cream and The Jimi Hendrix Experience. They are not a normal blues group. They are not a normal psychedelic stoner-rock group. They are Radio Moscow, and this album cements their sound and place as an eclectic group in today's music scene."  – ALL CAMPUS RADIO NETWORK
"A hard rocking, blues heavy, growling rock masterpiece. This is the third Radio Moscow album and it is easily their most adventurous, most precise and most unique album.  It is also their best." – DES MOINES IS NOT BORING
"If you're into blues, classic rock, Led Zeppelin or Jimi Hendrix then this record is about to send you to heaven. The Great Escape of Leslie Magnafuzz is just another gem to add to the amazing collection of this band." – DR. DOOM'S LAIR
"Radio Moscow are aficionados of the golden age of dusty rock, and clearly proud to admit it. There's no hint of any of that sad-sack 'ironic' nostalgia at work here; this is the real deal, delivered with due reverence and plenty of enthusiasm. The Great Escape of Leslie Magnafuzz starts off with a hiss and a roar and never really lets up. It reverberates with stacks of thunderous fundamental riffs that have been twisted into some hard-rockin', good-times, prehistoric metal. Do yourself a big favour and seek this one out immediately. I'm off to invest in their first few albums; you best do the same, brother." – MANUAL MAGAZINE / NEW ZEALAND
"A muscular combination of effects, feedback, and sound-towers that makes for a bracing listen next to Hendrix, Blue Cheer and Robin Trower." – DAGGERZINE
"The band has a style and rhythm reminiscent of Blue Cheer and MC5, but with—believe it or not—more impressive guitar work. For those desiring music with layers, Radio Moscow is every bit as bluesy as it is early garage." – SANTA FE REPORTER
"If you're fond of classic grooves from acts like 10 Years After, Cream and the Jimi Hendrix Experience, these guys are definitely worth checking out." – IDAHO STATESMAN
"Radio Moscow have the perfect chemistry between percussion, vocals, and guitar…oh the guitar. It just shreds. I don't even know how to begin to explain." – SURROPA
"Do you pine for psychedelic blues rock in the vein of the Jimi Hendrix Experience, Blue Cheer, and the MC5? Ames, Iowa's Radio Moscow possess big, fuzzy riffs, a drummer who makes the full use of his toms, and a vocalist who may or may not have time traveled here from the Summer of Love. This is some sprawling stuff and all expertly executed. A rock blowout." – THE STRANGER WEEKLY
"This album comes on like an unholy mix of Blue Cheer and The Black Keys." – ELECTRIC GHOST / UK
"For a band that's had over three decades worth of sub-genres to get influences from (and lots of drugs too, I'm sure) their sound remains true to their late-'60s/mid-'70s core, but Radio Moscow is just so damn good that they manage to sound refreshing." – FABRIKA
"An eclectic mix of head-banging hard rock and psychedelic soulful vocals that with will creep through your headphones to your earholes' delight."  – THE WASTER
"The Great Escape of Leslie Magnafuzz may be the best album released this year."  – THE SODA SHOP
"If you don't find yourself banging your head at the 2:00 minute mark into this album, I'm fairly certain you're clinically dead." – MUSIC THAT ISN'T BAD
"Filled with delicious, heavy and spacy guitar solos. It rocks, hard, but is plenty psychedelic. These guys are completely and unapologetically committed to a heavy rock sound. I could throw enticing influences (Blue Cheer, Jimi Hendrix Experience, Deep Purple, Black Sabbath) at you all day, and continue to play the Black Keys card, if that would induce you to give a listen. If you're not familiar with their previous records, and you like this sound at all, you're in for a treat." – WHEN YOU MOTOR AWAY
"Cream would be proud. And if Hendrix were alive, he'd be honored. This power-trio created by two children of the corn, and a Colorado add-on create some of the most energetic music I've heard in a while. With a mix of traditional blues rhythms, upbeat boogie, psychedelic pedal effects, and cataclysmic solos that can peel the paint off the walls, the music that Radio Moscow produces is truly a jaw-dropping experience." – TYMPANOGRAM
"From note one [at their recent SLC show], Radio Moscow killed. Parker Griggs' guitar playing was unearthly groovy, his funky flourishes and hoarse, soulful vocals combined to make him a powerful stage presence throughout the show. His body rocked back and forth with the power of his mighty guitar, while Zach Anderson and Cory Berry backed him up with an unflinching, nonstop rhythm. Wild melodies spurred some truly crazy crowd antics as fans pushed eagerly towards the front, turning the stagefront into a wildly waving frenzy of scrambling, dancing fans as they moved to some deeper beat in the music – that classic psychedelic rock vibe that gives Griggs' music its cycling, hypnotic quality." – SLUG MAGAZINE
FOR MORE INFO ON RADIO MOSCOW:
http://radiomoscow.net
FOR MORE INFO ON ALIVE RECORDS:
http://www.alive-records.com
FOR MEDIA AND INTERVIEW REQUESTS:
Tony Bonyata
Pavement PR
p: 262.903.7775
e: tony@pavementpr.com
https://pavementpr.com