Click here to download a few new hi-res band photos of People Years (credit: Ted Stryker) and XIV cover art

PEOPLE YEARS TO RELEASE THEIR NEW STUDIO ALBUM "XIV" NOVEMBER 5, 2021 VIA CORNELIUS CHAPEL RECORDS

The year is 2021. If you are reading this, the world has rebounded from the worst year for people most living people can remember. Sure, there have been worse years in the past. The dinosaurs had such a bad dinosaur year that they disappeared altogether forever. But, as people years go, 2020 was an unadulterated dog bitch. Anyway, it looks like people are starting to do people things again and I guess the luckiest of us can say it was hard but we made it. And People Years, the band, is back and wide eyed with its second album, XIV. They recorded it during a very bad people year but it sounds good.

People Years is a dream of an amalgamated spitball wadded by the nerdy version of you and made from subterranean and atmospheric particles of bands like Luna, Pavement, Pink Floyd, and LCD Soundsystem, loaded into a straw, and launched into the midnight hair of that Robert Smith-worshipping goth girl named Summer, who sat a few rows in front of you in class. The one who despises everything Americana. The one who seems to know something that the others don't. Summer pinches that spit ball out of her hair like a fly between her thumb and index finger, walks it over in her knee-high Doc Martins and asks you in black-lipstick language if you lost something. You stammer. She feigns anger, then brightens. She smiles, and maintains eye contact as she places said spitball on her tongue and disappears it down the proverbial hatch. You're in love.

Anchored by the songwriting and production of Chris Rowell, the band blows out tree bending tracks that play too well in the sleaziest of dives and the snootiest of invitation-only parties. Rowell's astronaut guitar and Tony Oliver's soaring keyboard fortress converse in argumentative tones and easy asides, while Greg Slamen's bass rips through the atmosphere with Wes McDonald's cracked groove in tow. Add to that the accomplished craft of Rowell's lyrics and stellar delivery and you've got yourself a musical spitball worthy of Summer the goth girl or those she loves to hate.

People Years' XIV will be available November 5th on vinyl, CD and digital/streaming platforms via Cornelius Chapel Records.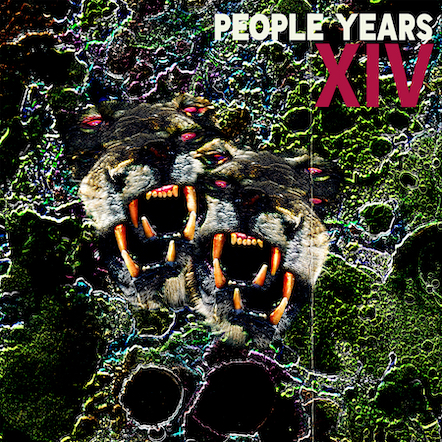 People Years are:
Chris Rowell: Vocals and guitar (Warm In the Wake, Sea Fix, King Lear Jet)
Tony Oliver: Keyboard fortress (Sea Fix)
Greg Slamen: Bass (Cosmonaut on Vacation, Heath Green & The Makeshifters, Through The Sparks)
Wes McDonald: Drums (Terry Ohms, Vulture Whale, The Ohms)

~~~~~~~~~~~~~~~~~~~~~

FOR MORE INFO ON PEOPLE YEARS:
https://peopleyearsband.com
https://www.facebook.com/peopleyears

FOR MORE INFO ON CORNELIUS CHAPEL RECORDS:
http://www.corneliuschapelrecords.com

FOR MEDIA & INTERVIEW REQUESTS:
Tony Bonyata
Pavement PR
e: tony@pavementpr.com
https://pavementpr.com