CLICK HERE TO DOWNLOAD A NEW HI-RES PHOTO OF MPH (CREDIT: BILL JOHNSON) AND "LET IT SLIDE" ALBUM ART
Guitarist, singer, harmonica player, and songwriter Mark Porkchop Holder is a founding member of the seminal Tennessee punk-rock/blues band The Black Diamond Heavies (with John Wesley Myers, aka James Leg, and Van Campbell of the band King Mud).
Holder plays the blues, and his music is the sound of the truth. He has traveled around the world and the U.S., and played at festivals, clubs, in the streets, at churches, in public toilets, army surplus stores and in a mental hospital or two. After more than a decade of struggling with depression and addiction, he has finally come back home, in Chattanooga TN, and assembled a first rate power trio.
His debut solo studio effort Let It Slide is a blistering blues album that marries both modern and traditional. Let It Slide has been described by the Chattanooga Pulse as "Boogie, sans bullsh*t. Dirty roadhouse music. Juke Joint jamming. Swamp rock. Too rock for blues, too blues for rock, the music is hungry, hard and mean."
Mark Porkchop Holder's Let It Slide will be available February 10th on limited edition vinyl, CD and digital formats via Alive Naturalsound Records. 
Click here to purchase the limited edition starburst vinyl LP of Let It Slide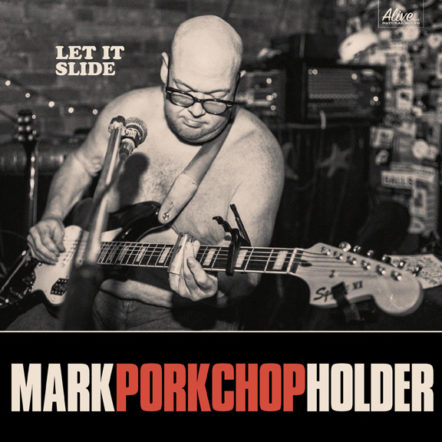 LET IT SLIDE TRACKLISTING:
01 Let It Slide
02 Disappearing
03 My Black Name
04 Headlights
05 38
06 Let It Slide Reprise / No Doctor
07 Stagger Lee
08 Stranger
09 Baby Please Don't Go
FOR MORE INFO ON MARK PORKCHOP HOLDER:
http://www.alive-records.com/artist/mark-porkchop-holder
FOR MORE INFO ON ALIVE NATURALSOUND RECORDS:
http://www.alive-records.com
FOR MEDIA & INTERVIEW REQUESTS:
Tony Bonyata
Pavement PR
e: tony@pavementpr.com
https://pavementpr.com