CLICK HERE TO DOWNLOAD HI-RES PHOTOS OF HOOTS & HELLMOUTH (PHOTO CREDITS IN FILE NAME) AND COVER ART FOR IN THE TREES
Hoots and Hellmouth's fourth album In The Trees is an effort that feels like an expedition. Through dark tangles of thickets and underbrush, a path winds its way through the density of lived life, finally opening up into a sun-drenched field in which to stretch out, breathe deep and reflect on the journey… weary travelers dressing wounds while wistfully recalling tales of courage and self-doubt, love and longing.The new album began to take shape over two years ago in a transformed silversmith mill in the littlePhiladelphia suburb of Clifton Heights, PA. Mt Slippery, as it is currently known, is home-base for their homies Dr. Dog. They assembled with engineer Nathan Sabatino (Dr. Dog, Floating Action, Birdie Busch, etc) and over the course of a couple weeks proceeded to coax these songs out of the ether using all manner of instrumentation. The now-classic acoustic H&H sound is certainly present, but as with each record previous, In The Trees pushes the band beyond the borders of what came before. It's a natural progression, an obvious evolution. Sparking electric tones set old wood aflame. These songs burn with it.
These songs. While not written around a premeditated theme, each star in this album's constellation seems to gather about the axis of the sacred and profane. An omnipresent sensitivity to spirit gives way on more than one occasion to full-blown physical freak-out. For every blissfully still moment of somber reflection there exists an equal and opposite reaction of explosive self-indulgence. This record represents feast and famine. Dig in and join Hoots and Hellmouth In The Trees.
Hoots and Hellmouth's new self-released album In The Trees will be available October 28th on CD and digital formats, with a limited edition vinyl pressing to follow in the near future.
Hoots and Hellmouth Personnel:
Sean Hoots – Vocals, Guitars
Robert Berliner – Keys, Organ, Mandolin, Vocals
Todd Erk – Basses, Vocals
Michael Reilly – Drums, Percussion, Vocals
Nathan Sabatino – Engineering
Devin Greenwood – Mixing
Brian Lucey – Mastering
"Not quite folk or alt-country, but more than just a rock group, Philadelphia's Hoots and Hellmouth crafts fiery, cathartic roots-rock. Blending soul, folk, country, gospel and rock with the sounds of classic Americana." – WORLD CAFE / NPR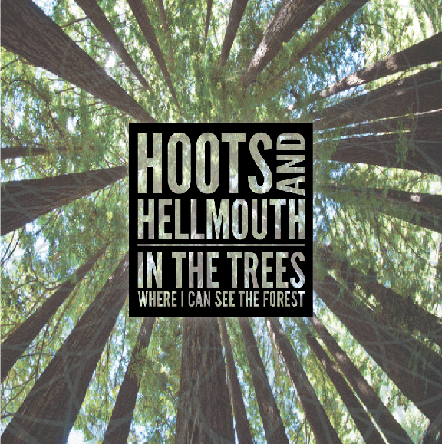 IN THE TREES TRACKLISTING:
1. Golden Coast
2. In Effigy
3. Diction
4. Only Animal
5. Delicate Skeleton
6. Move Me
7. Hurt A Little
8. Rivers And Rivulets
9. Off To Sea
10. Golden Compass Rose
FOR MORE INFO ON HOOTS AND HELLMOUTH:
http://hootsandhellmouth.com
https://www.facebook.com/hootsandhellmouth
https://twitter.com/hootshellmouth
FOR MEDIA AND INTERVIEW REQUESTS:
Tony Bonyata
Pavement PR
p: 262.903.7775
e: tony@pavementpr.com
https://pavementpr.com