HAWK AND DOVE'S LATEST STUDIO ALBUM OUR CHILDHOOD HEROES DROPS JANUARY 18, 2019
Based out of Brooklyn, NY and making music for seven years, Hawk and Dove have been writing and touring and making community wherever they can. They have just finished their latest album, Our Childhood Heroes, that describes one man's miracle cure adventure – to address his failing young [early onset Parkinson's] brain, while also looking at our generational search for luxury and ease at the expense of other people's further-away-lives.
Vocals, Guitar / Elijah Miller
Lead Guitar / John Kleber
Bass & other things / Joan Chew
Many other instruments / Many friends
Hawk and Dove's Our Childhood Heroes will be available January 18, 2019 on vinyl, CD, digital and streaming formats.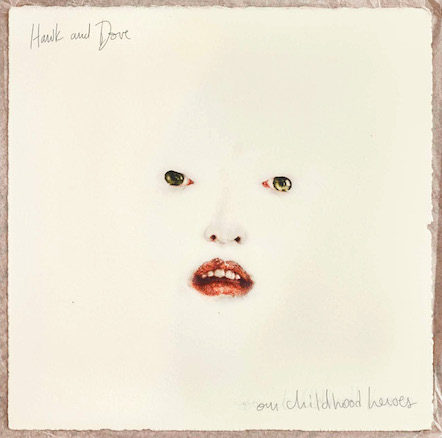 OUR CHILDHOOD HEROES TRACK LISTING
1 Taxidermy Eden
2 Waste All the Time
3 A Medication List
4 American Triumph
5 RG 40
6 Golden Age Addiction
7 The Company You Keep
8 Smoke and Lungs
9 Fractions
10 India Oil
11 A Memory Made
12 Dreaming of Flying
13 For Jack
~~~~~~~~~~~~~~~~~~~~~~~~~~~~~~~~~~~~
FOR MORE INFO ON HAWK AND DOVE:
HawkAndDove.com
FOR MEDIA & INTERVIEW REQUESTS:
Tony Bonyata
Pavement PR
e: tony@pavementpr.com
https://pavementpr.com
~~~~~~~~~~~~~~~~~~~~~~~~~~~~~~~~~~~~
~~~~~~~~~~~~~~~~~~~~~~~~~~~~~~~~~~~~
Press announcement for Hawk and Dove's previous album This Yesterday Will Never End…
Hailing from Brooklyn, NY, Hawk and Dove is an indie rock band whose calm-before-the-storm sound has been described as the "loudest quiet band you have ever heard" and "the psychedelic country David Bowie never wrote." On their forthcoming debut album, This Yesterday Will Never End, the band mixes hauntingly beautiful ballads with thunderous stoner grooves to create a sound quite unlike anything else.
Though singer Elijah Miller and guitarist John Kleber met at summer camp when they were 13 years old, it wasn't until they stumbled across each other 12 years later that they discovered their shared passion for music. Along with drummer AJ Sausville, and bass, keys and violin players Stephanie Sanders & Joan Chew, they've created a powerful sound that references multiple genres and histories of rock, Americana, psychedelia and indie music, yet, at the same time, it proves to be something altogether contemporary and unique.
After honing their material regularly in some of NYC's most distinguished venues, Hawk and Dove have recently finished This Yesterday Will Never End, which was recorded and mixed by Max Hodes, who also contributed backing vocals. Truly a journey at 13 songs and over an hour in length, this record invites the listener to explore the middle place where we all reside. Elijah's lyrics curl around memories shared and imagined as John's angular guitar plays the shards of glass that simultaneously bind and repel us. All the while, the beautiful and surreal orchestral performances of Stephanie, Joan and AJ envelop the words with dynamic punches and strings of vibrant color.
With both the impressive success of their 2009 EP, Rocking Chair, and powerful, moving live performances, Hawk and Dove's following has been steadily growing… something which should continue with the release of This Yesterday Will Never End and national tour they'll be embarking on in the Spring of 2013 in support of it.
Hawk and Dove's This Yesterday Will Never End will be released on CD and digitally on April 30, 2013 through Big Round Records. National tour dates to be announced soon.
CLICK HERE TO DOWNLOAD & SHARE HAWK AND DOVES' NEW SINGLE "THINGS WE LOST SO FAR" FROM THIS YESTERDAY WILL NEVER END
THIS YESTERDAY WILL NEVER END TRACKLISTING:
1. Send Your Blood to War
2. A Song For Him
3. Muscle Breaks
4. Things We Lost So Far
5. Stain
6. Some Hotel
7. How She Became a Tree
8. Grey Parade
9. Electricity
10. The Space Between
11. River Girl
12. Boy on the Moon
13. Gunpowder Heart
FOR MORE INFO ON HAWK AND DOVE:
http://www.hawkanddoveband.com
https://www.facebook.com/hawkanddovenyc
FOR MEDIA AND INTERVIEW REQUESTS:
Tony Bonyata
Pavement PR
p: 262.903.7775
e: tony@pavementpr.com
https://pavementpr.com