How exactly did Hans Condor come to work at Nashville's Grand Victor Sound, historically known as RCA Studio A? The backstory is the stuff of podcast fodder. Call it 'Methadone & Spikes'? The story has former management entering them into a contest called "Rubber Tracks" put on by Converse shoes in the summer of 2015. The band figured it might be good for a round of retreads.

Weeks later Hans Condor was awarded the grand prize of a day of recording time in one of Nashville music's most hallowed spaces. Over time everyone from Dolly to The Monkees to William Shatner recorded there. And, so it was in the Fall of 2015 Hans Condor placed their rickety gear under the high ceilings, therein amongst the endless shelves of amps and artifacts in Studio A. "The microphone I sang into was worth more than our lives," Charles Kaster, the band's singer remarked. Eight hours later Hans Condor had banged out the first five songs that make up Side 1 of Breaking and Entering.

The story of Side 2, however, involves the far more priceless. At a later date the band reconvened in the backyard workspace of a local Nashville musician named Eliot Virula. This one room shack was dubbed "The Shed." Kaster has joked that the only similarity to this session and the one at Studio A was that they also finished a case of PBR at The Shed. Virula demonstrated a fearless capability of producing louder and faster music in a less than ideal situation. Although a bit brighter, the hallmarks that make Hans Condor are completely present and raggedly glorious.

All of the tracks that make up Breaking and Entering ended up in the custody of Bronson Tew and Matt Patton of Water Valley, Mississippi's Dial Back Sound. The performances were mixed and mastered by the two co-owners and production partners. As the album wrapped and time drifted the band would hit a series of managerial and personal snags that made hiatus seem like the thing to do. The death blow of founding bassist Erik Holcombe put any future releases and the band's existence in serious doubt.

As it does most often, time had a way of reminding Kaster of its increasing shortness. He thought about his friend Eliot Virula and Erik's brother Roger who had originally drummed for the band. As the world was slowly attempting to reemerge from the nightmares of 2020, a reinvigorated Hans Condor was waiting in the wings.

Hans Condor's Breaking And Entering comes out on vinyl, CD and Bandcamp on Tuesday, November 16, 2021 via Dial Back Sound. Click here to pre-order.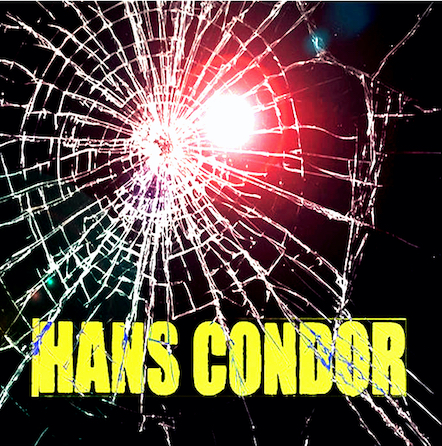 FOR MORE INFO ON HANS CONDOR:
https://hanscondor.bandcamp.com

FOR MORE INFO ON DIAL BACK SOUND:
http://www.dialbacksound.com

FOR MEDIA AND INTERVIEW REQUESTS:
Tony Bonyata
Pavement PR
p: 262.903.7775
e: tony[AT]pavementpr.com
https://pavementpr.com