Click here to download a few new hi-res GA-20 photos (credits in the file name) and Lonely Soul cover art.
GA-20's NEW "LONELY SOUL" ALBUM DEBUTS AT THE #2 SPOT ON BILLBOARD'S BLUES ALBUM CHART!
CLICK HERE TO LISTEN TO THE FULL ALBUM VIA SPOTIFY
BOSTON-BASED BLUES GROUP IS LED BY MATTHEW STUBBS (CHARLIE MUSSELWHITE'S LONGTIME GUITARIST) AND SINGER/GUITARIST PAT FAHERTY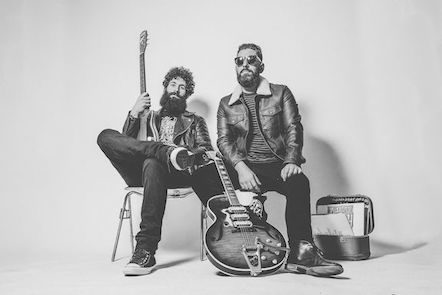 GA-20's Matthew Stubbs & Pat Faherty (photo credit: Rosie Coche)
~~~~~~~~~~~~~~~~~~~~~~~~~~~~~~~~~~~~~~
GA-20 was formed by friends Pat Faherty and Matthew Stubbs in Boston, MA in 2018. The project was born out of their mutual love of heavy traditional Blues, R&B, and Rock & Roll of the late '50s and early '60s. Faherty and Stubbs bonded over legendary artists like Lazy Lester, J.B. Lenoir, Earl Hooker, Buddy Guy, Otis Rush and Junior Wells. Feeling a void in current music, the duo have set out to write, record and perform a modern version of this beloved art form. Live, GA-20 is a trio of 2 guitars, vocals and drums. Raw, passionate and honest performance – both on stage and in the studio – is the only goal.
Stubbs has spent the past 11 years as guitarist for Blues legend Charlie Musselwhite. During that time he has also backed up and toured with such Blues giants as John Hammond, James Cotton, Junior Watson and James Harman. Stubbs also leads his own original instrumental psych-rock band, The Antiguas.
GA-20's new album Lonely Soul is out now via Karma Chief Records. Click here to order.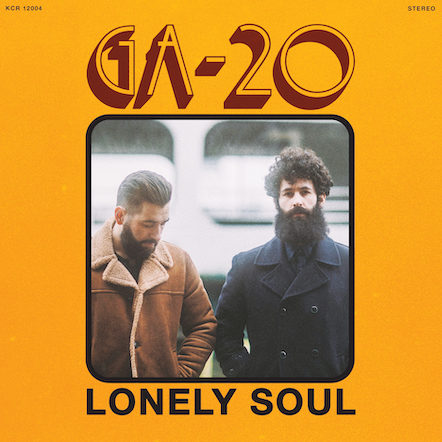 Big thanks to the following stations that have already been spinning GA-20's new Lonely Soul LP…
ART SOUND FM (Canberra, Australia)
B.B. KING'S BLUESVILLE (Sirius / XM Radio)
BLUES ON THE HILL (Victoria, AU blues radio show)
BOX OF FROGS RADIO SHOW (Victoria, AU radio)
TRIPLE U FM (Nowra NSW Australia radio)
THE FACE RADIO (Brooklyn, NY)
KAOS (Olympia, WA)
KCEI (Red River, NM)
KDHX (St. Louis, MO)
KDNK (Glenwood Springs, CO)
KDUR (Durango, CO)
KFAI (Minneapolis, MN)
KEXP (Seattle)
KHOL (Jackson Hole, WY)
KMUD (Garberville, CA)
KMUN (Astoria, OR)
KOTO (Telluride, CO)
KPCW (Park City, UT)
KPTZ (Port Townsend, WA)
KRFC (Fort Collins, CO)
KRVM (Eugene, OR)
KRZA (Alamosa, CO)
KSJD (Cortez, CO)
KTUH (Honolulu, HI)
KUAA (Salt Lake City, UT)
KUBU (Sacramento, CA)
KVNF (Paonia, CO)
KWUR (St. Louis, MO)
KXCI (Tucson, AZ )
KZMU (Moab, UT)
RADIO BOISE (Boise, ID)
ROUTES & BRANCHES (music blog/podcast)
VINKOVCI RADIO 90.2 (Croatia radio)
WAYO (Rochester NY)
WBRS (Waltham, MA)
WCUW (Worcester, MA)
WDCB (Chicago, IL)
WERU (Bluehill, ME)
WFHB (Bloomington, IN)
WFIV (Loudon, TN)
WFMU (Jersey City, NJ)
WFVR (South Royalton, VT)
WKKL (Cape Code. MA)
WMBR (Cambridge, MA)
WMEB (Orono, ME)
WMFO (Medford, MA)
WMSE (Milwaukee, WI)
WMPG (Gorham, ME)
WNCW (Charlotte, NC)
WPKN (Bridgeport, CT)
WMRW (Warren, VT)
WOJB (Reserve, WI)
WOMR (Provincetown, MA)
WPKN (Bridgeport, CT)
WQFS (Greensboro, NC)
WRIR (Richmond, VA)
WRUV (BURLINGTON, VT)
WRUW (Cleveland, OH )
WSCA (Portsmouth, NH)
WSUM (Madison, WI)
WXNA (Nashville, TN)
WXRT (Chicago, IL)
~~~~~~~~~~~~~~~~~~~~~~~~~~~~~~~~~~~~~~
FOR MORE INFO ON GA-20:
http://www.facebook.com/GA20blues
FOR MORE INFO ON KARMA CHIEF RECORDS:
http://www.facebook.com/karmachiefrecords
FOR MORE INFO ON COLEMINE RECORDS:
http://www.coleminerecords.com
FOR MEDIA AND INTERVIEW REQUESTS:
Tony Bonyata
Pavement PR
p: 262.903.7775
e: tony[AT]pavementpr.com
http://www.pavementpr.com