CLICK HERE TO DOWNLOAD A NEW HI-RES PHOTO OF DURAND JONES (CREDIT: CASEY GARNETT) AND ALBUM ART
DURAND JONES & THE INDICATIONS ANNOUNCE SPRING 2017 "MAKE A CHANGE" TOUR AND NEW 7″ SINGLE!
"Back in July when Durand Jones & The Indications debut album was released, we had no idea what the world would think," explains Terry Cole from Colemine Records. "After all, the record, albeit finely crafted, was conceived in a dingy Indiana basement on a shoestring budget of 452 dollars and 11 cents (we kept receipts). They didn't have 'buzz.' They didn't have a following. They didn't have the measured flash of more polished operations. But as the final mixes spun off of the master reel, we knew what they did have was one remarkable soul record. To our delight, the record was a smash and their no-frills LP continues to fly off the shelves."
CLICK HERE TO CHECK OUT DURAND JONES & THE INDICATIONS' "MAKE A CHANGE" VIDEO
Now, by popular demand, Durand Jones & his mighty Indications are hitting the road on their first U.S. tour. Don't sleep- go out and catch them in your city.
DURAND JONES & THE INDICATIONS' 2017 MAKE A CHANGE TOUR DATES:
March 3 – Chicago, IL – The Empty Bottle
March 4 – Davenport, IA – Daytrotter Downs
March 5 – Bloomington, IN – The Bishop
March 6 – Cincinnati, OH – Memorial Hall
March 8 – Nashville, TN – The Basement
March 9 – Dothan, AL – KBC on Foster
March 10 – Birmingham, AL – Seasick Records
March 15 – Austin, TX – The Rattle Inn
March 16 – Tulsa, OK – The Vanguard
March 17 – Lawrence, KS – The Replay Lounge
March 18 – St. Louis, MO – The Bootleg at Atomic Cowboy
In honor of this tour, Colemine Records has pressed up a new limited 7″ vinyl 45 featuring cuts from their debut album. The politically poignant and fiercely funky "Make A Change" is backed with the lowrider anthem "Is It Any Wonder" featuring drummer Aaron Frazer's silvery falsetto. 300 available on translucent yellow vinyl. Click here to pre-order. 
FOR MORE INFO ON DURAND JONES & THE INDICATIONS:
https://www.durandjonesandtheindications.com
https://www.facebook.com/DurandJonesandTheIndications
FOR BOOKING INQUIRIES:
Parker Glenn
parkerjglenn@gmail.com
949.463.3269
FOR MORE INFO ON COLEMINE RECORDS:
https://www.coleminerecords.com
FOR MEDIA AND INTERVIEW REQUESTS:
Tony Bonyata
Pavement PR
p: 262.903.7775
e: tony@pavementpr.com
https://pavementpr.com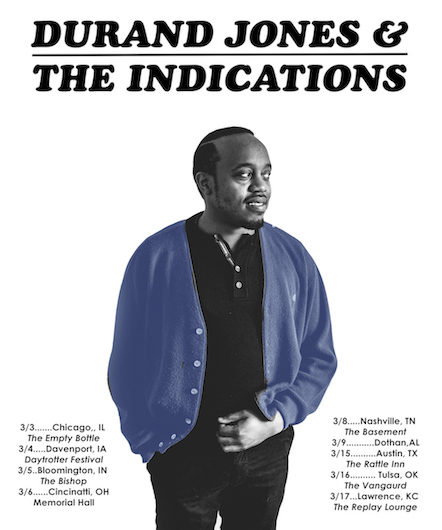 PREVIOUS PRESS RELEASE ANNOUNCING DURAND JONES & THE INDICATIONS 2016 SELF-TITLED DEBUT ALBUM
Bayou-born soul sensation, Durand Jones, is bringing his raw energy to Colemine Records with his debut self-titled LP. Jones brings you fiery original soul music, pairing soaring vocal work with dusty drums, slinking guitars and screaming organs.
With a stellar background in gospel, Jones got his start in the church, singing in the choir of his hometown in rural Louisiana. When his music career took him to Bloomington, Indiana, he was selected to join the legendary Indiana University Soul Revue, and it was through his involvement that he met writer/producer duo Aaron Frazer and Blake Rhein. The three began writing original soul music, recording themselves straight to tape in the basements of Bloomington – a process which brings you the gritty sounds available on Ohio-based Colemine Records.
Sure to satisfy fans of Charles Bradley, Lee Fields, Aloe Blacc and Leon Bridges.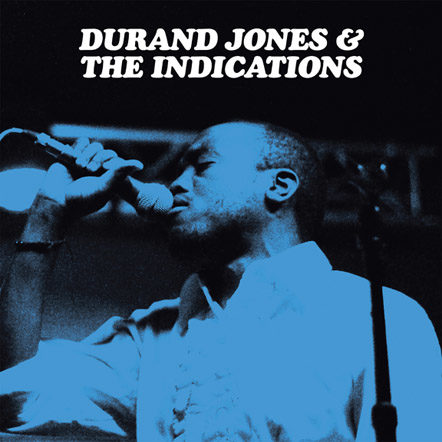 Durand Jones & The Indications' debut album will be available on vinyl LPs, CD and digital formats on July 1st. The album can be pre-ordered now via iTunes here and Amazon here.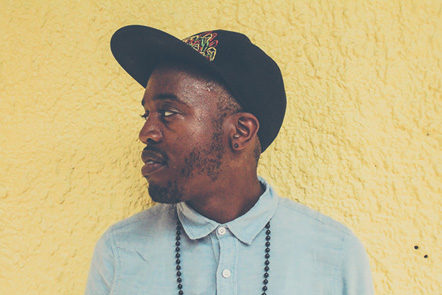 Durand Jones (credit: Casey Garnett)
FOR MORE INFO ON DURAND JONES & THE INDICATIONS:
https://www.facebook.com/DurandJonesandTheIndications
FOR MORE INFO ON COLEMINE RECORDS:
http://coleminerecords.blogspot.com
FOR MEDIA AND INTERVIEW REQUESTS:
Tony Bonyata
Pavement PR
p: 262.903.7775
e: tony@pavementpr.com
https://pavementpr.com