Click here to download a few new hi-res photos of Dree Leer (credit: JAMRIC) and Throw Hands album art
BIRMINGHAM, AL PUNK-POP POWER TRIO DREE LEER TO RELEASE THEIR NEW STUDIO ALBUM THROW HANDS APRIL 30, 2021 VIA BETTAMAX RECORDS

With a few cymbal hits, "Want It All" – the searing leadoff track from Dree Leer's debut record, Throw Hands – dives headfirst into a dirge of heavily distorted guitars before increasing to a punk-tinged rocker of breakneck speed featuring hauntingly melodic vocals and lyrics about desiring more and not settling for less.

"'Want It All' felt like a good opener for the album; it's usually our closer when we play live," vocalist/guitarist Jackie Lo said. "I wanted to start off with a song that would punch you in the face. I think every person and every girl has felt this feeling of not getting enough. You're either here 100% or you're fucking not."

Formed in Birmingham, AL by Lo along with friends Mandy Graffeo (bass) and Mikey D (drums), Dree Leer delivers an unhinged, heavy alternative pop sound that pays homage to the familiar sounds of the' 90s guitar rock behemoths, but also forges its own path by injecting its songs with relevant social commentary and themes of women empowerment.

"Dree Leer was one of my online names going back to '95," Lo explained. "'Leer' means a look or a gaze and 'Dree' is a word that means 'to endure something unwanted or painful.' It speaks to what women have to endure on a regular basis. A lot of the songs are pro women having a voice and speaking out and being strong and powerful."

Recorded, mixed and mastered by Jason Hamric with additional recording by Les Nuby and Hamric at Ol Elegante Studio, the ferocity of the band's music is well-documented throughout Throw Hands, with nearly every song unleashing a steady barrage of noise into the listener's ears while choruses such as "when you walk away, take your hand up off my throat" provide a template for thought-provoking themes that echo well after the final note fades. Songs like "Live Forever" – inspired by a dream of Lo's that morphed into a rumination on legacy and love – as well as "Run Away" (a tune that takes its cue from early Radiohead) provide a vulnerable and ethereal counterbalance to the more aggressive tracks.

In addition to bringing light to issues felt by women in the 21st century, Dree Leer's studio album and live shows work to obliterate the novelty of the "girl in a band" cliche that can plague female-fronted or female-centric acts. "I can speak my mind and play loud music. I want to be loud and not be quiet about it. It's important for me to be a woman on stage playing guitar and singing and the music to be loud with lots of crunch and lots of fuzz and all those beautiful things that I've loved for so many years. I look out into the audience and I see young girls and I see them excited. I don't want it to be weird that there's a girl playing loud music."

Reflective of their DIY ethic and driven by their desire to get these songs out at a speed that nearly matches their beats per minute, Dree Leer will release Throw Hands on April 30, 2021 on Bettamax Records.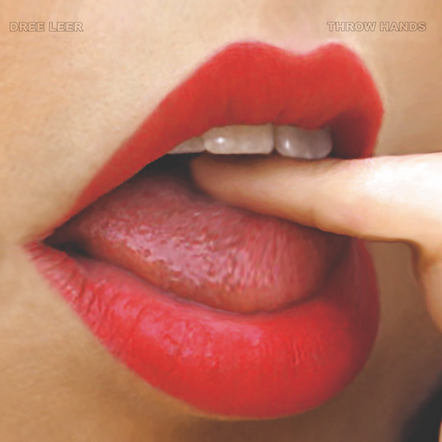 FOR MORE INFO ON DREE LEER:
https://dreeleer.com

FOR MEDIA & INTERVIEW REQUESTS:
Tony Bonyata
Pavement PR
e: Tony[AT]pavementpr.com
https://pavementpr.com