Scan the press on soul-groove outfit Dirty Streets and you'll see numerous references to rock, soul, and dirty-blooze touchstones like the Faces, Humble Pie, Otis Redding, CCR and more. Spin Dirty Streets' records and you'll hear all of those echoes, plus others—some jazz timing, some acoustic balladry. But by and large, what you'll hear is a raw, rowdy blend of Motown, Stax and rock—the pure American blood-beat moving through the heart of Memphis groove.
Austin-born Justin Toland (guitar/vocals) found his own musical food early through his father, a classic-rock aficionado who turned Justin on to the Stones, Creedence, soul music and the Stax sound. At 17 Toland moved to Memphis and met Thomas Storz (bass), a native of the city, through mutual friends; the pair found common musical ground and began playing groove-grounded rock with a series of temporary drummers. Andrew Denham (drums), a Shreveport-born drummer and British hard-rock fan, joined up with Storz and Toland in 2007.
The trio began demoing using a basic setup: a single cassette recorder, no tracks, no real separation, just mics on the bass/drums and guitar and vocals live in the room. Without the option to isolate, tweak or sweeten after the fact, Dirty Streets became accustomed to running through a take 40 or 50 times as they worked to get it right, all the way through. By the time they began gigging live, that level of discipline had honed Dirty Streets into an instinctual, responsive outfit. Bootleg recordings of their shows in and around Memphis helped to generate buzz, and established Dirty Streets' rep as a band whose timing was as sharp as their sound was ragged.
Albums followed—Portrait of a Man (2009), Movements (2011), Blades of Grass (2013), White Horse (2015), Distractions (2018), and their latest live effort Rough and Tumble, an LP drawn from an in-house performance for the DittyTV Americana music television network. All of these albums are steeped in the raw rock-soul groove that serves as the band's taproot, the musical core from which all of its explorations still proceed. And within that core, too, is the element that gives their music, the music they love and play, its unique character.
Rough and Tumble includes eight positively explosive takes from three of the Memphis trio's previous studio albums, and also features two meaty, revved-up covers by the great Joe South.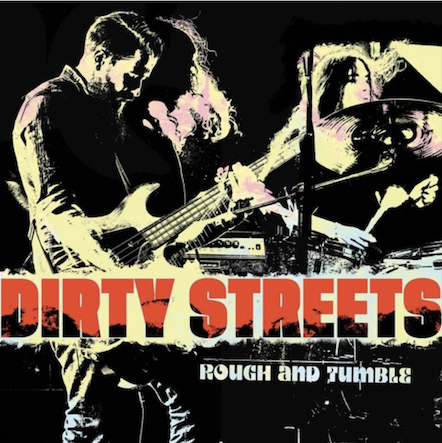 Dirty Streets' Rough and Tumble is out now on limited vinyl, CD and digital & streaming platforms via Alive Naturalsound Records. Click here to order the limited yellow vinyl LP.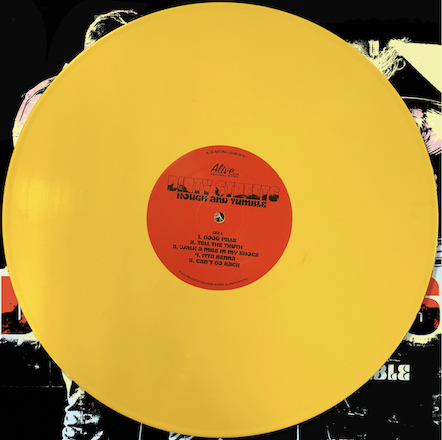 FOR MORE INFO ON DIRTY STREETS:
dirtystreetsmusic.com
facebook.com/thedirtystreets
FOR MORE INFO ON ALIVE RECORDS:
http://www.alive-records.com
FOR MEDIA AND INTERVIEW REQUESTS:
Tony Bonyata
Pavement PR
p: 262.903.7775
e: bonyata@wi.rr.com
https://pavementpr.com
~~~~~~~~~~~~~~~~~~~~~~~~~~~~~~~~~~~~~~~~~~~~~~
~~~~~~~~~~~~~~~~~~~~~~~~~~~~~~~~~~~~~~~~~~~~~~
2015 PRESS RELEASE FOR DIRTY STREETS' ALBUM WHITE HORSE
DIRTY STREETS TO RELEASE THEIR LATEST STUDIO ALBUM DISTRACTIONS SEPTEMBER 14, 2018
Hailing from Memphis, Tennessee, a hub of historical soul and blues that crafted much of the world's modern music, Dirty Streets have spent years on the road and in the studio forging their own style. They've moved from DIY, independant recordings to ambitiously self-produced studio ventures over the course of five albums. Their fifth, and latest, LP, Distractions, is an explosively charged follow-up to their acclaimed 2015 release White Horse, which contains a unique style of heavy, soulful and sometimes psychedelic rock. Recorded at the historic Sam Phillips Recording studio in Memphis, the album pushes the sonic palette of the band to the next level with an eclectic mix of songs. Drawing from influences that span from the bluesy twang of Howlin' Wolf and Wilson Pickett, to the heady expansiveness of Hendrix and Donovan, Distractions lives in its own time and place. The album was recorded live in the studio by Matt Qualls and Wesley Graham in the room where the raw and explosive energy of the Yardbirds' iconic "Train Kept a Rollin'" was originally put to tape. This album continues the tradition.
Dirty Streets' Distractions will be available September 14, 2018 on vinyl, CD, digital and streaming formats.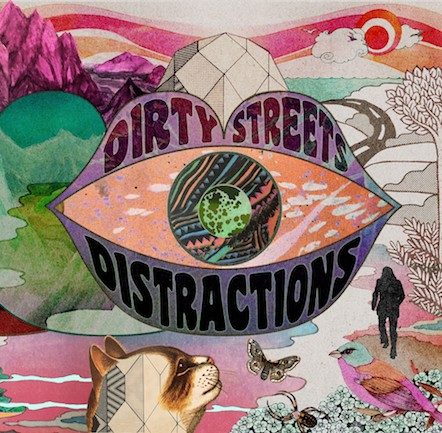 DISTRACTIONS TRACK LISTING:
01 Loving Man
02 The Sound
03 Dreams
04 Riding High
05 Can't Go Back
06 Distractions
07 Take A Walk
08 Death's Creep
09 On The Way
10 Trying To Remember
FOR MORE INFO ON DIRTY STREETS:
https://www.facebook.com/thedirtystreets
FOR MEDIA & INTERVIEW REQUESTS:
Tony Bonyata
Pavement PR
e: tony@pavementpr.com
https://pavementpr.com
~~~~~~~~~~~~~~~~~~~~~~~~~~~~~~~~~~~~~~~~~~~~~~
~~~~~~~~~~~~~~~~~~~~~~~~~~~~~~~~~~~~~~~~~~~~~~
2015 PRESS RELEASE FOR DIRTY STREETS' ALBUM WHITE HORSE
DIRTY STREETS TO RELEASE NEW WHITE HORSE ALBUM NOV. 27, 2015 VIA ALIVE NATURALSOUND RECORDS
Memphis-based power-trio Dirty Streets are gearing up for the release of their fourth studio album, White Horse (their second for Alive Naturalsound Records) on Black Friday.
Following the release of their well-received 2013 album, Blades of Grass, the band began writing and recording material for this new record. As frontman Justin Toland explained, "We wrote and re-wrote tons of songs and it really ended up hitting a great point as far as expression. We recorded at the renown Ardent Studios in Memphis with our friend Matt Qualls this time, who is a great engineer and really helped in forming the sound of the record. It became a very pure time creatively for us and I feel we locked into something we hadn't previously. Over all, it worked out in a way that we could take more time to find our sound than we previously had."
And judging from these 11 red-raw tracks informed by the band's love of deep soul, funk, blues and heavy boogie & psych-rock it was time well spent.
"This album is definitely more fluid and natural," Toland continued. "We made a big deal out of just feeling out the songs rather than getting them technically perfect. Percussion was definitely a compass as far as groove on this one. If we couldn't play the tambourine, or shaker with feeling then it wasn't cutting it. It was actually Budos Band that was a huge influence as far as groove goes for the writing of this record."
Following various tours throughout the U.S., including a successful run opening for label mates Radio Moscow, Dirty Streets will be bringing their pile-driving live show to a city near you soon (initial tour dates listed below).
Dirty Streets' White Horse will be available on Limited Vinyl, CD & digital formats on Nov. 27, 2015 via Alive Naturalsound Records. The stunning psychedelic cover art was created by Joshua Marc Levy of Asheville Art Family.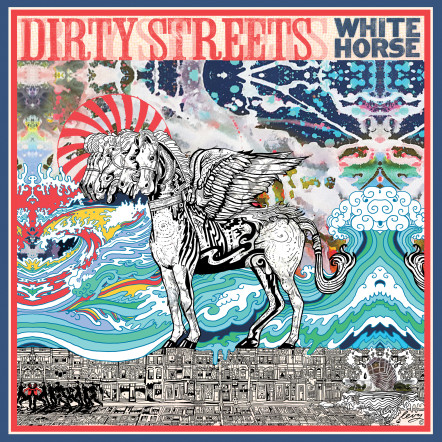 FOR MORE INFO ON DIRTY STREETS:
http://www.dirtystreetsmusic.com
http://www.alive-records.com/artist/the-dirty-streets
FOR MORE INFO ON ALIVE RECORDS:
http://www.alive-records.com
FOR MEDIA AND INTERVIEW REQUESTS:
Tony Bonyata
Pavement PR
p: 262.903.7775
e:  tony[AT]pavementpr.com
https://pavementpr.com
PRESS RELEASE FOR DIRTY STREETS' PREVIOUS ALBUM "BLADES OF GRASS"
Formed by Thomas Storz (bass, percussion), Justin Toland (vocals, guitar, percussion) and Andrew Denham (drums, percussion), and originally from Mississippi, the power trio Dirty Streets now calls Memphis home. That's where they recorded their new album Blades Of Grass, at the legendary Ardent studio, under the guidance of sound engineer Adam Hill. The core trio also enlisted the talents of Lucero's Rick Steff on keys for this effort. Blades Of Grass is an old school rock'n'roll record with nods to the sounds of Humble Pie, Jeff Beck Group and others. It's heavy music bathed in blues, folk and psychedelia, with chops to spare and a working class point of view. The band already has two independent releases under their belt, including an album with renown Memphis producer Doug Easley, and has toured extensively in the Southeast, with a couple of East Coast runs, and an eight week U.S. tour with Radio Moscow. Summer 2013 U.S. tour dates to be announced soon.
Dirty Streets' Blades of Grass will be available in all formats on July 9th. Limited Edition Color Vinyl exclusive to Bomp-mailorder.
BLADES OF GRASS TRACK LISTING:
1. Stay Thirsty
2. Talk
3. No Need To Rest
4. Movements #2
5. Try Harder
6.  Blades Of Grass
7. Keep An Eye Out
8. Heart Of The Sky
9. Truth
10. Twice
11. I Believe I Found Myself (bonus track exclusive to CD and digital download)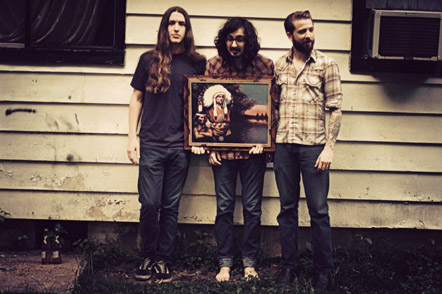 FOR MORE INFO ON DIRTY STREETS:
dirtystreetsmusic.com
facebook.com/thedirtystreets
FOR MORE INFO ON ALIVE RECORDS:
http://www.alive-records.com
FOR MEDIA AND INTERVIEW REQUESTS:
Tony Bonyata
Pavement PR
p: 262.903.7775
e: bonyata@wi.rr.com
https://pavementpr.com